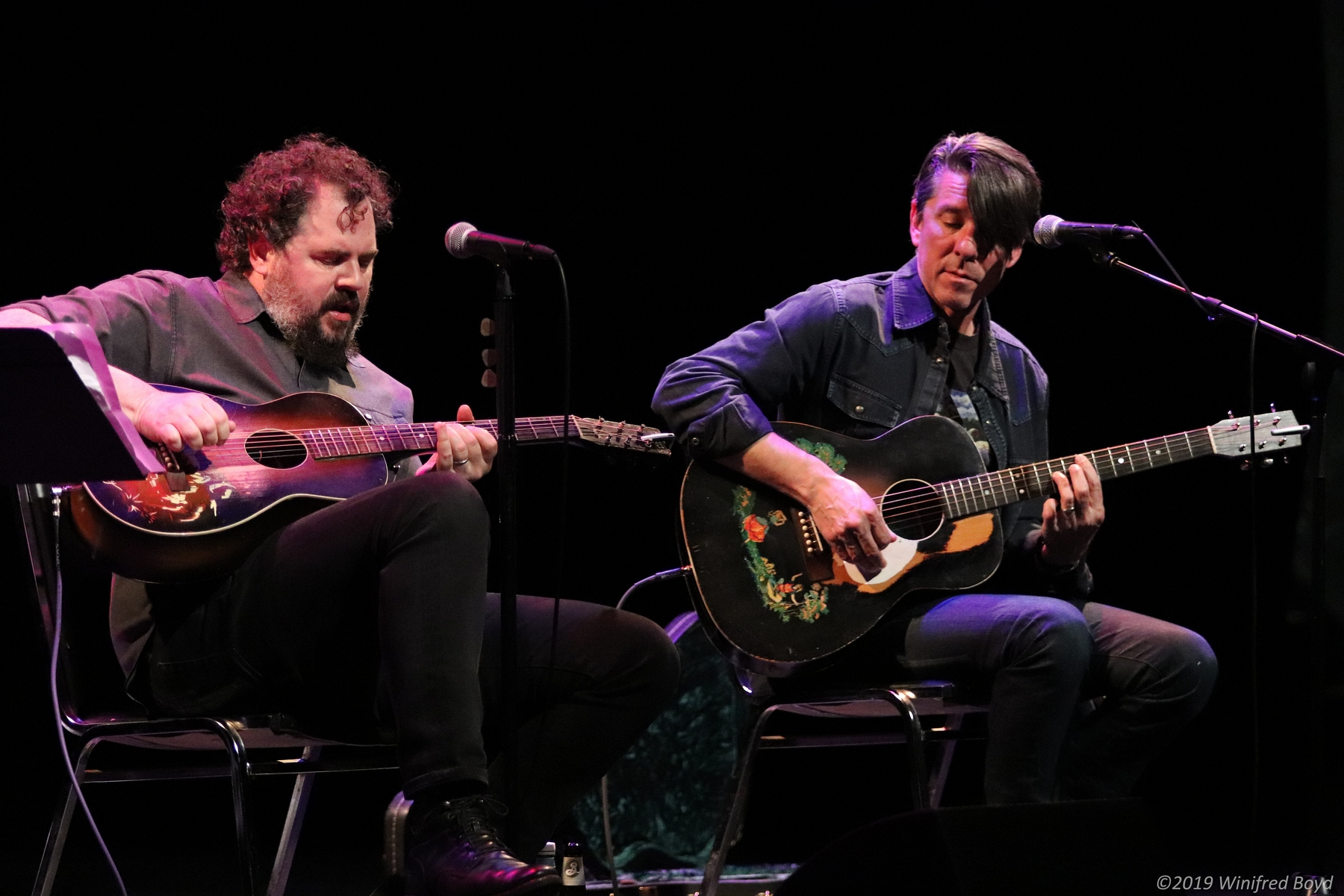 By: Frank J. Lombardo
Follow Us On Facebook!: https://www.facebook.com/appearinglivetonight/
Drive-By Truckers leaders and founding members, Patterson Hood and Mike Cooley, friends and band mates for over thirty years, have been touring this spring as the acoustic duo, The Dimmer Twins, named in homage to The Glimmer Twins (Mick Jagger and Keith Richards). This stripped-down duo are performing new and old original solo and duo material composed, recorded and performed by both Hood and Cooley, for over thirty years by both Hood and Cooley individually or with the Drive By Truckers. Songs for which dedicated fans have come to love and appreciate.
The Dimmer Twins tour commenced its east coast leg in the beginning of April at the Savannah Music Festival and then started north moving on to Asheville, North Carolina, Annapolis, Maryland, Sellersville, Pennsylvania, South Orange, New Jersey and three shows in New York with stops in Port Washington, Albany and Tarrytown.Patterson and Hood will then go on to the west coast to play in Portland, Seattle, Berkeley, San Francisco, and concluding on May 18, in Los Angeles before going back out on the road with the full Drive By Truckers band.
Before we get into the evenings performance we need to introduce you to the Drive-By Truckers. As an alternative country/Southern Rock band, formed in the Shoals region of northern Alabama in the 80s as Adam's House Cat, the music was and is still being delivered in the style of "poetic story telling of life's experiences" in a way that only Hood and Cooley can translate, to their loyal fan base.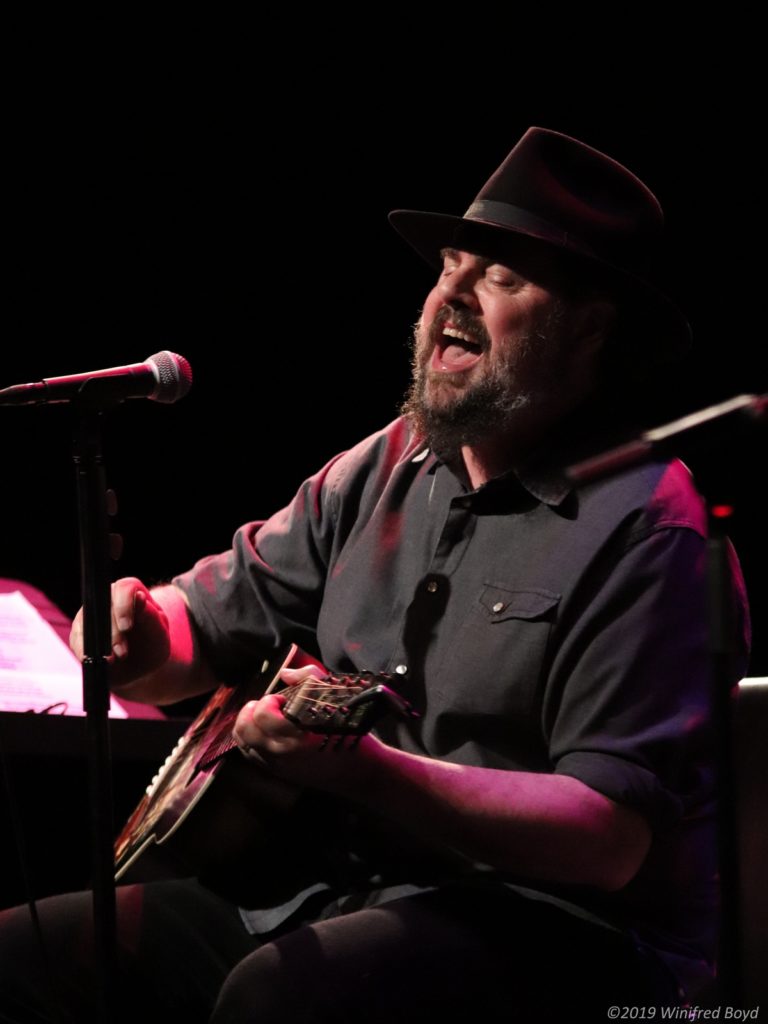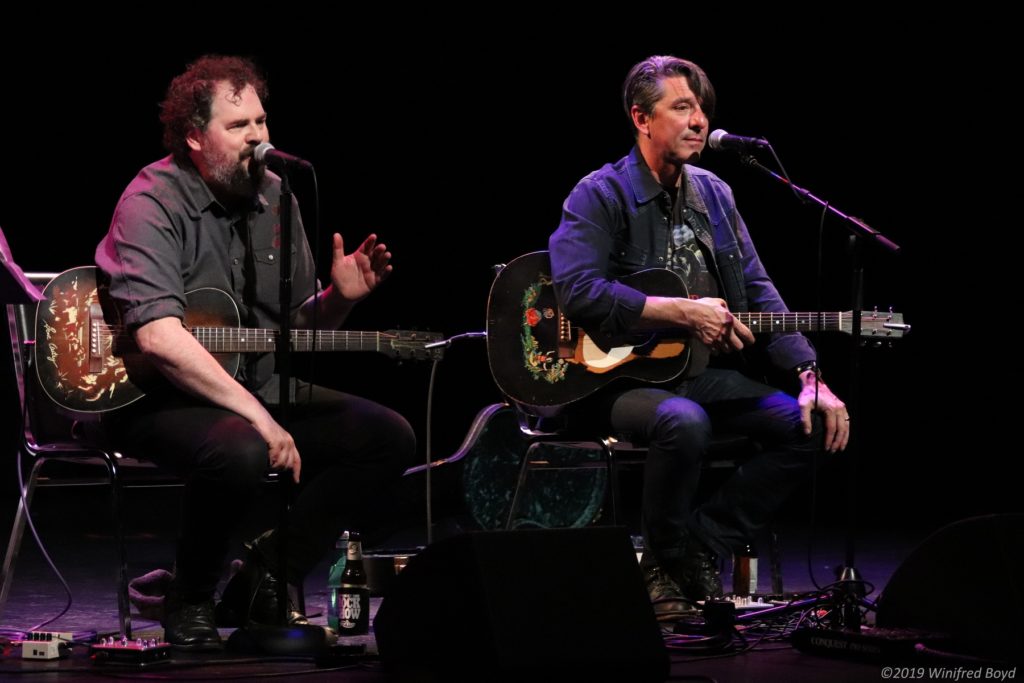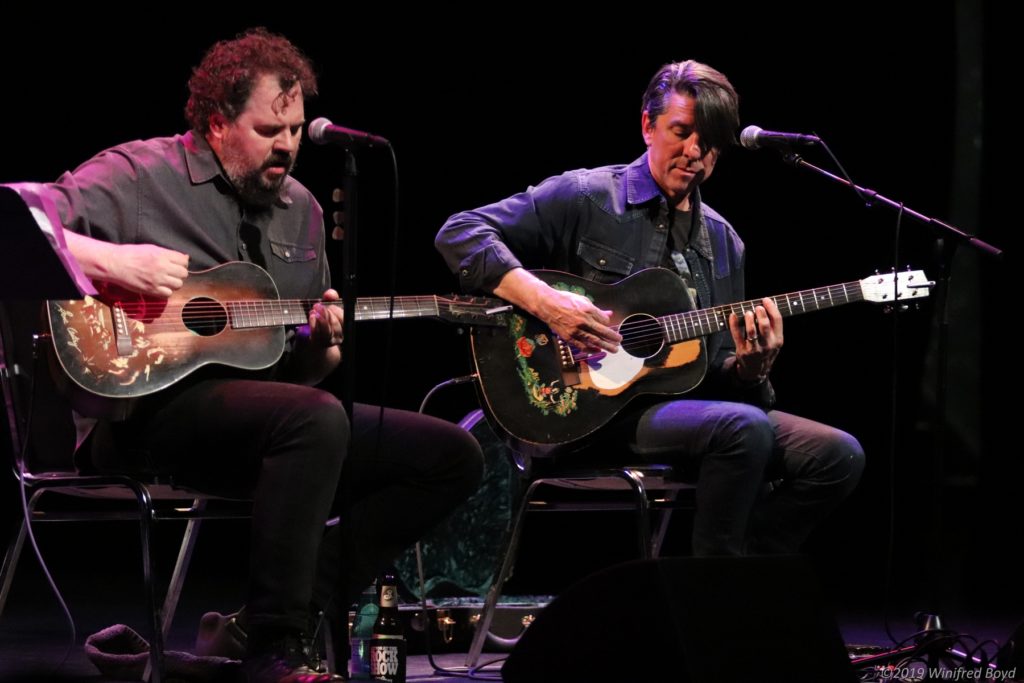 Their music encompasses their Southern heritage and pride with lyrics containing their observations of their everyday life's experiences as well as modern day issues on the political and social scenes. Hood and Cooley share their views and observations is a truly unique story telling manner through their harmonic guitar playing and poetic lyrics that draws their loyal fan base directly into the duo's lives.
It is on Long Island, at The Landmark on Main in Port Washington where Appearing Live Tonight had the pleasure of getting to experience the Hood/Cooley duo acoustic side of the band. As Appearing Live Tonight entered the Landmark on Main we were immediately welcomed to its intimate "old school" charm. This former "Main Street" school built in 1908 has been home to the 425-seat Jeanne Rimsky Theater since 1995 and recognized by local WFUV Radio as one of the top thirty venues in the greater New York City area. The Landmark on Main, "presents world-class programming across musical genres and topics that enlighten the mind and captivate the spirit of all generations." We made sure to visit Allison at the Piano Bar for some adult beverages and free "twizzler sticks," while we absorbed the warmth and feel of the theater.
As we made our way to our seats we noticed the excitement of the audience starting to build. We knew we were in the presence of some devoted fans when we overheard conversations about the first time they attended a Drive By Truckers show, how this is the first time they are seeing the duo's acoustic performance, asking others if they knew what to expect and of course we heard, "I hope they play Zip City". One thing was constant, we all knew we were going to hear what the band's website describes as "outspoken, storytelling" "backed by sonic ambition and social conscience" "with an acoustic intimate feel." And that's exactly what was experienced by this sparse but enthusiastic crowd.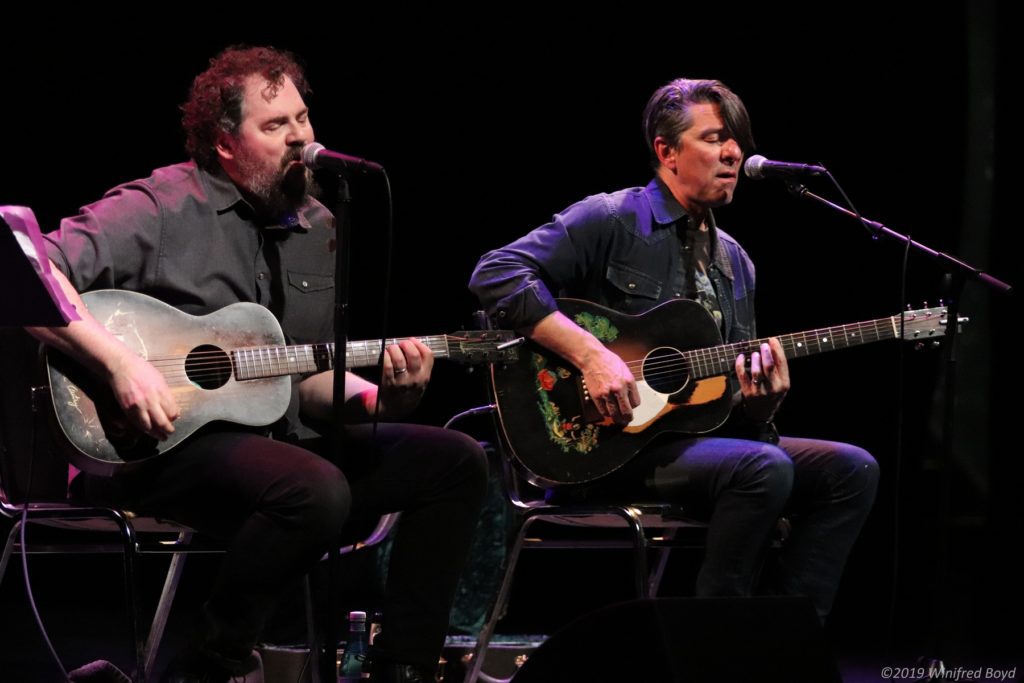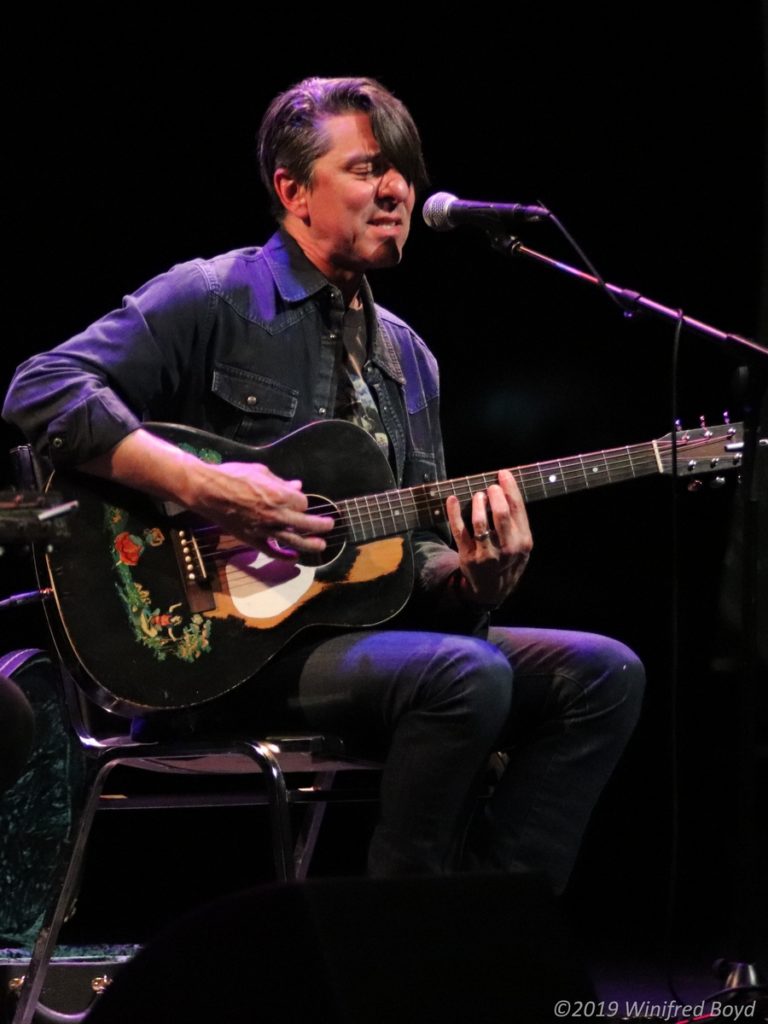 As the house reduced the lighting, The Dimmer Twins took the stage to a very passionate crowd. We immediately noticed that beers were in hand and carefully placed within reach and as they strap up their guitars. After Patterson Hood graciously acknowledged the heritage and beauty of the theater and final tuning, the show opened ironically with a perfectly harmonic rendition of Good Bye from the 2006 release, A Blessing and A Curse. After appreciative salutes to the passionate audience, the duo performed an incredible guitar harmony on A Ghost to Most from Brighter than Creation's Dark, released in 2008. From the 2003 Decoration Day album, we were treated to a foot stomping, finger picking, Heathens followed with the story of a drifter from the title track,Decoration Day. Without a breath, the duo broke into a fan favorite, Gravity's Gone followed by George Jones Talkin' Cell Phone Blues. As the end of the first set was near, Hood and Cooley performed Never Gonna Change and 21stCentury USA, written by itself during a 21 hour layover in Gillet, Wyoming. To finish the set we were treated to a new song, not yet released, entitled, Club 13, a story of the band's early days trying to make money playing in clubs in the north Alabama, Muscle Shoals area.
After a brief intermission, Patterson Hood and Mike Cooley again took the stage, and along with new cold and frosty beers they now brought a bottle of high spirited "Fuji Water" that they took turns pulling on throughout the remainder of the show. The set included Women Without Whiskey and every fan's favorite, Ronnie and Neil, from the 2001 Southern Rock Opera release for which Cooley has been previously quoted "a pretty political record". . . and "we hadn't had our first black president." While Patterson Hood catches his breath and towels off he attempts to humor the audience by explaining that as he ages and looks back at these songs he is unable to determine if the events in these songs actually happened or if they are made up.
After explaining how the next song was written as it happened, when "a fat man riding a mechanical bull like Debra Winger" that was not finished for years until a life changing event the duo performed The Opening Act also released on the Brighter Than Creations Dark collection. So after we are amused to this story of the "urban bovine Knievel" and "buying that necessary evil from a friend" the duo go further back to 2000 with The Living Bubba from the Alabama Ass Whippin' album.
As the show ends the audience is brought to their feet yet again. Hood and Cooley, appreciative of the dedicated audience's mania, then pull out all the stops with a three song encore with a story about a story, Space City, a few more pulls on the bottle of spirits, Marry Me and finally Let There Be Rock that brought the audience to another standing ovation to which had The Dimmer Twins smiling as they walked off stage.
As we walked up the aisle after visiting the merchandise table we came to appreciate that the long time partnership of Hood and Cooley are definitively song writing and storytelling masters that understand the meaning of "leave them wanting more." In the end of May, Hood and Cooley, this time with the full Drive By Truckers band, will be in full summer tour mode that will include six shows at New York's, Brooklyn, Bowl. Make sure you get to one of these shows and experience for yourself the "duality of the southern thing."
Keep on the lookout for more Appearing Live Tonight and remember, support live music and enjoy your "NIGHTLIFE."
Photographs by: Winifred Boyd Photography
www.winifredboydphotography.com