Nightlife Magazine and Appearing Live Tonight recently caught up with the Stanton Anderson Band, one of Long Island's own premier live bands. After more than 45 years, SAB is still performing at top caliber levels to sold out crowds. Mark Fowler and Larry Luby, two of the original founding members of the band tell us "it's not only for the love of the music but also the fun we are still having while performing onstage."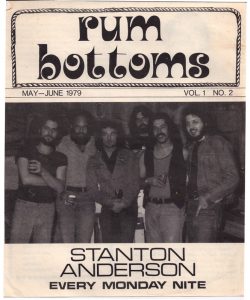 In the early and mid 70's SAB was "THE" premier band to experience live here on Long Island. On any given night of the week, Long Island crowds would fill local clubs from Rum Bottom's in Seaford all the way to Tuey's in Stony Brook to experience live performances by a band that was enormously instrumental in shaping the Long Island music scene to what it is today.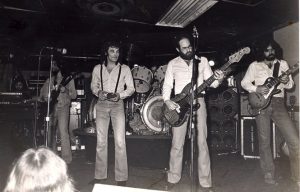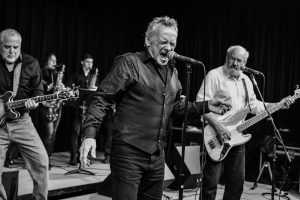 When lead vocalist and harmonica player, Mark Fowler moved from New Orleans to Long Island he immediately joined talents with bassist, Larry Luby, and Bob Bradley, (drums). When lead guitarist, Rick Silecchio brought in John Kraft on keyboards and guitarist Tommy Banks, the band immediately gained the attention of Long Island live music crowds. From its inception in 1972, although the band's line-up has changed over the years, SAB continues to storm Long Island with original soulful sounds and blues-inspired rhythms that have held up for five decades.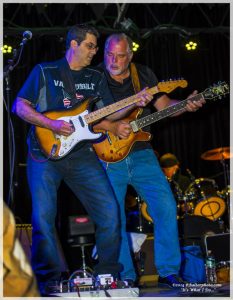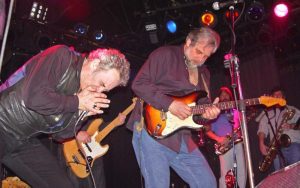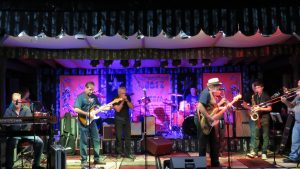 Although Banks and Fowler forged the sound of SAB it was Banks who wrote one of their more renowned originals, Anabelle Lee, still played today as a "Stanton Standard" and a favorite of the audiences. Later, Joe Pisciotta replaced Banks and along with Fowler, the SAB sound continued to be created with originally songs like Bound for Glory, Love Thing and Friday Night, songs still performed by today's current lineup. Stanton Anderson not only created a style and sound influenced by the Blues, R & B, Rock and Jazz along with a lifelong fan base, they also paved the way for bands like Kivetsky, Mazarin, The Jim Small Band, Twisted Sister and Zebra.
Some may say, and incorrectly I may add, that the 70's became the high point of the band's success with highlights such as a legendary live concert at Rum Bottom's broadcasted on WLIR, a Nassau Coliseum gig opening up for the Marshall Tucker Band, and a slot on bills with A-list performers such as Southside Johnny and the Allman Brothers. Then in 1982, when the club scene on Long Island became almost nonexistent and bands like SAB were having difficulties getting bookings because of the explosion of "80's Hair Bands" and popularity of "New Wave" music, SAB decided to go on hiatus to start families or became involved with other projects.
It was not until 2000 when the band reformed for a "reunion" did they realize they were not forgotten and still cherished by their fans. To prove their critics wrong, SAB picked up stronger that they left off, opening for artists like Eddie Money, Credence Clearwater Revival and, once again, Marshall Tucker. They also received the Long Island Sound Award for "outstanding contributions to Long Island's musical heritage" from the Long Island Music Hall of Fame.
SAB came back with Fowler leading the way with his soulful raspy voice and his classy and brilliant harmonica playing, the rhythm section led by Larry's bass guitar, screaming guitar solos by Rick Silecchio and the blaring horn arrangements of the Skid Row Horns, led by Pete Tursi on trumpet who also wrote another "Stanton Standard" One for the Boys.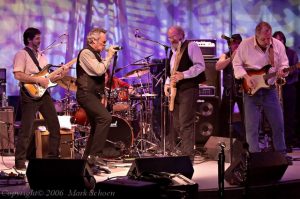 Today's current members include Kevin Rymer on keyboard, Tom Pecoraro on guitar, Bill Kolasinski on drums, Colin Logatto on tenor Sax and Steve Tringali on trombone.
One of the reasons for the bands longevity and its success is its ability to replace personnel with other accomplished musicians that, over the years, supported the enhancement of the Stand Anderson legacy. Former members include Ian Platt, Ronnie Cammeyer, Mike Guido and Grace Tursi on saxophones, Linda Mackley and Rick Silecchio Jr., on drums and Lloyd Landesman and Bobby Simmons on keyboards. These musicians, as do the present members, all played a significant role in the strengthening of the legacy of the band.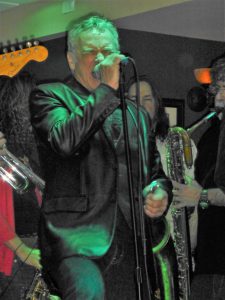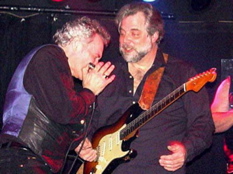 Despite the lineup, it was the live performances of the "early years" that created a following of life long fans that still come out today to see SAB. Almost everyone has a story about when they were young and the places they would sneak into just to see these special live performances of Long Island's own, Stanton Anderson Band. Fans like Dominic Anziano, the Monday Night DJ from Rum Bottoms who still follows the band and was recently seen at Katies in Smithtown enjoying today's band and reminiscing about the past. In the case of Tim and Sue Murphy, Tim used to follow the band years ago while his wife Sue, only experienced them once before. However, on this pre-holiday evening both were happily surprised when they came home for the holidays, decided to go out for a cocktail and walked right into the middle of a Stanton Anderson Christmas Party. Watching Tim and Sue and other fans dancing and enjoying the music with big smiles on their faces is a definitive sign that the Stanton Anderson Band is just as strong today as it was in its early years.
With today's lineup, or any lineup the band puts on stage for that matter, Stanton Anderson continues to have that rock 'n roll intensity always mixing up set lists and never playing two shows the same. Usually playing a two and a half hour set, with crowd pleasing original "Stanton Standards" like Running Scared, Can't Stand to Stand Still, Don't Get Scared and of course, Annabelle Lee. Their "Stantonized" covers such as Highway 61, Knocking on Heaven's Door, Kitty's Back in Town, or Delbert McClinton's Going Back to Louisiana, just to name a few, are not only crowd pleasers but are sure to raise the roof off any venue. As one fan recently told Appearing Live Tonight during a Skid Row Horns solo arrangement "when the Skidrow Horns get down, the audience gets down with them."
After five decades, The Stanton Anderson Band continues to be a vibrant and dynamic band that is significant in today's live music scene. Not only is Stanton Anderson playing to sold out audiences, with twenty-five to thirty original songs in their catalog, the band is currently in the studio writing as a band, putting together new songs, recording video and getting ready to launch a live stream channel.
Whether it's seeing new SAB fans dancing in the aisles alongside fans from the 1970s, or if it's their music that compels the ladies to get up and dance before their second cocktail, after all these years, The Stanton Anderson Band, the band that can't stand to stand still continues to be a truly significant and relevant live music force up and down the east coast and certainly an act that must be experienced live.
Keep on the lookout for more Appearing Live Tonight and remember, support live music and enjoy your "NIGHTLIFE."
Contributing Photographers: Rich Balter, Ira Cohen, Scott Ross, Frank Lombardo and a photographer contributor.