Published by: Mike Cutino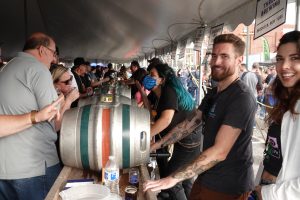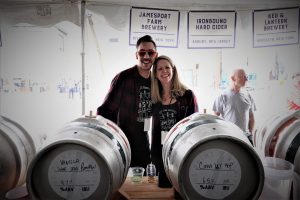 Nightlifemag.com and Appearing Live Tonight recently attended Long Island's own Blue Point Brewery's signature event; the 18th Annual Cask Ale Festival. In supporting the craft brewing industry Blue Point Brewery hosted this unique celebration of imaginary brews with some damn funky music, numerous food trucks, vendors and of course the showcase of over 70 local breweries as well as a number of home brew aficionados. A sold out crowd of attendees and of course the ever so popular "Captain Hops" had the opportunity to sample over one hundred unexpected wide variety of imaginary flavors and styles that left ones brew buds tastes to remember.
The Cask Ale festival was held at the brewery's property located in Patchogue, New York that was transformed into a celebration of all things cask beer, offering imaginary flavored brews for enthusiasts and rookies alike to enjoy.
Before the commencement of the festivities we met up with Jesse Smega the Events Manager of the Blue Point Brewery. Jesse emphasized that the day was meant for brewers to show case their respective imaginary creations and Shelby Poole the Brewery "Experience Manager" explained that the day's festival was "a one of a kind unexpected experience." And she was not mistaken. Both Jesse and Shelby emphasized that a portion of ticket sales will be donated to community partner, Long Island Cares, the Harry Chapin Food Bank whose mission is to feed Long Island's food insecure out of the root causes of hunger. In 2021 alone, Long Island Cares has distributed over 14 million pounds of food, the equivalent of 11.5 million meals.
Keep in mind that all the brews presented were imaginary creations from Brewmasters that have crafted and evolved the art of brewing beers, ales stouts and the like with their very own recipes, and collaborations with accessible raw materials such as fruits, peppers, nuts on the inside and whiskey or tequila barrels on the out. Beers like "Friggin House," a scotch ale presented by Destination Unknown Brewing Company in Bayshore, Long Island or the "Midnight Special" from Eastern Front Brewing in Mattituck described as a "Black Ale". We also enjoyed the Vanilla Sugar Skull Pumpkin Ale and the Citra Wet Hop from Long Islands own Jamesport Farm Brewery. There was also a Pumpkin Stout with Coffee, a Chocolate Peanut Butter Sinner Bun Stout, an Imperial Brown Ale titled "I can taste things with my eyes", a pumpkin ale called "Winter is Coming". Of course we couldn't resist a taste of the "Cosmic Juice Cask Dry-Hopped by the Great South Bay Brewery. Along with these visiting brands, host Blue Point offered samples of its innovative beers for attendees to enjoy.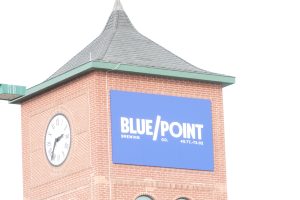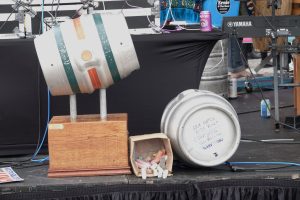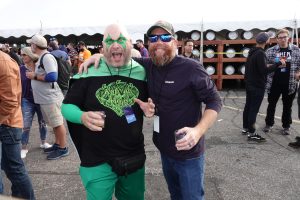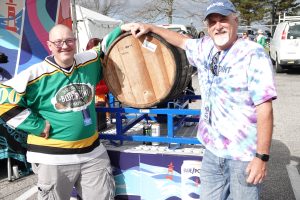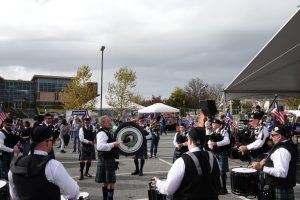 All these special brews are served in a "Firkin." A "Firkin" is a 10.8 gallon vessel used for cask-conditioning. Appearing Live Tonight learned from the various "Brewmasters" that it is all in the conditioning process. The beer, after filtering, is transferred into casks, carbonated, sealed and then undergoes a slight final fermentation in the cask. The net result is a beer that has a much gentler level of carbonation, a rounder mouthfeel, and since it is unfiltered, usually shows a slightly more complex flavor and aromatic profile. When the beer is released into your drinking vessel, it is not carbonated or going through aeration taps. It is coming straight from the cask itself.
The Blue Point Brewery awards a "cask trophy" to the brewer that is the first to empty its firkin. When a cask is emptied it gets lifted and cheered by the nearby crowd. This year's winner was, "Sour Patch Kids Punch Cider" by 1940's Brewing Company, from Holbrook, New York that just so happened to win its second consecutive "Firkin Award."
At precisely 2:00 P.M. the attendees are led into the festival by the Northshore Pipe & Drum Band that marches from the front gate to the front of the stage.  The opening of the festival is not complete until the last of the wind is let out of the bagpipes and Blue Point Brewery's master brewer hammers out the cork of its wooden cask of its fine aged stout for which festival goers will sample throughout the entire festival.
The festivities would not be complete without some live music and satisfaction of the beer munches. We were treated to the live performances by Ernie & The Band and The Warped Tour Band and "house music" by DJ Kaution.
Appearing Live Tonight had the opportunity to sit down with Ernie and the Band members, John Witt (vocals/guitar) and Alex Diachok (key boards), after their set that had the crowd dancing. To our surprise we learned that Ernie and the Band will be releasing an album that will include original music including Money Man, Cry Baby, Dead Man Walking, Crescent Sun and Yesterday. (earnieandtheband.com) During their set we met with Tommy and Tracie, from Centerport and Diane from Massapequa, cask ale virgins, who told us "what better way to spend a Saturday, drinking bear and digging on Ernie and the Band."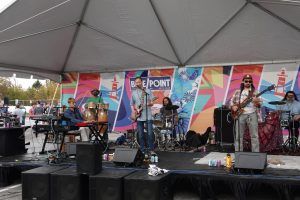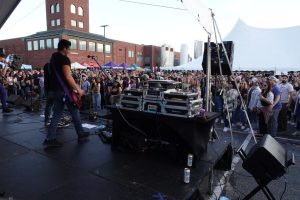 After more beer sampling and the presentation of the cask ale trophy we decided to try some of the food. We ended up eating some fresh raw oysters from Blue Island Oysters located in West Sayville and a few Rockin' Shrimp Tacos and a Give me the Cuban sandwich from the Rollin' Ghost from executive chef, Jason Tepper. Of course what would a Patchogue festival be without a barbeque Turkey leg and pulled pork sandwich from Bobbique, of Patchogue or a necklace made from pretzels to help wash down all the ales.
We then found ourselves in a massive crowd in front of the stage where The Warped Tour Band brought us a Tribute to Emo/Pop-Punk. At one time the crowd was so congested I thought we were in the middle of a mosh pit. We noticed that the band had a following of well-versed fans that pumped their fists and sang along with every song. By the time the set was completed it started to get dark and the festival was soon to close.
Blue Point's signature event made traditional casks of beer in a wide variety of flavors and styles, one to remember. For more events hosted by Blue Point Brewery or simply to taste some fine craft beers visit www.bluepointbrewing.com.
Keep on the lookout for more Appearing Live Tonight. Remember, support live music and enjoy your "NIGHTLIFE."