Photo Credits: Janet Donovan, iUniverse.com
QUOEMS AND POEMS, FROM ONE'S PERSPECTIVE!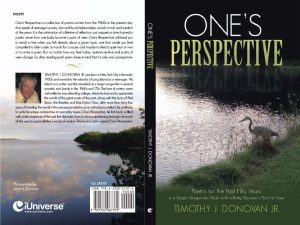 Whether you are a baby boomer or just love poetry, One's Perspective by Timothy J. Donovan Jr. is one book you are going to want to read. Starting from a teenager point of view all the way to a present-day grandfather, Mr. Donovan takes you on a journey of his favorite poems, viewed from his perspective, allowing the reader to travel back in time and discovering that throughout life, a person's point of view can evolve and change.
In Timothy J. Donovan, Jr.'s second book, The Book of Quoems, Mr. Donovan cleverly takes two quotes that rhyme and combines them with their own, original title, encouraging the reader to continue to discover little gems as they turn each page. In this charming book you will find quotes from your favorite celebrities, historians, scientists and politicians. It is a must read for any person who loves poetry and the art of word play. Mr. Donovan's poetic writing shines through with both of these beautifully written books.