Gregg Allman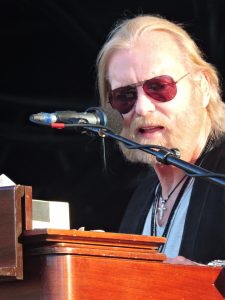 This year, the music industry's Recording Academy celebrated its 60th Anniversary of The GRAMMY Award show. It was the award show's first telecast in New York City since 2003 and venued at Madison Square Garden, the "World's Most Famous Arena." One of the premier events leading up to the GRAMMY Awards was held on the Wednesday before in the heart of the Big Apple, at The City Winery in lower Manhattan. It was there that the GRAMMY Museum hosted Southern Blood: Celebrating Gregg Allman. The event was an extraordinary evening of music and storytelling honoring the musical legacy of GRAMMY Lifetime Achievement Award recipient, Gregg Allman. Over $75,000.00 was generated from the event to assist the GRAMMY Museum, a non-profit organization, in its dedication to cultivating a greater understanding of the history and significance of American music. The Museum's educational mission is to "use music as a gateway to learning; inspiring and cultivating creativity, critical thinking and self-expression." This intimate, star-studded, sold out, standing room only concert saluted the late Gregg Allman and his final album, Southern Blood which was nominated for a GRAMMY this year for Best Americana Album. A single from the album, My Only True Friend was nominated for Best American Roots Song. Among the artists in attendance were family members, Devon and Layla Brooklyn Allman, close friends and longtime collaborators such as 27 time GRAMMY award winner, Alison Krauss, former Allman Brothers alum Warren Haynes, two time Rock and Roll Hall of Fame inductee, Graham Nash, Southside Johnny, Luther & Cody Dickinson of the North Mississippi Allstars and Tommy Emmanuel. To make the evening more of a celebratory event, Gregg's musical director, bandmate and collaborator ScottSharrard, who toured with Gregg since 2008, led the evening's festivities with fellow bandmates, Peter Levin on keyboards, Shawn Pelton on drums and on bass, New York City's, Brett Bass. For approximately 90 VIP fans, the evening started with a private cocktail party and four course dinner hosted by the GRAMMY Museum's Executive  Director, Scott Goldman and Director of Development, John Morrison. Both Scott and John greeted us as we entered and were very accessible during the evening making us feel part of this incredible "pre-GRAMMY" event.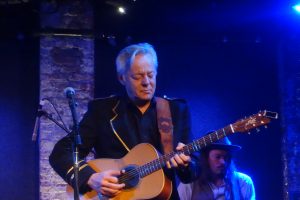 After dinner, we were personally escorted to our choice seats. In a short while this special tribute to the legendary icon, Gregg Allman was on its way with a "storytelling" segment. The evening was hosted by Goldman, while Scott Sharrard, Devon Allman, Layla Brooklyn Allman, Luther Dickinson and Cody Dickenson who shared stories of their memories and some philosophies of the late singer/songwriter. Scott Sharrard provided his insight to Gregg's mindset leading up to the making of Southern Blood, how the song selection process for the album was assembled around the writing of My Only True Friend and the emergence of record producer, Don Was and his contribution to this "brilliant farewell project." Scott discussed getting the Album's band together which consisted of a dream collection of musicians by using "New York hustle with Memphis muscle," how Gregg would impart his wisdom by hammering on Scott about the volume of the guitar (that may have "started with Gregg and Duane") and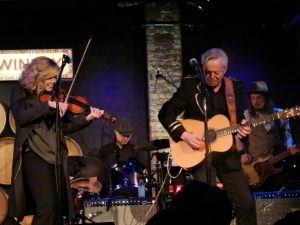 how Gregg treated his musicians as "a band and not as sidemen." Scott also imparted to the audience some of Gregg's advice and "teachings" about the music. Gregg's philosophy was "this is music, leave your heart on the floor and listen to the other members of the band." Devon Allman shared some of his conversations with his father about music and Gregg's reluctance to stop touring during his battle with liver cancer, which reaffirmed Gregg's dedication to his music and his fans.  Devon would later explain how instrumental it was to have legendary record producer, Don Was at the helm during the recording process and described his father's unmatched vocal abilities as "one of the greatest blues singers that sang with unbridled soul."   Luther and Cody talked about how the Allman Brother's Live at the Filmore East album was the soundtrack to their life and the profound influence it had, in conjunction with the sound of their father, James Dickinson and his band, Mud Boy and the Neutrons, which emerged the sound of the North Mississippi Allstars. They shared how they grew up with Devon and Duane Betts and got to play the music with them, which helped them realize how much of a family element was part of the lexicon and was a formidable driving force for the direction for the North Mississippi Allstars.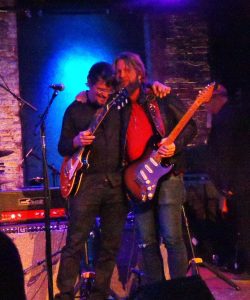 One of the best stories of the evening was of a Dickinson "family folk legend" about Duane Allman that was handed down to Luther and Cody by their mother, Mary Lindsay Dickinson. Luther explained how his father was a session musician and making records with Duane Allman.    One evening, leaving a session, Mr. and Mrs. Dickinson were in a car following a van for which Duane was a passenger. When they approached a stop sign Duane jumped out of the van "butt naked" asking, "which way to the highway?" Luther shared what an inspiration Gregg had been to the Dickinson brothers. Luther explained that Warren Haynes, who they had been friends with since childhood, would invite them to come and sit in. Luther shared with us how he would get the chills while he was playing and Gregg was singing. In addition, Luther told the story that on one of the first occasions when the North Mississippi Allstars performed an opening set for the Allman Brothers, Gregg watched the entire set from the side of the stage, "putting the heat on" them. Afterwards, realizing that Luther and Cody were brothers, Gregg imparted to them to "take care of each other and make every day count." Cody discussed "the family tree" and how it branches from the Allmans and "umbrellas out" with the Trucks, Betts and Dickinson extended families. Cody elaborated about when he plays with Devon, Layla, Derek Trucks, Vaylor Trucks,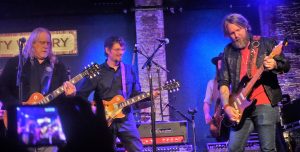 Duane Betts and/or Berry Oakley Jr., how their legacy makes the music so powerful and "mind-boggling." Cody was also quick to point out that this evening marked the first anniversary of Butch Trucks' death. In keeping with the spirit of this intimate evening, Layla Brooklyn Allman discussed how she was fortunate to get closer with her father during the last five years of his life. She shared how the title to Southern Blood was her conception after realizing that her father wanted this album to come down to one elegant simple piece. The title was derived from it being recorded at Muscle Shoals Sound Studio, where Gregg and Duane's first recordings were done, and the spirit of the south that manifested itself in the style of music that was established in the project. Sharrard later added that Gregg would always comment that "there is no such thing as southern rock, all rock is southern." In addition, Layla Brooklyn discussed how philosophical Gregg was about his music "to know about what you are playing, how you are playing it and why you are playing it." She added that her father had the "why you are playing down more than anyone." Lastly, when discussing the Allman Brothers footprint on American music, Luther Dickinson commented: "the velocity, the power and the vision of the music by the original Allman Brothers Band lineup, made up of likeminded kids, 'freedom rockers' and how they marched forward in the segregated south, led by example through the rhythm and the groove of the music" and how it underscored the backbone to the Gregg Allman legacy.After the storytelling that provided this standing room only audience a better sense of Gregg Allman's iconic legacy and his last album, there was a brief intermission with a brief video of Gregg and his career, to allow the stage to be reset for the musical segment of the evening's tribute. Scott Goldman then stepped to the microphone and introduced Scott Sharrad and the band jumped right in to the classic, Whipping Post, telling the fans "this was the only place to be." This was followed by a tear producing rendition of My Only True Friend. Tommy Emmanuel and Alison Krauss joined Scott and the band for another Allman Brothers Classic, Come and Go Blues after which Alison stayed on stage to be joined by Graham Nash and the two performed Jackson Brown's, Song for Adam, one of the tracks from Southern Blood. As the show was heating up, "fiery guitar player" and Gregg's former bandmate and songwriting collaborator, Warren Haynes stepped on the stage to perform Just Another Rider.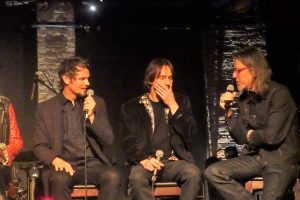 Sharrard and the band next performed Love like Kerosene, a song written by Sharrard and performed by Gregg over the years and also appears on Southern Blood. If the evening hadn't heated up by then, Luther and Cody Dickinson turned it up with a smoking, Hot 'Lanta only to be followed by Southside Johnny and his harmonica with an incredible rendition of Trouble No More, a 1955 Muddy Waters standard "that was perfect for Gregg's voice and Duane's guitar." To make sure the audience was in "the vibe" Layla Allman would perform Johnny Jacob's, Blind Bats and Swamp Rats that also appears on Southern Blood. Interestingly, when Jacob's recorded this song in the studio, it was Duane Allman who played guitar. Devon Allman would then step up and perform an emotional rendition of Elmore James' One Way Out, for which arguably could be considered an Allman Brothers anthem. Devon Allman along with Luther and Cody Dickinson, Tommy Emmanuel, Warren Haynes and Alison Krauss would do a heartfelt Midnight Rider where the entire audience sang along. 
The finale of Southbound would include Luther, Devon, Warren and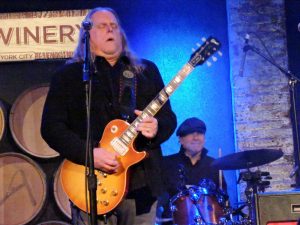 Scott all of whom would take turns shredding their fretboards to this timeless Allman Brothers' classic while Southside Johnny would take care of the vocals.  After the show, I was able to catch up with Scott Goldman who reflected on the evening and excitedly told Nightlifemag.com that "the GRAMMY Museum was pleased to honor Gregg. The evening was made even more meaningful by the heartfelt performances of so many great artists, the energy and excitement of the fans in the room and the end result of raising money to help the GRAMMY Museum continue its music education and cultural preservation mission." The GRAMMY Museum's fundraising event Southern Blood: Celebrating Gregg Allman was a remarkable event to celebrate and honor Gregg Allman and his contributions that helped shape American music for four decades. In celebration of the Allman legacy and his last solo album, the Grammy Museum along with Gregg's children Devon and Layla, Gregg's friends and fans experienced this quintessential moving farewell statement for such an iconic legend. Keep on the lookout for more Appearing Live Tonight and remember, support live music and enjoy your "NIGHTLIFE."