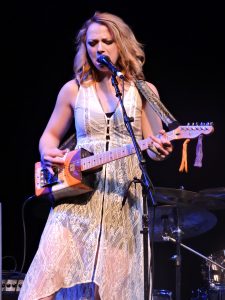 If female blues artists are considered rare, then female blues "guitarists" may be regarded as the rarest of the rare. One can easily name 10-12 female blues artists. When you think female blues artists you probably think the likes of Mamie ("Queen of Blues")Smith, Memphis Minnie, Bessie ("Empress of the Blues")Smith, Koko ("Swamp Boogie Queen")Taylor, Janis Joplin or Etta James. All female blues artists setting the standards to be measured. Now let's talk about female blues "guitarists". Obviously, choices like Bonnie Raitt, Nancy Wilson and Susan Tedeschi, Ana Popovic, Joanne Shaw Taylor, Deborah Coleman, Allison Robertson and Shannon Curfman all come to mind. Now, we must include Samantha Fish in this group, or should we? With the release of her new album, "Chills & Fever" Samantha Fish is showing her versatility and has gone from a commanding female blues guitarist/artist to a "soulful rocking" blues artist.
The proficiency of a true female blues guitarist is unmistakably entrenched within Samantha Fish. When you see Samantha live you will experience both her wide range vocals and her cunning guitar licks played on her world famous Delaney electric or her oil can guitars. One can certainly witness that Samantha plays the blues from the heart and with soul like the masters before her.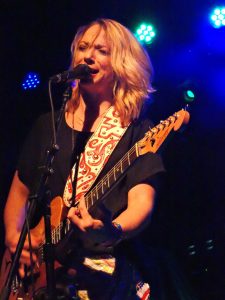 Samantha has proven herself in the studio and live on the road. She has shown the ability to grow as an artist and performer. I never miss the opportunity to see Samantha live when she is in town. She has been honing her crafts on the road and watching her improve show after show, year after year, still amazes me. Listen to Samantha closely, although she is unique in her own right, you may just hear a keen blend of her earlier influences of the likes of Keith Urban, Sheryl Crow and Stevie Ray Vaughan and now some "motownish rhythm and soul".
Being from Kansas City, Missouri she was engulfed in the blues as a teenager going to Knuckleheads Saloon to hear touring blues artists. In 2009, Samantha recorded and produced Live Bait that captured the interest of Ruf Records. Ruf would put together a record with Samantha and two other female blues artists, Cassie Taylor and Dani Wilde, titled Girls with Guitars. The three guitarists then toured on the Ruf Records 2011 Blues Caravan in the U.S. and Europe.
Samantha's growth as a blues artist continued when she started touring with the Samantha Fish Band, a power trio featuring "Go-Go Ray" Pollard on drums and Chris Alexander on bass. Just out of her teens, this young "blues rock" artist recorded Runaway in 2011 with the help of her mentor and friend, Mike Zito, when she won the 2012 Blues Music Award for Best New Artist. Never resting, Samantha appeared on Devon Allman's 2013 album Turquoise in a duet covering the Tom Petty/Stevie Nicks' song Stop Draggin' My Heart Around. One of her more memorable moments occurred in the summer of 2013 when she was called up on stage to play with a skeptical Buddy Guy who was so impressed with her playing on the guitar, he declared to his audience, with his famous beaming smile, "when this kind of shit happens, I'll play all night!"
In 2013, Samantha released her second major studio album, Black Wind Howlin', that charted number 14 on Billboards Blues Chart, featuring Mike Zito on guitar, Yonrico Scott on drums and Johnny Sansome on harmonica. Also in 2013, Samantha appeared on The Healers Live at Knuckleheads Saloon, a CD/DVD collaboration where the proceeds went to benefit the Blue Star Connection. Her third studio album, Wild Heart was released in 2015, also charting on Billboard and is more "blues roots" than her earlier blues rock style and produced by Luther Dickinson who also played various stringed instruments (guitar, bass, mandolin, lap steel) to flesh out the "blues roots" sound.
With her "blues" talents, and always wanting to tour with a horn section and key boards, Samantha has stepped away from a "blues" power trio format and has now ventured into an entirely surprisingly uncharacteristic but welcomed direction. Digging deep into the record vaults she just released her fourth solo album and her sixth for Ruf Records, Chills & Fever. This album was just released, at number 3 on the Billboard Blues Charts and number 1 on the Roots Music Report Charts. This album consists of 50's, 60's and 70's Soul, Motown and R & B covers. Chills & Fever was recorded in Detroit with members of The Detroit Cobras, known as the "darlings" of the Midwest punk/blues scene. Bobby Harlow, best known as the vocalist for Motor City pre-garage rock legends, The Go, produced this album. With a pure slab of rocking rhythm n' blues this "covers" album revisits songs like Crow Jane (Skip James), He Did It (Ronettes), It's Your Voodoo Working (Charles Sheffield), Somebody's Always Trying (Ted Taylor) and the title track Chills and Fever (Ronnie Love), just to name a few.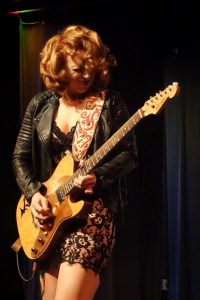 Samantha Fish's new band, with Samantha on guitar and lead vocals, consists of Chris Alexander on bass, Kenny Tudrick on drums , Phil Breen on the keyboards and the New Orleans horns of Travis Blotsky and Mark Levron, will launch a 52 city tour from April 6th through September of this year. We will be experiencing a different facet of Samantha's personality on this tour. With her blues roots influence by the likes of R.L. Burnside or North Mississippi's Junior Kimbrough, to the teachings of Mike Zito and Luther Dickinson, and to her experience playing with Buddy Guy, Tab Benoit or Lightnin' Malcolm, or just her maturity as a musician, we will be experiencing Samantha's love for the soulful melodies and beats of R & B with a "pure slab of rocking rhythm n' blues". The new Samantha Fish Band is nothing less than a welcomed observance of growth from someone who has a sincere appreciation for American music. Think, Jim Buliett of Sun Records. Think Jim Stewart and Estelle Axton of Stax Records. Now think Bobby Harlow and The 45 Factory.
For Samantha Fish fans, the Chills & Fever tour will consist of the true female blues artist we have come to relish, but this time with a vintage soul, rock 'n' roll, and blues sound that makes the Samantha Fish "live" experience well worth it. With her intense artistry playing blues roots or blues rock music, Samantha will now be turning heads for another reason. Classical soul with rollicking rhythms and a Detroit garage band supporting her. Truly a new experience for Samantha Fish fans, new and old.
Follow us on Facebook!

Keep on the lookout for more Appearing Live Tonight and remember, support live music and enjoy your "NIGH TLIFE."