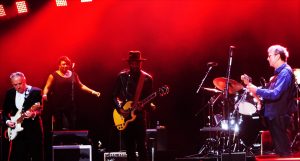 A Celebration of 50 Years of Music. One of the most important and influential guitarists of all time. Eric Clapton is currently on a limited tour just finishing two shows at New York City's Madison Square Garden, and waiting for two in Los Angeles, with additional shows scheduled to take place at the Royal Albert Hall in May and in September, back to New York for two more shows. I was honored to attend the March 20th show at Madison Square Garden, sitting, or in some instances, standing, just feet away of a guitar and rock and roll legend.
Clapton, who just turned 72 years old is the only three-time inductee to the Rock and Roll Hall of Fame: once as a solo artist and separately as a member of the Yardbirds and Cream. He has been ranked second (only behind another great, Jimi Hendrix) in Rolling Stone magazine's list of the "100 Greatest Guitarists of All Time" and fourth in Gibson's "Top 50 Guitarists of All Time". He was also named fifth most important and influential guitarists of all time in Time Magazine's list of "The 10 Best Electric Guitar Players" in 2009.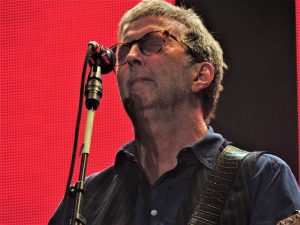 Clapton has been the recipient of 18 Grammy Awards, and the Brit Award for Outstanding Contribution to Music. In 2004 he was knighted when he was bestowed the Commander of the Most Excellent Order of the British Empire award at Buckingham Palace for services to music. In 1998, Clapton, a recovering alcoholic and drug addict, founded the Crossroads Centre on Antigua, a medical facility for recovering substance abusers. Eric hosts The Cross Roads Guitar Festivals, with numerous guest musicians held in different major cities every few years. The Cross Roads Festival not only advances awareness to the program but also raises millions of dollars in sponsor contributions, as well as ticket and merchandise sales, all for the Centre.
After starting his career with the Yardbirds in 1963, Eric left the band in 1965 to play with John Mayall & the Bluesbreakers. After recording two albums with Mayall, Clapton left to form the power trio "Cream" with drummer Ginger Baker and bassist, Jack Bruce. Cream's first album "Wheels of Fire" (1968), was the world's first platinum-selling double album. Clapton also joined Blind Faith with Steve Winwood. In the 70's Eric' style was being influenced by the sounds and melodies of J. J. Cale and the reggae beats of Bob Marley. One of his most popular recordings, "Layla", recorded with Duane Allman with Derek and the Dominos and Robert Johnson's "Crossroads", are Rock/Blues classics. Since then Eric has pretty much been a solo performer/artist continuing to sell records, win Grammys and play to sold out arenas around the world.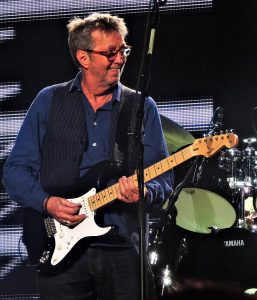 Currently, in the making, is a career-spanning documentary about Eric Clapton, called A Life in 12 Bars. His music and commitment to the blues is the foundation of the film. The documentary will contain an "extensive personal archive of classic performance clips, on and off stage footage, iconic photos, concert posters, handwritten letters, drawings and personal diary entries." A Life in 12 Bars will chart Clapton's rise from Bluesbreaker to guitar god to three-time Rock and Roll Hall of Fame inductee as well as an introspective look into Eric's personal turmoil, including his drug addictions and the 1991 death of his son. No release date for the documentary has been announced.
Remaining true to his art form, Clapton is currently touring, celebrating 50 years of his music after swearing to retirement after his 70th birthday tour, two years ago. Always loving what he does, and now having a loving family, he can relax and rest when he needs to, and breathe life into this forever young repertoire. Eric's band on this tour includes Nathan East, (bass) Steve Gadd, (drums) Chris Stainton, (piano, keyboards) Walt Richmond, (organ, keyboards) and Sharlotte Gibson and Sharon White (backing vocals). Also supporting and touring with Eric is Texas bluesman and longtime friend, Jimmie Vaughan, celebrating his 66th birthday and 33 year old Gary Clark Jr. from Austin, Texas. Clark, Jr., has been dubbed "The Chosen One" best known for his fusion of blues, rock and soul music with elements of hip hop.
There were no surprises during this show. We experienced the quintessential Clapton with a predictable set and familiar song arrangements.  At almost 72 years old, he continues to play crisp timeless riffs up and down "Blackie's" fret board, with a right hand that didn't seem to move and a left hand that has stood the test of time with such flowing graceful movement.  Never engaging with the audience, his trademark British understatement was on display. He didn't acknowledge the audience but for a "Thank you very much" every few songs. As always, "Slow Hand" has not lost any of his brilliance and lets his guitar do the talking for him, and, as usual, it speaks loudly. Never flashy, always emotional, he continues to display his mastery of blues phrasing with his sophisticated and flowing solos.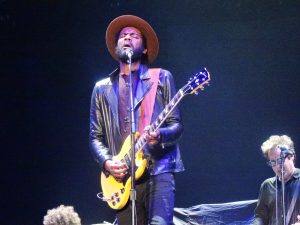 His show was just over an hour and a half long containing an array of his classics from his enormous catalog of songs loved for decades by his fans. A simple look around the arena verified that Eric can still sell out a venue with a very diverse mixture of generations of fans from "grey hairs" smoking a joint to millennials eating Garden nachos. From the opening notes of the only song played all evening from his most recent album I Still Do, (J.J. Cale's "Somebody's Knockin") Eric and the band immediately landed in the blues pocket that was sustained throughout the evening. From his renditions of his classic greatest and blues hits, including Key to the Highway, I'm Your Hoochie Coochie Man, Cross Roads Blues, Layla, Badge, Cocaine and Wonderful Tonight to the encores "Sunshine of Your Love" and Before You Accuse Me (with Gary Clark, Jr. and Jimmie Vaughan), one can only feel as if we died and went to heaven and met "God" himself.
Although Eric Clapton's life's journey has been strewn with tragedies, addiction and loss he continues to prove time and time again, show after show, tour after tour, that he always regains his bearings on stage, as a master should. The "Clapton" culture may be getting younger, but his music, after 50 years, and that which was presented this evening, speaks volumes as to the impact his artistry and his music has had in the industry for five decades.
After three and one half hours of guitar-driven performances, by Vaughn, Clark and Clapton, we didn't want to leave, we wanted yet another encore. We all stood and cheered regardless of our generation until the Garden lights went on.
Keep on the lookout for more Appearing Live Tonight and remember, support live music and enjoy your "NIGHTLIFE."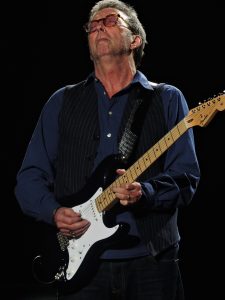 Setlist
Somebody's Knocking (J.J. Cale cover)
Key to the Highway (Charles Segar cover)
I'm Your Hoochie Coochie Man (Willie Dixon cover)
I Shot the Sheriff (The Wailers cover)
Driftin' Blues (Johnny Moore's Three Blazers cover) (acoustic)
Nobody Knows You When You're Down and Out (Jimmy Cox cover) (acoustic)
Layla (Derek and the Dominos song) (acoustic)
Tears in Heaven (acoustic)
Badge (Cream song)
Wonderful Tonight
Cross Road Blues (Robert Johnson cover)
Little Queen of Spades (Robert Johnson cover)
Cocaine (J.J. Cale cover)
Encore:
Sunshine of Your Love (Cream song)
Before You Accuse Me (Bo Diddley cover) (with Gary Clark, Jr.) (also with Jimmie Vaughan
Follow us on Facebook!