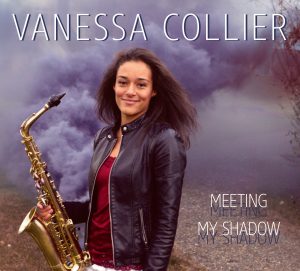 There is a reason Saxophonist/Vocalist/Songwriter, Vanessa Collier has been nominated this year for the Blues Foundation Award in the Instrumentalist-Horn category, for which she so rightfully deserves. One listen to her singing saxophone will explain it. However, don't believe for one moment that playing saxophone is the end all to Vanessa Collier. One just needs to experience Vanessa live for a totally incredible blues, funk and soulful musical experience to understand her incredible talents. This 26 year young woman has talent beyond her years. From the moment she steps on stage you will be hypnotized by her commanding presence, her sultry vocals and instrumentality along with her spiritual and soulful blues swagger. It is these traits that make Vanessa absolutely captivating to ones ears, heart and soul. Did I mention she can play the saxy out of her sax?
In order to truly appreciate Vanessa live, you need to know a little about her musical background. While growing up in Clarksville, Maryland she graduated from high school with honors and Advanced Placement. She was lead chair in Wind Ensemble, Jazz Ensemble, Jazz Combo and selected to several All-State bands. She next attended the prestigious Berklee College of Music in Boston, where she cultivated her musicianship and earned dual degrees in Performance and Music Production & Engineering on merit scholarships. While at Berklee, and as a freshman no less, her top score as a saxophonist allowed her to be the first on-call musician for studio work. While at Berklee she won several other notable awards, and was selected to lead Berklee groups tours to Hawaii and China. In addition, she had the privilege to study voice with Diane Richardson and learned from Kenwood Dennard (Jaco Pastorius), Oscar Stagnaro (Paquito D'Rivera), Bill Pierce (Art Blakey), Frank Tiberi (Woody Herman), Wendy Rolfe, Stephen Webber, Marty Walsh, Prince Charles Alexander and many other notable musicians. During these studies she performed with the likes of two time Grammy winning artist Kathy Matthea, guitarist Bill Cooley, Willie Nelson and Annie Lennox, among others. To complete her college experience, Vanessa was a featured graduate and soloist at the Spring 2013 Berklee Commencement.  All this at such a young age. Wait, her accomplishments do not end here.
As any blues fan can appreciate, while still at Berklee, Vanessa went to see a performance by Grammy Award winner and Blues Hall of Famer, Joe Louis Walker. During a break Vanessa had an opportunity to meet Joe and was asked to join him on stage for a song. After she played the song and a noteworthy solo, she started walking off stage. While thanking Joe Louis Walker for the opportunity, the Blues Hall of Famer requested that she stay on stage where she played the entire remaining set. This one stage performance presented Vanessa with the opportunity to tour with Joe Louis Walker through 2012 and 2013.
In 2014, Vanessa produced her first album, Heart, Soul & Saxophone that demonstrates her eclectic and wide range of styles that she graciously bestows on the listener. The album was named Best of The Year (2014) Blues Breaker by Dan Aykroyd on his radio show, Bluesmobile. Vanessa was also a finalist for the John Lennon Songwriting Competition for her original song, "Bad News Bears" that also appears on the album. Her arrangements on covers like "I Can't Stand the Rain" and "God Bless the Child" show her creativity in making a great song her own. Her self-penned songs such as "Keep it Saxy" and "Tongue Tied" show just how diverse a musician and artist she is.
Rec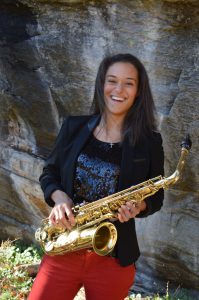 ently, Ruf Records released Vanessa's highly anticipated second album, Meeting My Shadow, where again, she continues to display's her wide range of instrumentality. Whether she is playing the flute, organ or her blistering saxophone arrangements, which are a definitive extension of her melodic vocal range, it is evident that her attitude is superimposed over her emotions and is delightfully revealed to her listening audience. As Vanessa would agree, this album is a collection of varied experiences from the musical influences she draws from. Vanessa co-produced and wrote 8 of the 11 songs and the album is filled with some gritty, funky blues-flavored saxophone joined with some heartfelt soulful vocals. What better place to record this album than at Music & Arts Studio in Memphis, where some say is "the birthplace of the blues?" Vanessa proclaims that this album is "a tribute to the spirit of blues tradition, a reflection on our present culture and a hopeful wish for growth, understanding and inclusion as we move forward together. It's also a story of perseverance and empowerment, meant to share strength and provide an uplifting message." The album is also being met with some positive critical acclaim. This past March Meeting My Shadow was named Best Album for the German Record Critics Award and it is quickly moving up the Living Blues Charts, now at #15.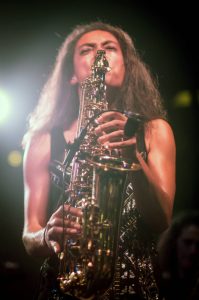 Vanessa Collier is currently being featured during this year's, Ruf Records Blues Caravan. She is traveling throughout Europe with other Ruf Records recording artists, Big Daddy Wilson and Si Cranstoun. Throughout this tour, Vanessa will be backed by longtime greats, Roger Inniss (Bass) and Laura Chavez (guitar). Although excellent in their own right, Vanessa's talents make everyone on stage shine and as a professional artist she promotes their stage abilities as well. After completing the Caravan, Vanessa comes back to the United States where she will be playing in many venues and festivals.
Vanessa's audience will always be provided with an exceptionally entertaining, high-energy performance containing an array and combination of musical genres. Her apparent passion for her music, refreshing stage presence, singing saxophone elegance and musicianship combined with her distinctive vivacious vocal inflections makes a Vanessa Collier show a unique musical experience and a must on any ones "need to see" list. You will immediately become captivated by her ever present smile that tells her audience that this musician/artist/performer loves what she is doing. Her talents and love for the music dominate the stage while her blues style melts your soul and steals your heart. Be warned, when you see her live, she just may come out to the audience and sit next to you while playing her sax without missing an arousing note.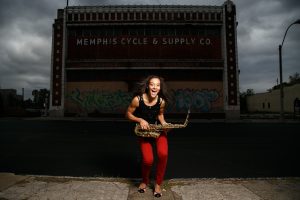 Check out these great videos!
https://www.youtube.com/watch?v=uVZqR98H8Lk
https://www.youtube.com/watch?v=VcgU7AVBs_8
Follow us on Facebook!

Keep on the lookout for more Appearing Live Tonight and remember, support live music and enjoy your "NIGH TLIFE."