What was started in 1989 as a small crawfish boil for 70 'homesick for boiled crawfish' people, has turned into Michael Arnons' 28th Annual Crawfish Fest. Michael Arnone has magnificently linked New Jersey and Louisiana with spectacular New Orleans culinary delights and a musical line-up of A-list performers. These artists have that special Louisiana history from the French Quarter and the Bayou. Cajun, Zydeco, Delta Blues, New Orleans R&B, Brass, Gospel and Jazz, all on 4 Stages, over three days in early June.
Although the live music on four stages is the main attraction, the Sussex County Fairgrounds that sets the backdrop and the homemade creole cuisine make this three-day creole extravaganza a true "Crawfish Festival."
First the setting: The Sussex County Fairgrounds Complex sits on 165 acres with 15 permanent buildings in Augusta, New Jersey, just 50 miles from New York City and the Pocono Mountains. There are livestock barns, a Conservatory and Greenhouse and a Great Lawn that comforts thousands as well as camping grounds for those who enjoy sleeping under the stars. Truly, this is one perfect venue for a great music festival.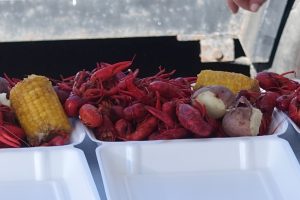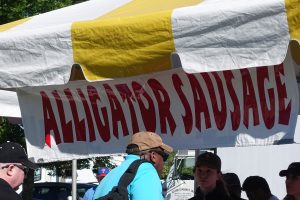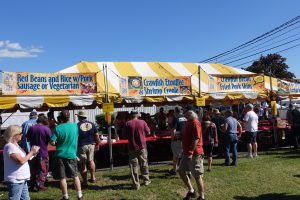 Next, the food and drink: The food is born out of generations of Louisiana tradition. If the tons of boiled crawfish don't place you in the bayou, then your other options will most certainly do the trick. While listening to the sounds of Louisiana you can treat your taste buds to the crawfish etouffee, the jambalaya, the gumbo or the alligator sausage. If that is not enough, how about the char-grilled oysters, a shrimp/oyster or catfish Po-Boy, fried chicken or fried green tomatoes? But whatever your delight, you will need to save some room for the home made Beignets with powdered sugar on top, making this a truly festive New Orleans experience. For your adult libation choices, the local fire departments 'man' the beer, wine and alcoholic drink tents.
And now for the live music: In years past, Crawfish fans were treated to A-List performances of Allen Toussaint, Aaron Neville, Trombone Shorty, Dr. John, Royal Southern Brotherhood, Little Feat, Railroad Earth, Taj Mahal, JJ Grey & Mofro, Buckwheat Zydeco and Sonny Landreth, just to name a few.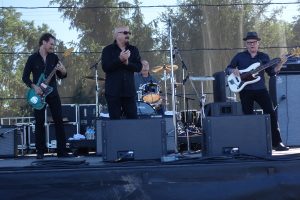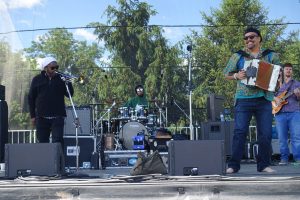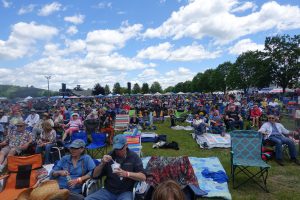 As Michael Arnone continues to tweak the event, this year's festival featured 23 artists playing 28 sets of music on four different stages, together with four music workshops. Friday evening was the official kick-off for the "King Crawfish Krewe" and campers, who were treated to some down right foot stomping traditional New Orleans rock, funk and jazz performances by Darcy Malone and the Tangle, Mason Ruffner and keyboard extraordinaire, Henry Butler and his Jambalaya Band.
On Day 2, Saturday, is where things really start to heat up with 12 acts on 3 stages and workshops performances featuring Terrance Simien and The John Ginty Band.
On the Pavilion Stage, John The Martyr, Yarn and Cabinet entertained the crowd while just across the way in The Dance Hall you can take Cajun Dance lessons and take in the sounds of Chubby Carrier and the Bayou Swamp Band, who won a Grammy Award in 2011 for their album, Zydeco Junkie.
So if high energy zydeco, funk, rock and roll and Cajun dancing don't get you in the Crawfish Fest mood, then you should be at the main stage where first up was international touring artist, Terrance Simien and the Zydeco Experience. Terrance, an eighth generation creole and the only zydeco musician to win two Grammy Awards, set the stage for the day with his American zydeco roots music. Very quickly one can grasp his emotions and love for zydeco music that are displayed with his stage performance. His emotional vocals and engaging performance not only displayed his innovative flair and love for his heritage, but instantaneously immersed the crowd into the Cajun/Creole experience.
As if the crowd wasn't stirred with the creole flavor by this time, Alexis P. Suter with her "big, booming, pained passion, explosive and soul bearing voice" and her band captivated the audience with her blend of blues, soul, roots and rock music for which she was rightfully presented the 2015 "Koko Taylor Award" at the 33rd Blues Music Awards.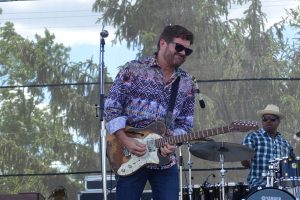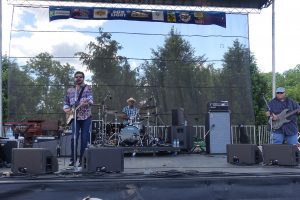 The thousands in the park, as they started to converge to the main stage, fell in to that "real" Cajun mood when Louisiana Music Hall of Famer Tab Benoit walked on to the stage. Benoit is a founder of 'Voice of the Wetlands', an organization promoting awareness of the receding coastal wetlands of Louisiana. Benoit is a two time recipient of the highest accolade afforded musicians and songwriters in Blues music, the 'B.B. King Entertainer of the Year' Award, presented by The Blues Music Awards. In addition, Tab Benoit has won two other Blues Music Awards: Contemporary Blues Male Artist and Contemporary Blues Album. Benoit's set was an incredibly perfect, top shelf performance that included fan favorites, Night Train, Hot Tamale Baby, Too Many Dirty Dishes and One Foot in the Bayou. His engagement with the audience with his enchanting sense of humor had the crowd feeling as if we were there in the Bayou, wanting some more gumbo.
If the main stage was not full of that Crawfish Festival vibe, last up was Kim Wilson and The Fabulous Thunderbirds. With their distinctive Texas boogie blues and Kim's powerful harmonica, the Crawfish fans were presented with one of the most awesome performances of the day with world renowned renditions of "Tuff Enuf" and "Wrap it Up."
If the musical performances on Saturday weren't over the top, then Sunday's A plus performances blew one away. The lineup included Zydeco traditionalist and Grammy nominee, Geno Delafose & French Rock Boogie; long time Crawfish Fest favorite, John Papa Gros Band with his funk and true New Orleans piano; Grammy winning, Rebirth Brass Band that play a unique combination of traditional brass band, funk, hip hop, R&B and the unmistakable sound of New Orleans. The show continued with The Nick Moss Band that just released "From the Root to the Fruit" a double CD which has been nominated for two 2017 Blues Music Awards: Album of the Year & Contemporary Album of the Year; and Charles "Hornman" Neville, saxophone player and founding member of New Orleans first family of funk, The Neville Brothers. But closing the festival was crowd favorite, Anders Osbourne who has produced albums for Tab Benoit, Johnny Sansone and Mike Zito. Anders has co-written two Grammy winning songs one for Keb Mo and one for country artist, Tim McGraw. Osbourne has developed a reputation for performing rousing live shows and with 25 years in the record industry he has recorded 15 albums including his newest critically acclaimed album, Flower Box.
With the best music and food that Louisiana and New Orleans has to offer, Michael Arnone's Crawfish Fest is great fun for everyone with world class music and a fantastic variety of Louisiana cuisine. One doesn't need to be a live music junkie to enjoy this very "special vibe." Each day, while leaving the event, smiles from ear to ear were being displayed by most, if not all those that attended.
I have already started counting the days for Michael Arnone's 29th Annual Crawfish Fest.
Keep on the lookout for more Appearing Live Tonight and remember, support live music and enjoy your "NIGHTLIFE."