Long Island Hospitality Ball – 2017
Upon entering this luxurious soiree at the well-known Crest Hollow Country Club, it was plain to see that this was no ordinary expo. Seas of elegantly dressed attendees parted to reveal an enormous pool, which was surrounded by an even larger reception space. Local restaurants and spirits from adjacent areas had set up booths in countless rows in order to highlight their respective fares and wares to eager and curious onlookers. This was truly a glorious scene in many ways, seeing as I was quickly bombarded with assorted tasty items alongside signature cocktails and was able to revel in the night's entertainment.
Nightlife Magazine is truly the perfect outlet to review such an affair, seeing as this event tied food, beverages, bar scenes, music, charity, and fun times all into one ornate package. A grand mosaic of local eateries such as Vincent's Clam Bar, George Martin's Strip Steak, Besito, and Mio Posto were all on display, handing out tastes of some of their specialties. All the while, nearby booths representing beverage purveyors such as Chi and Olo Vino happily poured out glasses of their finest in order to assist the guests in washing down their delicious edibles.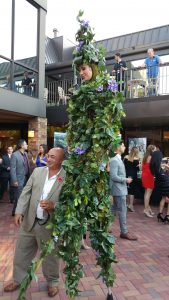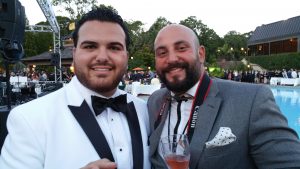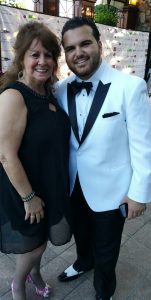 Items such as braised beef short ribs, homemade pappardelle, rigatoni with cream sauce and veggies, crispy chicken cutlets covered in fine marsala, crusty breads of all varieties, ceviche's, grilled octopus and decadent desserts of various colors, shapes and origins all tantalized the hungry and happy partygoers. I, for one, straightened my bow tie, readied my camera and my taste buds alike, and eagerly dove in. I did my best to sample as many amazing items as possible, but this elaborate and eclectic myriad of meals clearly bested my bountiful belly.
Once we felt that I had my fill of refreshments (and then some), WeI took the opportunity to sit back and relax and enjoy the musical entertainers that were on offer. Nightlife Magazine favorite, Sal "the VOICE" Valentinetti, with his elegant, Sinatra-like stylings was not to be missed. Guitar virtuoso Paul Sequence Ferguson delighted guest with wonderful smooth jazz! Many musicians donate their performances each year. That 70's Band was a late night treat under the stars. Each person attending this event was able to find something that truly suited their fancy. Edibles, drinkables and raffles with great prizes, superb music, and most importantly, beaucoup bucks raised for The Carol M. Baldwin Breast Cancer Research Fund, surely made this unique ball invaluable.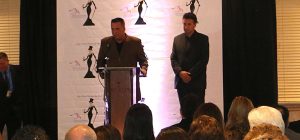 Dedicated restauranteurs and patrons alike, beverage purveyors, entertainers, members of the press, and our fabulous hosts, the famed Baldwin Family, all relished in this opportunity to eat, drink, listen, and raise money for a great cause at this year's Long Island Hospitality Ball. Nightlife Magazine is pleased to continue support of The Baldwin charity and congratulates this year's Honorees Giovanni Casano, Bobby Goodrich, Matthew Yonick, Rob Verderosa and Joan Reminick.
Nightlife Magazine's ongoing support of the hospitality industry is paramount and will continue on. We look forward to attending next year's festivities, and you should as well!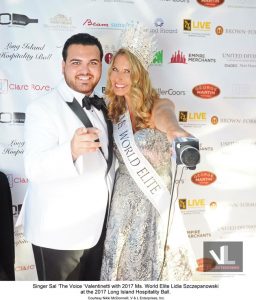 Singer Sal 'The Voice 'Valentinetti with 2017 Ms. World Elite Lidia Szczepanowski at the 2017 Long Island Hospitality Ball. ​Courtesy Nikki McDonnelll, V & L Enterprises, Inc.
Fine Dining & Travel Editor – Scott Buchter
Managing Editor in Chief – Fran Petito