Jane Lee Hooker, a band of five incredible high powered women with decades of experience in the studio and on the road will provide you with an incredible experience of electrified, high energy blues music, with dueling guitar leads, driving rhythm and soulful vocals. Jane Lee Hooker plays the blues, hard, loud and dirty.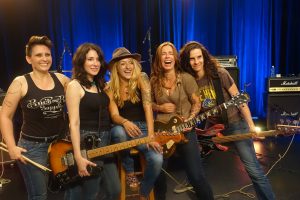 Tracy Hightop, female guitarist, wanted to play the blues since she was a child. A big Rolling Stones fan, she started learning how their music evolved so she started learning to play early blues such as Muddy Waters songs. She has played in bands including Helldorado where she met present bandmate and fellow guitarist Tina T-Bone, as well as Bad Wizard, only later to join the Nashville Pussy an Atlanta, Georgia band whose music can be described as psychobilly, southern hard cow rock punk music.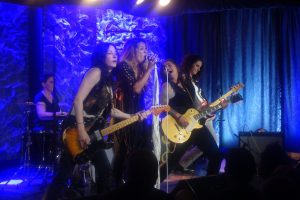 After playing the heavy rock scene, Hightop rounded up fellow Helldorado guitarist, Tina T-bone and other previous band mates including bassist Hail Mary, who played bass with Hightop in the punk band The Wives. Quickly following was drummer Cool Whip, who, as legend has it, aced her audition before finishing the first song. Through mutual friends, Jane Lee Hooker put the finishing touch on the band by adding vocalist and front woman, Dana "Danger" Athens, a solo vocalist. Dana previously sang in a burlesque club and her vocal style reflects the styles of her opera singer mother and church keyboardist father.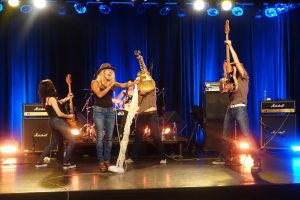 With double lead guitars, a hard-driving rhythm section and soul-scouring vocals, this band honors the likes of Muddy Waters, Howling' Wolf, Johnny Winter, Big Mama Thornton, and other blues greats with songs like Wade in the Water, Bumble Bee, Champagne and reefer and Mannish Boy. These ladies deliver us the blues with raw hard driven soul the way the blues where meant to be played.
Since forming in 2013, Jane Lee Hooker has played New York City's best venues, including B.B. Kings Blues Club, Irving Plaza and the Highline Ballroom. They have played festivals such as Mountain Jam 2016, El Cid (L.A.), Pappy & Harriet's (Pioneertown, CA), the Continental Club (Houston), and Antone's Record Shop (Austin), just to name a few. The band was nominated for The Deli's Best of 2014 Poll for Emerging NYC Artists. They've shared bills with Wilco, Beck, Courtney Barnett, Southside Johnny & the Asbury Jukes, Bernard Fowler (Rolling Stones), the Wailers, Davey Knowles, and the Death Valley Girls, among others.
In 2015 the band signed with renowned blues label, Ruf Records and released their debut album, No B!,this past spring. No B! Has been charting on Billboard's Blues Chart ever since.
Recently, Jane Lee Hooker has played New York City's Iridium, the Long Island Seafood Festival at the Long Island Maritime Museum and has done a live on air episode of the Long Island Blues Warehouse. (http://www.liblues.com/webisodes) Jane Lee Hooker has recently played the famous Big Blues Bender in Las Vegas at the word famous, Plaza Hotel & Casino, sharing the bill with other well-known "bluzisians" such as Keb Mo, Delbert McClinton, Beth Hart, Tab Benoit, Cyril Neville's Royal Southern Brotherhood, Mike Zito and Johnny Sansone just to name a few. Currently, JHL is in the middle of a European "Double Trouble Tour" with fellow Ruf Records artist, Layla Zoe, where there are playing to sell out crowds in France, Germany, Denmark and Switzerland. Jane Lee Hooker is excited to getting back to the United States and g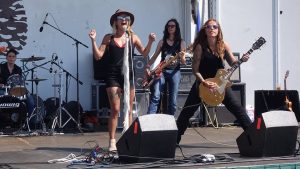 etting back in the studio to record a second album for Ruf Records.
Having decades of experience in the studio and on the road, this amazingly talented group of performers present a blistering blues monster sound that whispers in your ear while stomping on your heart.   No matter if you are a fan of blues, hard rock or heavy metal or you just want to be lifted off your feet, you need to see Jane Lee Hooker live. You can follow this band by going to their web site http://www.janeleehooker.com and checking out all upcoming shows. Certainly, a must see show you do not want to miss.
Keep on the lookout for more Appearing Live Tonight.
Follow us on Facebook!

Remember, support live music and enjoy your "NIGHTLIFE."