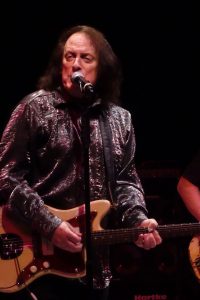 Recently, I attended a Tommy James & The Shondells live show. As I found myself recognizing every song, I noted my foot tapping to the beat and I was singing along with the music. I also recognized that after 50 years in the music industry Tommy James still has the pipes. The vocal range was if we were at a show in 1967 and with his entire repertoire of smash hits no less. Looking around I observed a sold out audience of all ages on its feet from the opening number, to Tommy walking in the audience to meet his fans with kisses and handshakes, to the last note and the lights being turned on. As I sat there I wondered, "Is Tommy James in the Rock & Roll Hall of Fame?"   To my surprise and disappointment, I discovered with a quick Google search that the Rock & Roll icon has been foolishly omitted. The closest Tommy James has come thus far to the Hall of Fame would be in 2015 when he performed his hit "Crimson & Clover" with Joan Jett, Dave Grohl and Miley Cyrus at the Rock and Roll Hall of Fame awards television show. Think about this, in front of tens of thousands of audience members and tens of millions of people watching in front of their television sets from around the world, there were 3 generations of artists performing his music… at the Rock & Roll Hall of Fame. What an injustice it is to all Rock & Roll fans to not have Tommy James & The Shondells in the Hall of Fame! What does an artist of his caliber, his magnitude, his iconic stature need to do so as to be recognized by the powers that decide who should be awarded such tribute?
Some may say that Tommy James was destined for the Rock & Roll Hall of Fame from birth. He was introduced to music at age three, when he was given a ukulele by his grandfather, he worked as a model at age four and played in local bands in Michigan as a teenager. His musical journey began as if scripted for Hollywood. His recorded cover of a song written by Jeff Barry and Ellie Greenwich for their group, The Raindrops was found in a used-record bin in Pittsburg and played at local dances and almost immediately a manic demand for this record was created. It has been estimated that 80,000 copies of this record was bootlegged under various labels and in 1966 Tommy James & The Shondells took the remake of "Hanky Panky" to No. 1 in the United States.
Tommy James, 50 years in the music industry, with songs like: Crystal Blue Persuasion, I Think We're Alone Now, Hanky Panky, Crimson & Clover, Draggin' the Line, Mony Mony and Sweet Cherry Wine. Just a few of the many hits, and yet he continues to be shunned from the Hall of Fame. Hits that include 23 gold records, 9 platinum albums and over 100 million records sold worldwide. Tommy James has been the recipient of five BMI "Million Air" awards, in recognition of 22 million broadcast spins of his songs. From 1968 through 1970, when artists like Jagger, Fogerty, and Morrison were in their heyday, Tommy James & the Shondells sold more singles than any other pop act in the world, many of them written and co-written by Tommy James. More amazing, in 1969, as some would say, the "Summer of Love" Tommy James had total sales of his four 1969 hits, (Sweet Cherry Wine, Crystal Blue Persuasion,   Ball of Fire and She) that would top those of the Beatles that year when they released the "Abbey Road" album. His second volume of greatest hits – The Best Of Tommy James and The Shondells (featuring "Ball of Fire") ultimately sold over 10 million copies.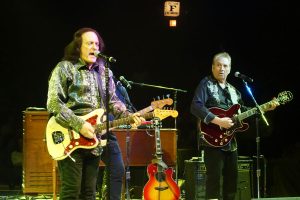 And yet, Tommy James is not in the Hall of Fame.
So I continued to look deeper into his career and I find that he can make claim to 32 billboard hot 100 charting hits. Tommy's songs had become pop and rock and roll culture classics that have been covered by everyone from punk rockers to country icons. Major artists such as Bruce Springsteen, Prince, REM, Billy Idol, Joan Jett, Dolly Parton, Carlos Santana and even the Boston Pops have covered his music. How many artists can profess that two of his songs were covered almost 20 years later and hit #1 back-to-back. Just think back to 1987 when Tiffany and Billy Idol's versions of "I Think We're Alone Now" and "Mony Mony" respectively when they both battled for the top spot on the pop chart for a solid month, and each eventually hitting that iconic #1 slot. And yet, Tommy James is still not in the Hall of Fame.
These Rock & Roll accomplishments, whether his music is classified as "Pop" or "Rock" would be more than sufficient for any other artists' consideration for induction into the Hall of Fame. Amazingly, Tommy's chart busting hit song accomplishments don't tell his entire story. The music of Tommy James has also been highly placed in over 30 motion pictures and television shows including: 16 Cloverfield Lane, Moneyball, Pirate Radio, Austin Powers, We Are Marshall, The Italian Job, Cape Fear, Forrest Gump, Crowded, Almost Human, The Goldbergs, Aquarius, Boston Legal, My Name Is Earl, Men of a Certain Age and Criminal Minds. Similarly his music has been featured in national ad campaigns for the likes of Nissan and Kohl's.
The people that decide on Hall of Fame inductees should look again at Tommy James, just as I have. As if having chart busting music for decades and having his music played on the big and small screens is still not enough, Tommy has also been a trendsetter in the music industry. In 1968, Tommy became one of the first artists to experiment with music videos, creating a mini-film around "Mony Mony" for theatrical showings, thirteen years before MTV hit the airwaves.  Tommy James is also credited with being one of the first musicians to perform in support of a presidential campaign when he performed for Hubert Humphrey, during his run for the 1968 presidency. Atypically, one of Tommy James' albums would include liner notes from then Vice President, Hubert Humphrey. How many Rock & Roll Hall of Famers can be credited for those accomplishments?
The Tommy James success still doesn't end there. After having extraordinary sales of Crimson and Clover, Tommy James place in Rock & Roll history should have been solidified when he embarked into progressive/psychedelic music on his 1969 album "Cellophane Symphony," when he was one of the first artists to utilize the Moog Synthesizer whereby his sounds were closer to Pink Floyd than anyone ever imagined possible. But still not recognized by the Hall of Fame.
Only to add to his artistic achievements, Tommy's critically acclaimed autobiography, "Me, The Mob and The Music" – became a bestseller for Simon & Schuster, reaped rave reviews from critics and industry insiders and was chosen by Rolling Stone magazine as one of the 25 greatest rock 'n' roll memoirs of all time (#12). The book is a captivating tale of Tommy's career and his tumultuous relationship with the "Godfather" of the music industry, Morris Levy the legendary music industry executive, best known as the founder and owner of Roulette Records and rumored to have close ties to a certain New York mafia family. The book is in the process of becoming a major motion picture produced by Barbara De Fina, whose credits include Goodfellas, Casino, Cape Fear, Color of Money, The Grifters, The Age of Innocence, and Silence. With top Hollywood screenwriter Matthew Stone writing the screenplay.
After all the years and after all the decades, Tommy's love of and the strength of his music that continues to stand the test of time, still drives him to play live for sold out audiences throughout the world. You may not see this Rock & Roll gentleman, this Rock & Roll Icon, this Rock & Roll legend, in the Hall of Fame with all his hit songs, his record sales history, all his Rock & Roll trends setting feats and his longevity in a very difficult music industry arena – but you will find him, performing live at a venue near you.
Tommy James Live, a show that must not be missed. Tommy James, always being with us throughout the years and generations cannot miss his deserved place in the Rock & Roll Hall of Fame.
Keep on the lookout for more Appearing Live Tonight.
Follow us on Facebook!

Remember, support live music and enjoy your "NIGHTLIFE." – Frank J. Lombardo