For 34 years Bon Jovi's music has been entertaining generations of hard rock, glam metal, arena rock and pop rock fans around the world. With 2,700 concerts in over 50 countries for more than 34 million fans, Bon Jovi has solidified itself as a true "live" rock band. A live performance that must be experienced.
It was not until 1986 with the release of his third album, "Slippery When Wet" and his winning the 1988 American Music Award for Pop/Rock Band Favorite Artist Award did Jon Bon Jovi, at 24 years old, launch his assent to world renowned stardom. With his longevity in the music industry with Bill Board Hits like "Run Away," "You Give Love a Bad Name," "Living on a Prayer," and "Bed of Roses," just to name a few, to the ever present newest release, "This House is Not For Sale" from the self-entitled album, Jon has solidified his identity as a Rock and Roll hero.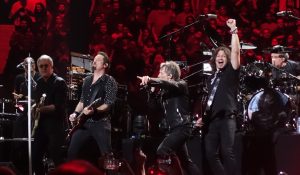 Since forming in 1983 and the release of his first album, "Bon Jovi" in 1984 and quickly followed by "7800 Fahrenheit" in 1985, Bon Jovi has become one of the most popular rockers for all ages. With more than 130 million records sold worldwide, with 13 studio albums, three live albums and six compilations, Jon Bon Jovi and his band continue to sell out major arenas and stadiums to audiences comprised of parents with their teenaged children as well as countless middle aged rockers and seniors who experienced Bon Jovi from their 1980's and 90's party days. When attending a live performance you will most certainly meet a new fan or two…..or three, experiencing the live Bon Jovi experience for the first time.
Since the November 2016 release of his 13th studio album, "This House is Not for Sale," Jon and his revamped band are in the middle of a worldwide three legged, 43 show tour that commenced in September 2016 in Minneapolis and will end in September, 2017 in Sao Paulo, Brazil. The tour will be soaring through 41 cities in six countries. Not so bad for a now 55 year old pop glam rocker. Supporting Jon, on drums and keyboards are original members, Tico Torres and David Bryan respectively. On bass guitar is Hugh McDonald, an official member of the band since 1994. The two guitarists are new axman Phil X, who replaced former lead guitarist Richie Sambora mid tour in 2013 and longtime producer, John Shanks, who also produced the new album. The "This House is Not for Sale" Tour formally pronounces Phil X as an official member of Bon Jovi. This new album and current tour places the Rock and Roll world on notice that Bon Jovi's charismatic entertaining style is just as popular today as it was in the early parts of his career.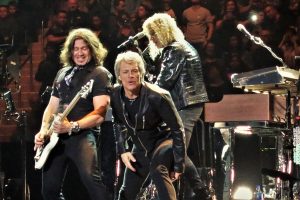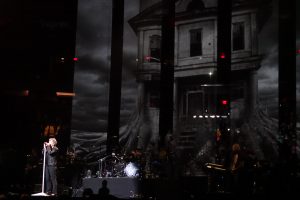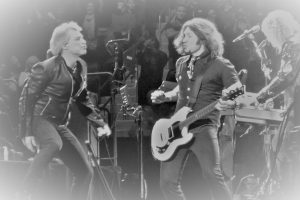 The new album had opening sales of 128,000 album sales in its first week of release making it the largest for a Rock Album in the previous three months. The successful release of the album also marked the sixth time the band had an album that debuted at Number 1 and the group's 13th top 10-charting album that follows previous No. 1s: What About Now (in 2013), The Circle (2009), Lost Highway (2007), New Jersey (1988) and Slippery When Wet (1986). It is just amazing that Bon Jovi, who was inducted into the Song Writers Hall of Fame in 2009, has been nominated for nine Grammy Awards and only winning one, for Best Country Collaboration no less.
During the second leg of the This House is Not For Sale tour, I had the opportunity to experience a "live" Bon Jovi show for the first time from a fifth row floor seat at a "sold out"" New York City's Madison Square Garden! The seat was never used. All twenty thousand plus in attendance, including yours truly, stood from the opening curtain for almost three hours.
When the lights went down and the special effects introduction started I was immediately pulled from my seat by the crowd's excitement and awaited anticipation and didn't sit again until the ride home. The band opened with its newest hit This House is Not For Sale from behind a screen bearing the sepia-toned image of the record's cover, a deep rooted house. Midway through the opening song the screen is lifted to an arm stretched Jon Bon Jovi with a simultaneously unbelievably loud roar from the crowd. While hearing this song for the first time, taking note of the crowd's reactions and watching the ever energetic front man sing, my immediate thought was "wow, another rock anthem." Jon's high energy performance throughout the show never faltered, even through a twenty song set and an encore that included five classic Bon Jovi hits.
Jon mixed in four other songs from the new album and throughout the entire show he ran, skipped and walked around the stage, urging the crowd to applaud loudly while performing his classic songs, You Give Love a Bad Name, Lost Highway, It's My Life, Bad Medicine and Keep the Faith, just to name a few. New guitarists, Phil X and John Shanks seized their moments with loud driving and wrenching solo's, mostly at Jon's urging.   Jon did join the two when he picked up his acoustic guitar on I'll Sleep When I'm Dead. However, it was Phil X who played his six strings loud and intense, almost possessed, as if telling the audience to forget Mr. Sambora. The five song encore was well worth standing for with Raise Your Hands, Someday I'll Be Saturday Night, Captain Crash & the Beauty Queen From Mars, Wanted Dead or Alive and finishing the show with Livin' on a Prayer. After almost three hours and 25 songs, the crowd continued to be in a frenzy, screaming for more. The World's Most Famous Arena was lit up, not by the venue lights, but by twenty thousand cell phones and . . . a few lighters.
Bon Jovi continues to prove himself again to be the quintessential rock star, parading up and down the ramps, bouncing, jumping with opened arm helicopter arm flutters, pointing to the 40, 50 and 60 year old women in the crowd with a wink and a smile, still getting them overheated and flustered as they did in the 80's and 90's. Maintaining the charisma he still excites his audience, not only with his stage presence but with his masterful vocal intonations that rang loud as if this "silver haired" front man was 24 years old again.
After 34 years, Jon and his band have solidified their standing as one of rock's most resilient live acts. Whether This House is Not For Sale is the rebirth of Bon Jovi or a statement that he has his mojo back and isn't going anywhere, it is the live performance that lived up to the name "live arena rock".
Follow us on Facebook!

Keep on the lookout for more Appearing Live Tonight and remember, support live music and enjoy your "NIGH TLIFE."