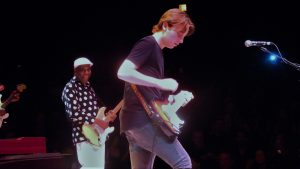 For it is rare one gets to see a live performance of a legendary bluesman perform his craft. It is even rarer than rare that one can experience the live artistry of a "Legend's Legend" play the blues. Buddy Guy is just not an ordinary man playing ordinary blues. His music is often labelled Chicago blues but his style is unique and separate from the others that came before him and may have been the foundation of "electric rock" blues as we know it today. From the most traditional deepest blues, to a creative unpredictable rock, soul jazz style, Buddy is the quintessential "Legend's Legend."
When you think legendary blues artists you think of Robert Johnson, the King of the Delta Blues who is credited with starting it all with a simple deal with the devil down at the cross roads. Or one might think of Muddy Waters, Lightnin' Hopkins, B.B. King, John Lee Hooker, Howlin' Wolf or Albert King. Only one person on this list can still be seen performing live to sold out crowds around the world, the legendary blues artist Buddy Guy. Eric Clapton once described him as "the best guitar player alive" and having recently seen Buddy, I can tell you first hand, Eric is spot-on.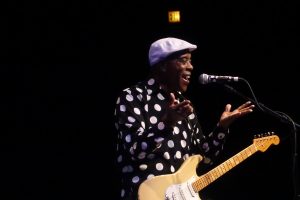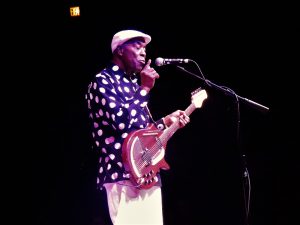 Since first being recorded in the very early 1900's, the blues were played by a soulful lot of acoustic musicians such as Robert Johnson, Blind Willie Johnson, Huddie "Ledbelly" Ledbetter, Charley Patton and Son House. Their songs were handed down to pioneering bluesmen such as Muddy Waters, John Lee Hooker and B.B. King. At 81 years old, Buddy Guy, an innovator in his own right, has been deemed to be the bridge the blues from those pioneers to contemporary musicians like Eric Clapton, Jeff Beck, Jimi Hendrix, Jimmy Page and Stevie Ray Vaughan. Vaughan has been credited as saying that "Without Buddy Guy, there would be no Stevie Ray Vaughan." Lore has it that Jimi Hendrix literally knelt at Buddy's feet in the late Sixties, because "it was better to study his riffs." Eric Clapton is quoted as stating that he developed the idea for a blues-rock power trio while watching Guy's trio perform in England in 1965. Clapton later formed the rock band Cream, "the first rock super group to become superstars" and "the first top group to truly exploit the power-trio format". So thank Buddy Guy for the styles of Hendrix, Vaugh and Cream. Indisputably, Buddy Guy has had an astounding influence on the "Blues Rock" we hear today.
The Legend Buddy Guy has won seven Grammy Awards for his contemporary and traditional forms of blues music. He is currently touring his latest album, Born to Play Guitar that has won him a 2016 Grammy Award for Best Blues Album and comes on the heels of the 2013 release of the ambitious, guest star-laden double album, Rhythm & Blues that reached number one on Billboard's Top Blues Albums chart and 27 on their Top 200.
And if you think seven Grammys and being so influential to a genre of music is not enough to label Buddy Guy a "Legend's Legend", think of this: in 2003, he was presented with the National Medal of Arts, awarded by the President of the United States, an honor to those who have made extraordinary contributions to the creation, growth and support of the arts in the United States. Additionally, Buddy Guy has earned countless W.C. Handy Awards by the Blues Foundation; was awarded Billboard Magazine's Century Award (he was its second recipient) for distinguished artistic achievement; given the title of Greatest Living Electric Blues Guitarist by none other than Guitar God himself, Eric Clapton who, along with B.B. King, inducted Buddy into the Rock and Roll Hall of Fame in 2005; he was ranked 30th in Rolling Stone magazine's 100 Greatest Guitarists of All Time; his song "Stone Crazy" was ranked 78th in Rolling Stone's list of the 100 Greatest Guitar Songs of All Time; and he was listed by Guitar World as one of the 30 Most Badass Guitarists of All Time at number six.
At 81 years old, Buddy Guy, is not only creating some great studio recordings, he is still performing live concerts of energetic "blues rock," combining that old-time blues feel with the technical facility of a modern "rock" guitar player, while still respecting and honoring those that came before him. This "Legend's Legend" still climbs on stage with his polka-dot Buddy Guy signature Fender Stratocaster and continues to appear at festivals and jam with the likes of Eric Clapton, Jeff Beck and Carlos Santana, not to mention newcomers like John Mayer and youngster, Quinn Sullivan. At this stage in his life, Buddy Guy continues to play live shows night after night, city after city, venue after venue. Just go to his official web page and look at his tour dates. At 81 years old, he continues to play live and tour because he loves his craft, he loves the music, he loves the road and he loves his fans.
So when I was afforded the opportunity to see Buddy Guy perform live I jumped at the opportunity to do so. Again! After greeting the crowd with his famous Damn Right I've Got the Blues, he paid tribute to the greats before him with Hoochie Coochie Man (Willie Dixon & Memphis Slim cover), She's Nineteen Years Old (Muddy Waters cover) Who's Making Love To Your Old Lady (Johnnie Taylor cover) Fever (Little Willie John cover) and Boom Boom Boom Boom (John Lee Hooker cover). Between each song he would tell a story, comment about a song or just converse with the audience. After paying tribute to the legends before him he actually walked into a standing room only crowd and around the venue while playing some funky crispy blues riffs that would make Stevie and Jimi tremble with awe. Towards the end of his set, we were treated to classics such as Grits Aint Groceries,
Hoodoo Man Blues/Early In the Morning and Someone Else Is Steppin' In (Slippin' Out, Slippin' In).
To end the night, Buddy brought out 18 year old Quinn Sullivan who opened the show. Together they played Strange Brew (Cream cover)Voodoo Chile (The Jimi Hendrix Experience cover) and Sunshine of Your Love (Cream cover).
Born in Louisiana, Buddy Guy was born to play the guitar. He has blues running through his veins. One might say, Buddy Guy was born to play the blues and destined to be a "Legend's Legend." As a live music fan, I must say that it was truly an honor to again experience Buddy Guy live. A true living "Legend's Legend" and the most celebrated blues guitarist of his generation. A live performance that must be seen.
Keep on the lookout for more Appearing Live Tonight and remember, support live music and enjoy your "NIGHTLIFE."
Follow us on Facebook!