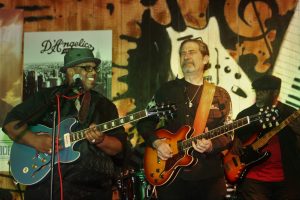 Local and internationally renowned blues musicians and their fans joined the Angela Lombardo family, on Sunday, March 19, 2017 at the Mouse Trap Café in Amityville, New York to celebrate the life of our friend, our mother, our sister; Angela Lombardo, to raise financial support for children's charities that come under the angelic wing of The New York Sportscene Children's Foundation.
A major supporter and fan of the local Long Island blues music scene, Angela was easily found supporting her favorite local bands weekly. She was one of the passionate ones with a bravado and strength that was only matched by her beautiful loving and supportive soul. It was just over a year ago, at the age of 51 when Angela obtained her angel wings. She battled lung cancer for 12 years and it was because of its fourth return that we lost one of God's Earth Angels. It was at her end where Angela's true love, faith and joy coupled with her grace and grit shone to all those she touched during her life that continues even now after her death.
During her lifetime, Angela was a driving force, helping many others who were struggling with their own battles. Facing a long and bumpy road herself, Angela still maintained herself as a spirit of light, love and full of grace, while coming to the aid of countless people. By keeping her head up high, in addition to her spearheading numerous charitable events for medically frail and terminally ill children she would sponsor those with substance abuse afflictions, feed the hungry and clothe the homeless.
So, it was only appropriate that a blues fundraiser in her name be held featuring local and international recording and touring artists, to benefit an array of children's charities. There is no better organization to do it for than the New York Sportscene Children's Foundation, a 501 (c)(3) not-for-profit charity whose mission is to help and improve the lives of children and those in need to live happier and healthier lives by providing much needed support to local children's charities.
The Foundation was established in 1995 by entertainment and sports publisher, Mike Cutino through his success with New York Sportscene Magazines, Nightlife Magazines and through television. Mike understands that by hosting and conducting star-studded events, funds can be raised to ease, touch and affect children's lives, every day. The New York Sportscene Children's Foundation, by its president, Fran Petito, its board of directors and the many volunteers, ensure that local children's charities and those in need are provided immediate assistance. Fran's motto "we work hard toward the day when we are not needed" is the personification of the organization.
The Angela Lombardo Blues Raiser Committee presented a special Blues Music Event, hosted by The Lombardo Family and The Long Island Blues Society that featured international blues recording and touring artist, Slam Allen, (former guitarist and lead vocalist with The James Cotton Band), along with special guests, Blue Ruin, Blue Roots, Blu Mojo, The Red, White & Blues Band and other special guests. All net proceeds from ticket sales, sponsor donations and special gift raffles were donated to local children's charities supported by the New York Sportscene Children's Foundation so as to allow these children to live a life with some sort of normalcy. Emceeing this "blues" event fundraiser was Mark Klein of the Long Island Blues Warehouse radio and web shows along with Kenny Hahn, co-host of "Bustin Out Blue," another radio show dedicated to blues music.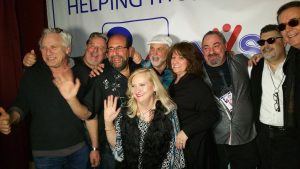 First up was a special guest, 14 years old female vocalist, Kassidy Rose from Lindenhurst, New York who was delighted to be invited to take part in helping sick children. In addition to her performances in theater and singing in the church choir she is currently pursuing her career in the music industry. She is being managed by the renowned entertainment management of JD Sarantakos. Kassidy, with her angelic vocal range showed off her "old soul" by performing songs like "At Last" written by her relative, 3 time Academy Award winner song writer, Harry Warren (most famous for "42nd Street" and "That's Amore") in addition to strong vocal performances on "Don't Rain On My Parade" and "I Have Nothing."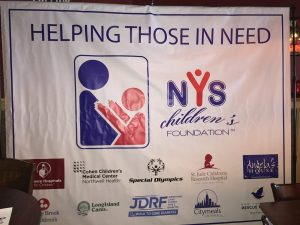 Keeping with the spirit of the blues, Blu Mojo, fronted by lead singer, Paul Curcio started this blues gala with old time Chicago blues songs like, "I Wanna Shout About It," "Feels Like Rain," "True Lies" and finished the set with an incredible rendition of Tab Benoit's "Night Train."
Following was the astonishing Blue Ruin, a local blues band that has been playing together for about 25 years and represented the Long Island Blues Society at the International Blues Competition in Memphis in 2014. The band consists of Scott Ross on guitar and vocals, harmonica extraordinaire and vocalist, Mark Fowler and a rhythm section of Frank Anstiss on drums and Al Levy on bass. This high powered quartet performed original songs such as "Please Don't Go," "Bluesland," "Style Over Substance" and "Eyes of Jade." To make this set more incredible the band pulled out "I'm Watching You" written by the late great Little Buster and Mitch Weiss.
Just when you thought you've heard "The Blues", up stepped Blue Roots. This band has been together since 1999 and front man, guitarist, vocalist and musical director, Carlos DeJesus and bass player Paul Bassi have been friends for 40 years and their timing proved it. Songs like "Down At Antone's," "5 Long Years," and "Treat Her Right" had a sold out crowd dancing in their seats and aisles.
As the Mouse Trap was heating up, stepping up to the stage was The Red White & Blues Band, and they caused the mojo to rise another level. Its members previously backed Cyndi Lauper in 1970s and in their Rock & Roll days, some of the members have played and opened for the likes of J. Geils Band, Eddie Money, The Cars and The Ramones. They can be found on Reverb Nation and their songs are currently getting considerable air time on terrestrial blues radio stations around the world. Lead singer and stage dynamo, Rick Zivic and harmonica player, Steven Greenbaum, Ted Wender on keyboards along with brothers Greg and Frank Delape on the guitar and drums, respectively create a tight, bluesy sound that raised the temperature of the Mouse Trap more with original blues songs with outrageously sultry renditions of "Stormy Monday" and "Pride and Joy."
The Red, White and Blues Band was the perfect choice to get the crowd ready for featured artist, American Showplace Music recording artist Slam Allen one of the most dynamic and original blues and soul artist on the blues touring scene today. Slam exposed the crowd to a unique musical experience enlightening them to the reason why he is the recipient of the prestigious Master Blues Artist award from the New York Blues Hall of Fame and a 2016 Blues Music Award Nominee for Best New Artist Recording for "Feel These Blues," 2015 Blues Blast Nominee for the Best Soul Blues Album of the Year for "Feel These Blues," had a Top 50 Blues Albums of 2015 at #11 on Living Blues and had a record chart for over 10 Weeks at #1 on Roots Music Report's Blues Radio Chart.
Slam's father, Harrison Allen and his uncle, Cecil Allen known for the soul band "The Allen Brothers" taught him the soul/blues style guitar and he later developed his own style. Soon after moving to Chicago he was offered to fill in at a gig with blues legend, James Cotton. Slam would spend the next 9 years (2001 – 2010) as the lead singer, guitarist and band leader for Mr. Cotton. Slam is also credited with writing and singing on Cotton's 2011 Grammy nominated comeback album, "Giant."
On this day, Slam provided the crowd with an unbelievably wonderful, diverse, and spontaneous blues show fitting for this fund raising event. Due to the recent loss of so many great musicians in the blues world, Slam chose to do a tribute performance to honor their passing. Starting the evening with a BB King Medley, Slam electrified the crowd with his famous walk through the audience while playing and singing. He performed a tribute to his former employer, James Cotton, who just days prior to this event obtained his angel wings. Slam performed an incredible rendition of "Blow Wind, Blow Wind" that featured Blu Mojo's, Paul Curcio on the "tin sandwich." Slam was also later joined on stage by Long Island Blues Society President, Jim Kolman. The two jammed with back and forth solos to a standing crowd. This show was not over yet. In the middle of a song, Slam unstrapped his guitar and handed it to local musician, radio show host and professional recording artist, Ahmad Ali, who belted out a few blues riffs for all to take notice before handing Slam back his axe. Lastly, Slam paid tribute to the great Chuck Berry, who we learned passed earlier this day, with a rousing rendition of "Roll Over Beethoven." Throughout the performance Slam played some original songs along with showing his soul side with The Sam Cooke/Otis Redding classic "A Change is Gonna Come" and ended the evening with love by singing the ever appropriate, Al Green's "Let's Stay Together."
Some say it's all about the music, but on this special day it was all about the love "bluesicians" and their fans can share while celebrating the life of an amazingly brave woman who in her own words, "trudged the road to a happy destiny."
The blues music community, always known as a close-knit family, came together once again to assist ill children. The Angela Lombardo Blues Raiser proves once again that "live music" can assist less fortunate and ill children and their families in living a normal life.
Online donations will continue to support children and their families. Please visit and make your donation today! http://nysportscene.com/childrens-foundation.
Follow us on Facebook!

Keep on the lookout for more Appearing Live Tonight. Remember, support live music and enjoy your "NIGHTLIFE."