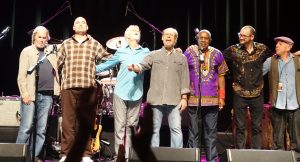 There is no end to time. Just ask any horologist, time always moves forward. For one band, its Dixie-inflected funk-boogie music has been appreciated by its fans, old and new, for 48 years, and the band keeps playing. If Little Feat's recent tour is any indication, its story is far from over. Since forming in 1969 the story of Little Feat and its history is not of the Cinderella kind. After all these years of never scoring a hit record and with the early demise of the band's co-founder and leader, Lowell George, Little Feat can undoubtedly be anointed as "a legend from heaven."
Little Feat is an American Band with its own unique sound. A "bands band." Bands like Led Zeppelin and Marshall Tucker publically proclaimed Little Feat as their favorite band. It is well known that artists like Bob Dylan, Elton John, Eric Clapton and The Rolling Stones all expressed desires to jam with them on stage. Mick Taylor joined Little Feat for a song or two in 1977, Dylan in 1974 at the Bottom Line in New York City and at the Santa Monica Civic Auditorium. Post Lowell George, Eric Clapton joined them on stage in 1992 while the band was appearing in Rochester Hills, Michigan, playing Mellow Down Easy and George's composition, A Apolitical Blues. In fact, Payne  asked Clapton why would he want to come to a Feat show, Clapton replied that he "wanted his band to hear a proper band."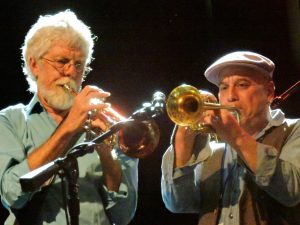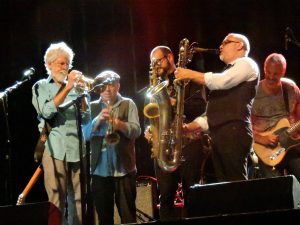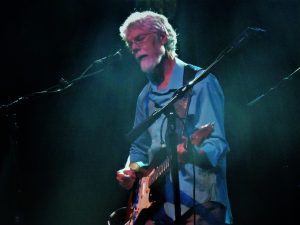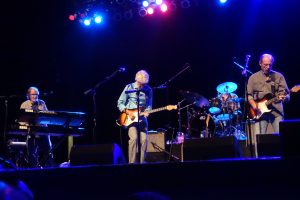 When Little Feat takes the stage and that opening note is struck, your senses will be showered with the eclectic tones and melodies, which the band is characteristically known for. Hints of California rock, Dixie boogie, country, jazz and always some blues coupled with some great song writing that make the music timeless.
In 1969, after leaving Frank Zappa's Mothers of Invention and following Zappa's advice, lead vocalist and guitarist, Lowell George formed Little Feat with keyboardist Bill Payne and other former "Mother's" bassist, Roy Estrada and drummer, Richie Hayward. The first two albums Little Feat (1971) and Sailin' Shoes (1972) received nearly universal critical acclaim, and "Willin'" became a Little Feat live performance classic as well as being popularized by its inclusion on Linda Ronstadt's debut album, Heart Like a Wheel.
In 1972 Little Feat reformed when bassist, Estrada left the band and was replaced by Kenny Gradney. With the addition of Paul Barrere, as a second guitarist and percussionist, Sam Clayton, the new sextet altered the band's sound, leaning toward a New Orleans funk. After this expansion, Little Feat went on to record two of its most popular albums, Dixie Chicken (1973) and Feats Don't Fail Me Now (1974).
In 1975 The Last Record Album was released and exemplified the diversity of the band's sound developing an interest in jazz-rock, mostly based on the influences of Payne and Barrere.
The next album release was not until 1978 when Waiting for Columbus, one of Rolling Stone's Top 50 Greatest Live Albums of All Time brought the band soring recognition. The album was recorded from shows at the Rainbow Theatre in London and Lisner Auditorium in Washington, D.C. Interestingly, it is well known that along with this release, George was getting ready to leave the band either for waning interest due to the direction the music was going, or for his health. Although contributing to Down on the Farm, George declared that Little Feat had disbanded and just prior to its release, Lowell George passed away, at the young age of 34 years old. Just before his death, Warner Bros. would also release George's only solo album, Thanks, I'll Eat It Here that reached 71st on Billboard's Chart and exemplifies George's many styles and displays George's musical and song writing talents.
1n 1987, a decade after George's passing, Little Feat reformed with the additions of Craig Fuller and Fred Tackett, from Pure Prairie League. In 2009, the band added Shaun Murphy who replaced Fueller, and Richie Hayward announced that he had been diagnosed with a severe liver disease and would be replaced by Gabe Ford. Even with all the changes and controversy, due to their tenacity, Little Feat continued to move forward and thrive with the June 2012 release of their first album of new material in nine years, Rooster Rag.
Currently, Little Feat is touring its 2017 Whirl Wind Tour, with original founding member, Bill Payne, second generation members, Paul Barrere, Sam Clayton and Kenny Gradney, and Fred Tackett and Gabe Ford. Since the bands inception, Little Feat's transformations have done absolutely nothing to diminish the quality of their live performances.
For some of the shows on this tour, joining Little Feat is the Midnight Ramble Horns, well known from the Levon Helm Studios in Woodstock, New York. This is not the first time Little Feat has played with a horn section. Just think, Waiting for Columbus and the Tower of Power horn section. The Midnight Ramble Horns are comprised of Jay Collins and Erik Lawrence on saxophones and Steven Bernstein on trumpet/slide trumpet.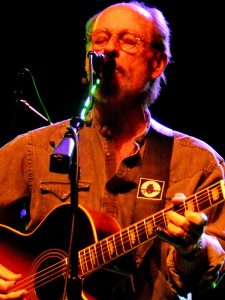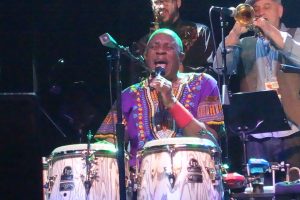 At a recent show on Long Island, New York, Little Feat came out on stage to a much deserved welcome and proceeded to start the evening with an 11 minute rendition of the classic, Fat Man in the Bath Tub, after which the crowd gave an overwhelming opening applause. At that moment, Sam Clayton broke into Little Walter's, Mellow Down Easy that featured the Midnight Ramble Horns and a blaring trumpet solo by Steven Bernstein. Without stopping, Clayton bellowed out in his raspy jazzy voice, the ever favorite, Spanish Moon. Along with classics like Honest Man, Skin it Back, Old Folk's Boogie and Oh Atlanta, and in honor of the band playing in Upstate New York the night before for Levon Helm's Birthday celebration, we were treated to The Weight and Rag Mama Rag. The band dedicated Willin, to Gregg Allman as he had passed earlier on this low-spirited day. It wouldn't be a Little Feat show without the well-known, Don't Bogart That Joint (The new Jamaican National Anthem) and Dixie Chicken that was saved for the last song before the encore, Tripe Face Boogie.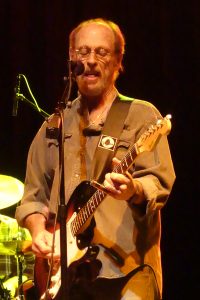 This evening's set list satisfied every Little Feat fan's liking and actually brought one back to memories of Lowell and Richie Hayward. But only if!
To this day, with all the recordings and all the merchandise to collect, devoted Feat fans still buy their albums and go to great lengths to see them live. Upon seeing a recent live performance of this most eclectic band, one can still see the bright lights of Memphis and the Commodore Hotel. The live performances today are just as great today as they were in the 70's. Even without Lowell George, his songs are still played by his band mates and loved by the crowd. Payne's salon style piano and Barrere's emulation of George's distinctive slide guitar, Tackett's mandolin, Clayton's percussions and the rhythm section of Kenny Gradney and Gabe Ford makes Little Feat a time worn hero that has endured for its appreciative fans. Little Feat renders loud and true the adage "Time Loves a Hero."
Keep on the lookout for more Appearing Live Tonight and remember, support live music and enjoy your "NIGHTLIFE."
Check us out on Facebook:
https://www.facebook.com/appearinglivetonight