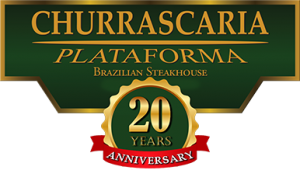 After two planes and a turn of the page in my datebook, I found myself on a long cab ride through small towns and eventually a grand city. It was December, and basically sweltering outside so my thoughts were focused on the beach and of a much needed cool beverage. Beyond these things, I could only conjure thoughts of one activity. I longed to sit at a small table in a finely appointed restaurant and have massive skewers of sizzling, well-seasoned meats hurried out to me at a feverish pace. I conveyed to the driver that this was absolutely necessary, and voila, I was shuttled towards my waking dreams. I was on my way toward caipirinhas and delicious meats! What type of magical place would this be, and in what country? You may ask yourself this, and the answer is plain to see. This would be a churrascaria in Rio de Janeiro, Brazil.

Fast forward seven years, and though my priorities may have shifted (so has my hairline), I still look for well salted, carnivore centric items and perhaps a caipirinha or two. Since an impromptu plane ride to Rio is out of the question for today's docket, I simply shoot over to the west side of Manhattan and it's quickly time to imbibe. My next stop is the famed Plataforma Churrascaria.
Anyone who's experienced an authentic churrascaria knows about the green side and the red side. There's a small marker that is used to indicate your status during the meal. Green side up means that you're still looking to gorge upon delicious hunks of protein, while the red side up indicates that you need a break, or that you've officially thrown in the towel for the evening. Suffice it to say, my marker somehow ends up staying on the green side for quite some time.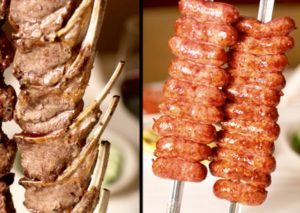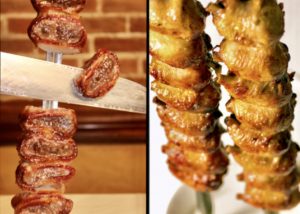 The pretenses of an all you can eat meal of amazingly charred meats would normally include pacing yourself. I, for one, don't have time for such moderation. Crispy sausages, succulent lamb chops (with mint jelly upon request), top sirloin (the famed picanha), bottom round, skirt steak, chic
ken legs, chicken hearts, filet mignon pieces with garlic, turkey slices, whole roasted pork pieces with grilled pineapple, and even steak chunks wrapped in bacon are all whisked in front of eager patrons. The cuts are available as well done or as rare as preferred, and of course in all-you-can-eat fashion. I always look for a great salt crust in this type of venue, and Plataforma is quite possibly the best place outside of Rio at capturing this quintessential facet of Rodízio style cooking.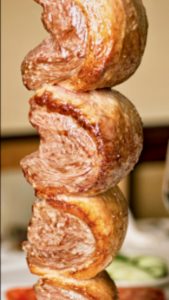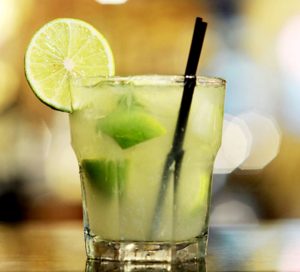 A fully stocked bar, an impressive salad bar including Brazilian favorites such as feijoada, traditional side dish items, endless meats of the finest order, delectable desserts, sharp service, and a grandiose dining room all make this establishment a must for anyone living in or visiting The Big Apple. This place truly pays homage to its roots in Brazil, and will always conjure up fine memories of the time that I spent there years ago. Take me to the caipirinhas and delicious meats! ~ Scott Buchter, Fine Dining & Travel Editor