So often, we hear phrases like "farm-to-table", "locally sourced", "sustainable", and a whole host of others thrown around with reckless abandon these days. You may ask yourself, what does all of this really mean? I've got an answer that may shed some light on the topic. In a time where it's truly important to know where your food originates (for reasons of health and otherwise), Nightlife attempts to make food picks that balance these benchmarks without compromising the tantalization of taste. Ah, our old friend, Taste!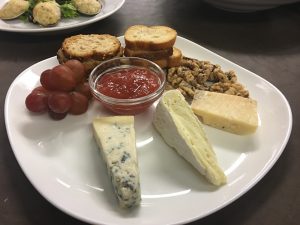 Nightlife vividly describes an establishment that essentially crafted its own image based upon adhering exclusively to items that are available seasonally. Come in summer, Spring, Winter, or Fall, because this is The Fifth Season. I will be detailing my own Summer experience, but keep in mind, the menu pages turn quarterly at this fine establishment.
Nestled up against the famed Long Island Sound in the beach lover's town of Port Jefferson, sits the topic of today's review. Upon entry, an eye-catching wooden bar sets the tone. Delicious specialty drinks by the water accompanied by excellent food are in the minds of any savvy patron, and this joint does not disappoint. The chef can suggest appropriately paired cocktails based on your food item wish-list, but I say throw caution (and three sheets) to the wind and order what suits your own fancy. Try one, try all, and you cannot go wrong.
With a relatively short menu, which is something that I truly enjoy, The Fifth Season offers a great assortment of items without leaving the customer feeling confused about choices. This also allows for a patron to feel as if they have not missed out on anything upon anxiously entering their order. I would like to point out a few key items that I would consider being "must-have". For starters, the poached Niegocki Farm organic egg is an item that can't be ignored. Creamy, bright and smooth tasting, this is the egg dish to desire. The braised Painted Hills short rib spring roll, another sensational stunner. Crunchy and satisfying, this is an instant classic. Last, but certainly not least in my memory, the starter with the most phenomenal flair would have to be the Maplebrook Farm burrata "caprese". Bursting with flavor, and undoubtedly farm-fresh, this treat is the type of appetizer that makes a diner forget dinner. I would have been thrilled to have two, but I'm glad that I resisted for the sake of entrees.
The dinners that decadently dazzled included the duck dish and the salmon offering. Very different items, but both the same in the fact that they were expertly prepared. I often gravitate towards these items when reviewing due to the fact that they are easily overcooked and rendered dry. Let me be clear in saying that both items were moist and juicy, and for this, I tip my hat to the chef. I'd like to also point out that the menu makes a point to showcase the name of the town, or farm, or creator of each key ingredient, something that is not seen often, and truly a testament to the dedication of the people behind The Fifth Season.
In conclusion, I say come to Port Jefferson for a visit. I urge you to see what's in season, and have a beverage or three. Relax on the beach and pop in for cocktails and dinner. Or better yet, come out early and make it a point to try the seasonal brunch menu! Locally sourced items, competent and friendly staff, great atmosphere, and precisely prepared fare can be had by all at The Fifth Season.
34 EAST BROADWAY
Port Jefferson, NY 11777
PH: 631.477.8500