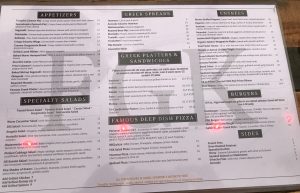 As the unmistakable twang of bouzouki chords echoed through the streets, the phenomenal pink and orange sunset began to dominate my view. I sat comfortably on a quaint patio and sipped fine Greek wines as I awaited my meal with utmost anticipation. This was not Zakynthos, Crete, or Athens, as it may have seemed. I washappily seated in the Greek-style outdoor area at Famous Greek Kitchen of Greenwich, Connecticut. Not what one may expect for an eatery in the Northeastern United States, but make no mistake, joy abounds in the form of Greek delights at this local "taverna" aka eatery.
After a brief consultation and menu highlight overview with my expert waiter, my requests were entered and my culinary adventure was soon underway. The Greek style of cuisine includes many dips and spreads, and each establishment has their own style when concocting these appetizing items. I was soon face to face with a large tray of starters and spreads that included feta cheese, fine olives of many varieties, stuffed grape leaves, thinly sliced and expertly prepared sections of octopus, spinach pie, spicy hummus and of course, the ubiquitous tzatziki sauce. For those that may be unaware, tzatziki is the lifeblood of any quality Greek meal. A creamy spread consisting of yogurt, cucumber, dill and finely tuned spices. A delightful and decadent endeavor to say it plainly. All of these special items were quickly dispatched with toasted sections of pita bread and I was instantly on to the entree segment of the meal.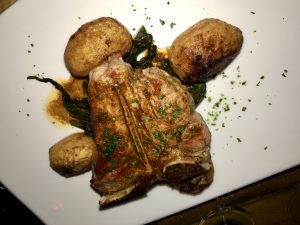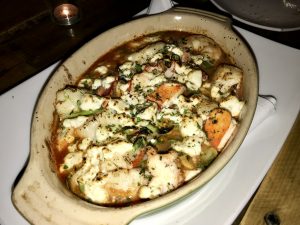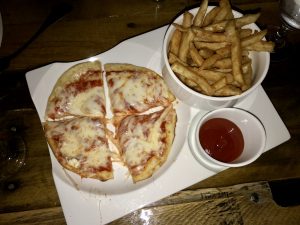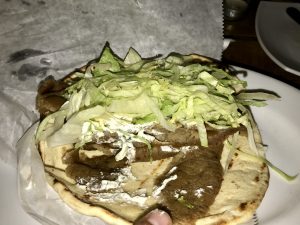 Without fail, my go-to choice of entree item for this type of fair would have to be a gyro (hee-row) sandwich. Precisely roasted, sliced sections of lamb meat accompanied by fresh salad items, tzatziki sauce, and all slapped onto a grilled pita and rolled up. Salty, creamy and fresh, including hot and cold items juxtaposed in a symphony of Mediterranean goodness. Suffice it to say, the Famous Greek Kitchen rendition did not disappoint. Aside from my usual choice, I noticed two original items that I had to try. A grilled, milk fed veal T-bone that was heavenly. Simply grilled to a perfect medium, lovingly seasoned in the classic Greek style. All that is needed for a fine piece of meat is salt, pepper, lemon and oregano, and this preparation truly suits my tastes. The second original item was dubbed "seafood saganaki". A well rounded dish consisting of mixed seafood's, including lobster tail, all baked to perfection with a bouillabaisse style broth and a crust of feta on top. A pleasant surprise and a must for any seafood lover.
In order for me to properly conclude my meal, I had to indulge in one more personal favorite. A piece of saganaki in the traditional style. This consists of a slab of delicious Greek cheese (many varieties are often featured for this dish) placed in a pan and melted to perfection. My preferred type of cheese for this is called halloumi and luckily, this is the type that was featured. A simple sprinkle of salt, pepper and fresh parsley and a squeeze of lemon and I was beyond satisfied. Two spoonfuls' of the house special cinnamon ice cream and this meal was over.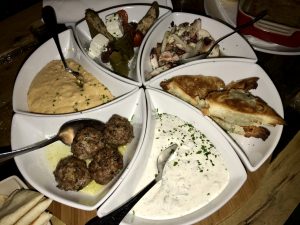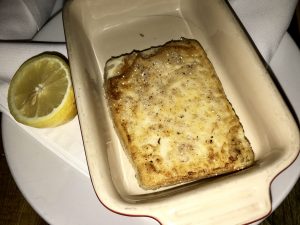 Simplicity meets expertise and precise execution at this fantastic Greek restaurant. A strong connection to the homeland, an authentic atmosphere including live traditional music, and a charming vibe and locale, all in addition to a sharp and informed staff make for an excellent experience overall. Whether you're nearby, or willing to take a drive, make Famous Greek Kitchen your next stop for a high-end Greek meal. Thanks for reading, and I look forward to bringing you along on my next culinary adventure stop.
Fine Dining & Travel Editor – Scott Buchter