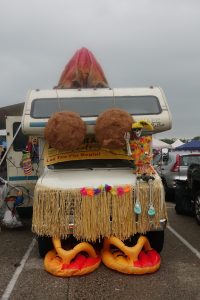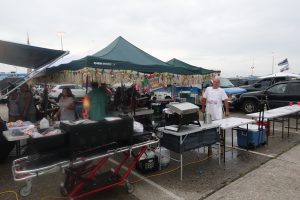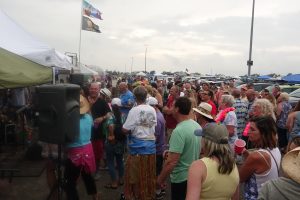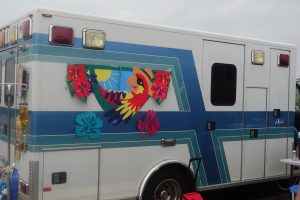 If you think going to see a Jimmy Buffett concert is just another live music show, think again. A Jimmy Buffett concert is a state of mind. Some say a festival. Some say a carnival. In reality, it is a tequila-fueled, beer drinking frenzy of a day long beach party that culminates to an incredible live concert of Jimmy Buffett fan favorite music. A Jimmy Buffett pre-show party brings new definition to the term "tail-gate party." It's a Parrothead celebration of all things beach and Jimmy Buffett.
Jimmy Buffett Parrothead fans start to arrive in the parking lots the morning of the show, some as early as 1:00 a.m. They wait on line in their cars for the parking lots to open at sunrise and choose the perfect spot to set up their tailgate extravaganza. Even more amazing, more than half of the people that come for the tailgate party only come for the party and do not stay for the live show.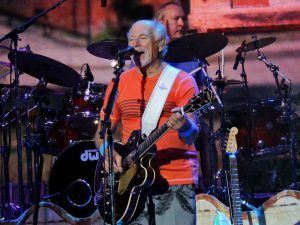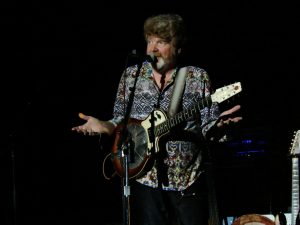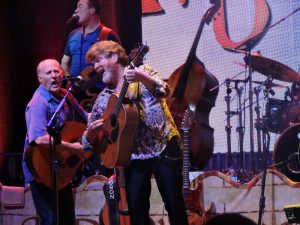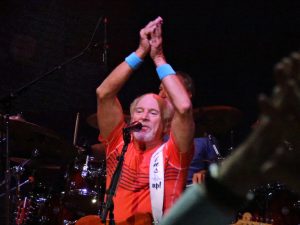 Tens of thousands of real-life Parrotheads recently flocked to the Northwell Health at Jones Beach Theater in Wantagh, New York to celebrate Jimmy Buffett's 40th anniversary of his classic hit "Margaritaville." Having arrived late in the afternoon, we were witness to a "feeding frenzy" of Buffett fans that had a huge "parrot" head start on us. A live concert stage in the middle of the parking lot complete with lighting and a sound board played host to Buffett tribute bands and musicians all day long. It is here where you will find a large happy audience clad in the popular attire: Panama hats and Land Shark baseball caps, Hawaiian shirts, tank tops, cargo shorts, sunglasses, bathing suits and of course, flip-flops. There are shark fins on top of cars; Winnebago's and Coach buses draped in Buffett banners; motorized wheelchairs adorned as pirate ships complete with sailing mast and skull and cross bones flags; canvass canopy tents adorned as tiki bars with potted palm trees; parrots and everything beachy. Five parking fields at Jones Beach filled to capacity with Parrothead feverish fans and their encampments.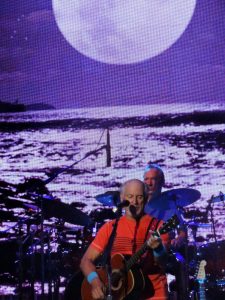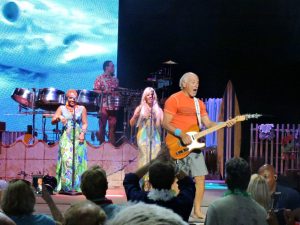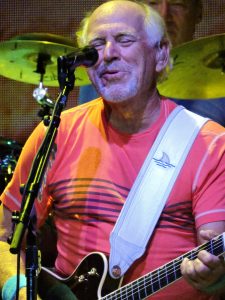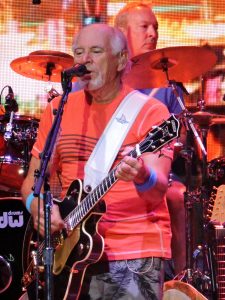 In prior interviews Jimmy Buffett summed up the scene of his traveling show, "Just like Santa, I come around once a year. Time to break out all of your party gear." And the gear some people bring is incredible. My favorites were the retired ambulance draped with a parrot banner with barbeques atop gurneys and the camper dressed with coconut bra, grass skirt, flip flops and a waving pirate skeleton sitting on the front hood, topped off with a volcano on its roof!
We cannot forget the number of people walking around with real parrots on their shoulders. One woman advised us that it was the parrot's 15th Buffett tailgate party. It was the fans beach going, laid back Caribbean "latitude attitude" that made this a real Jimmy Buffett "event." And I must add, there were fans of all ages, from young teenagers to grandparents that haven't yet grown up, only grown older. From first time "carnival" attendees to the professional Parrotheads that have been to all previous 30 shows at Jones Beach. We met Gavan James who drove his own tour bus from San Diego to see his 172nd show because as he said "it's worth it." Buffett refers to his die-hard fans as "The Number's People" because they stencil the number of Buffet concerts attended on their arm with washable ink. Lastly, we cannot forget the Santa on vacation who for the last 17 years, makes this trip to the beach every year dressed complete in beach attire.
This year Jimmy Buffett celebrates the 40th anniversary of Margaritaville, one of his most popular songs that debuted on the 1977 "Changes in Latitudes, Changes in Attitudes" album. This album quickly took on a life of its own, becoming not only a brand, but a "state of mind" and a "way of life" rooted in fun and escape for those growing older, but not up. Margaritaville, a song that launched a billion dollar empire and a global lifestyle brand that currently has more than $4.8 billion in the development pipeline and sees $1.5 billion in annual system-wide sales.
Imagine writing and performing a song, Margaritaville and that song affects just about everything you do. Well, Jimmy Buffett accomplished such a feat. As any musician proclaims, "just that one song."
"From getting me on the radio first, to the evolution of the brand in so many areas that we couldn't possibly conceive of in the beginning" stated 70 year old Buffett who is, as of 2016, ranked No. 13 on FORBES first-ever list of America's Wealthiest Celebrities. The singer, songwriter, bestselling author and business tycoon remains true to his loyal and like-minded fans who enjoy his "Caribbean Rock n' Roll" genre music.
Aside from his career in music, he has co-authored two children's books with his daughter Savannah Jane Buffett and is also a best-selling writer that has written three No. 1 best sellers. Tales from Margaritaville and Where Is Joe Merchant? both spent over seven months on The New York Times Best Seller fiction list and his 1998 autobiography, A Pirate Looks at Fifty, that upon its release, went straight to No. 1 on the New York Times Best Seller nonfiction list, making Jimmy Buffett one of only eight authors in that list's history to have reached number one on both the fiction and nonfiction lists. The seven other authors who have accomplished this are Ernest Hemingway, John Steinbeck, William Styron, Irving Wallace, Dr. Seuss, Mitch Albom and Glenn Beck.
In addition to being an accomplished song writer, performer, and author, Buffett is also involved in two restaurant chains named after two of his best-known songs, "Cheeseburger in Paradise" and "Margaritaville." If that is not enough, in 2006 Jimmy Buffett launched a cooperative project with the Anheuser-Busch brewing company to produce beer under the Margaritaville Brewing label called Land Shark Lager.
As a baseball fan, he is part-owner of two minor league teams: the Fort Myers Miracle and the Madison Black Wolf. Just how far has the Margaritaville brand and enterprise taken Mr. Buffett? In May 2013, a Margaritaville Casino opened in Atlantic City, New Jersey; Buffett has also licensed Margaritaville Tequila, Margaritaville Footwear and Margaritaville Foods including Chips, Salsa, Guacamole, Shrimp, Chicken and more.
So where does Margaritaville go from here? How about a partnership to develop Latitude Margaritaville, new active adult communities for those "55 and better", including the $1 billion Daytona Beach, Florida location and a second in Hilton Head, South Carolina. Margaritaville, is certainly a way of life and a state of mind.
Business achievements aside, let's get back to the music. The Live music. Jimmy Buffett and the Coral Reefer Band live show at Jones Beach is a segment of the "I Don't Know Tour." The show marks the 30th time that Buffett has performed at Jones Beach. After walking through two parking fields and experiencing a taste of a Buffett tail-gate party and all the festivities we eventually made it to our seats low in the orchestra. We immediately came upon more serious Parrotheads clad in tropically themed suits, grass skirts with stuffed parrot head hats. Beach balls, hundreds of them, were flying around the audience, many of which came my way only to be hurled in another direction. As the amphitheater's lights dimmed, the stage came to life with a set that contained palm trees, a beach hut, a tiki bar, surf boards and a wooden picket beach fence for which bathing suits and scuba gear hung. Everything added to the feel of being on a tropical beach somewhere in paradise. To add to this aura was a giant screen behind the band that displayed various photographs and video clips of "everything ocean" or that which related to the story the song was telling.
Once the band was in place and started playing the opening number, Changes in Latitudes, Changes in Attitudes, Jimmy Buffett walked out to greet the audience, only to be greeted by a sold out audience of over 15,000 screaming Buffett fans. Everyone immediately jumped from their seats and stood with excitement and joy for the next two hours while Jimmy and the Coral Reefers played all the popular songs any Parrothead would want to hear. Changes in Latitude perfectly set the mood for the rest of the show. Playing through fan favorites like John Hiatt's cover The Tiki Bar Is Open; Pencil Thin Mustache; Growing Older but Not Up; Son of a Son of a Sailor and Come Monday, we Buffett fans, were being set up for the most popular songs: Cheeseburger in Paradise; It's Five O'clock Somewhere (Alan Jackson cover); Jamaica Mistaica; Fins and of course, Margaritaville (with Frank Marshall on guitar).
The biggest treat of the night was the solo acoustic rendition of the Allman Brothers classic, Little Martha performed by guitarist, Mac McAnally that placed the audience is a total awe like trance while he played both guitar parts as one. Jimmy and the rest of the Coral Reefers, stepped back out to the stage to play classic Buffett songs like School Boy Heart; Southern Cross (Crosby, Stills & Nash cover); Volcano and a finish with Van Morrison's Brown Eyed Girl. As far as the encore is concerned, the fans, again on their feet were kept in the tropical beach mood with One Particular Harbour, Love and Luck and the Bob Marley favorite, One Love.
Closing in on 71 years, Jimmy still kicks off the shoes, takes control of the stage and always makes you feel like you are having the time of your life on the tropical island of your dreams. This show is one of the only shows where all your senses get bombarded. The sounds of the music, the tastes of the tequila in the margarita, the smells of the ocean and barbecue, the feel of the ocean breezes and the sights of a fan feeding frenzy.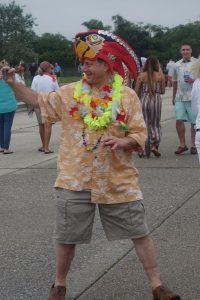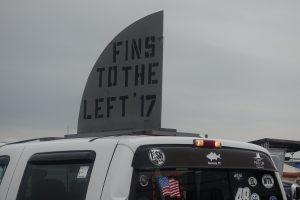 So whether you're a professional Parrothead with years of Jimmy Buffett concert ticket stubs in a jar at home or if you have just experienced your first "fan frenzy" you most probably had a great time and already planning your tailgate party for next year's tequila-fueled, beer drinking frenzy of a day long beach party. Maybe, just maybe you will also stick around for the live music afterwards.
Keep on the lookout for more Appearing Live Tonight and remember, support live music and enjoy your "NIGHTLIFE."