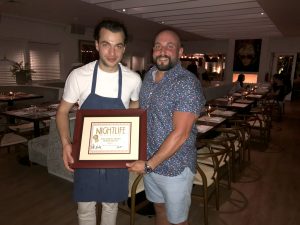 Thoughts of Mykonos, Ibiza, Nice. My memories and feelings are deep rooted, conjuring visions of bare feet on a teak ship deck. The palate recalls dry rosé and fine Bordeaux, while the body recalls the warm sea. There's nothing quite like the Mediterranean. This adventure begins among the aforementioned and moving forward, the tides of time wash up upon an entirely different shore. This is Southampton NY, at Oreya. A Mediterranean inspired multifaceted scene, and the brainchild of celebrity chef, Greg Grossman. Allow me to walk you through.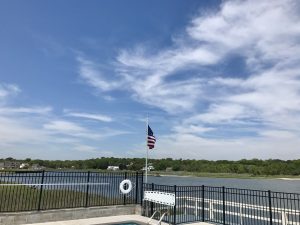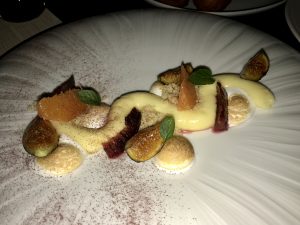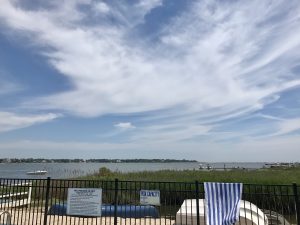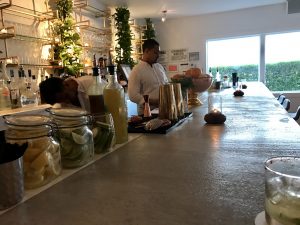 An open, airy space greets eager guests as they stroll in for a night's food and beverage experience. A long, slate colored stone bar and sophisticated lighting allow for a modern, yet extremely comfortable and inviting atmosphere. The sort of place where you could simply enjoy a sharply designed cocktail (or three) or dive straight into the fabulous and creative menu paired with the wine of your choosing. I chose to do all of the above and truly relished in my decision.
The food items featured at this fine dining and nightlife scene are starkly influenced by the Mediterranean's fresh seafood motif, coupled with an obvious lust for modern creativity and playfulness. The entire staff has an air of competence and confidence, and I believe this stems from the management team, owners and the young prodigy chef.
After surveying the entire grandiose scene, I slid into a comfy booth and pointed out my choices to the staff. A few obvious winners and a few mysterious items that I just had to try. Shortly after, vivid, expertly plated items began to hit the table. Boldly artistic medleys that appeared too delicious to fail, and happily, they did not. Lobster tails poached delicately with tarragon and lavender, then served chilled, mixed oysters, crispy ahi "cigars" with toasted black sesame, and a stunning item that was completely new to me. A green garbanzo, foie gras hummus, which was somehow even better than it sounds. Perfectly grilled sections of pita surrounded a large bowl of smooth, green hummus, which was adorned generously with a crown of lusciously seared foie lobes. I quickly mixed the foie into the rest of the contents and scooped it up in heaving piles with my pita. That is Mediterranean life at its best.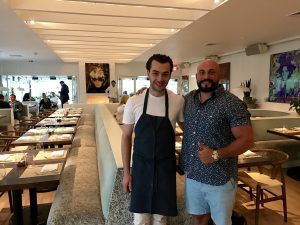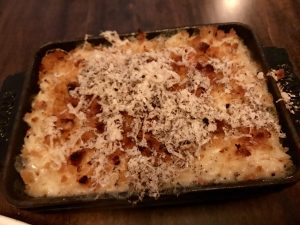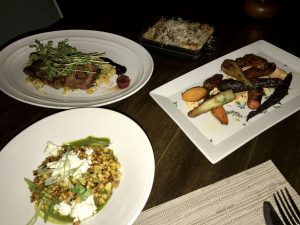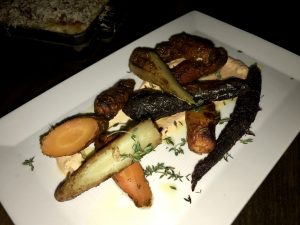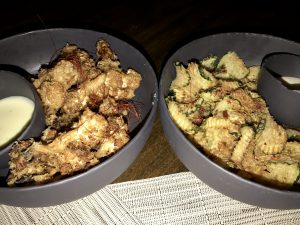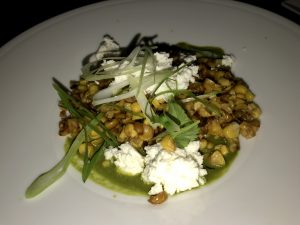 Before I move onto dessert, there are three large plate items that I must discuss. A crispy octopus dish that is quite possibly without equal. Chunks of octopus prepared in an extremely traditional way, accompanied by a hibiscus strawberry granita. Essentially octopus with strawberry Italian ices. Equal parts insane, genius, and wonderful, which is exactly how I prefer things. The next item was a lamb and spaetzli dish served with black garlic and liqueur soaked cherries for garnish. Need I say more? The final dish that I must mention was a side item. Orzo with black truffle prepared in the fashion of baked mac and cheese and presented in tiny cast iron skillets. Playful, yet dangerously delicious.
The dessert segment was no denouement in comparison with the savory items. A lemon curd with figs and citrus salad, a plate of tiny pistachio and chocolate tarts, and the pièce de résistance, a quintet of ricotta cheese beignets with caramel and berry dipping sauces. I was now full.
If you're looking for an all in one type experience, Oreya is the place to be. A phenomenal bar, restaurant and nightlife spot wrapped into one in this luxurious Southampton locale. Locally sourced food items, savvy cookery, excellent service, a bar scene, and a glamorous outdoor area to check out featured deejays all meet in this winner of an establishment. I wholeheartedly suggest that you get out to this constantly evolving venue before the summer season is out!
~ Scott Buchter, fine dining and travel editor