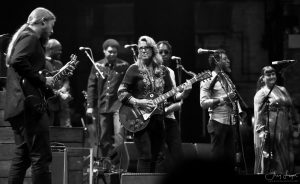 The Tedeschi Trucks Band puts on one of the best live shows you will ever see. The band performs about 200 shows a year with its 12-piece "touring family." No two shows are alike except for the fact that the audience will be treated to originals, specially included covers and almost always, a special guest or two or three. When you go to a live TTB show, all you need to know is that there will be moments of pure and unfiltered joyful soul and a musical style that encompasses several genres.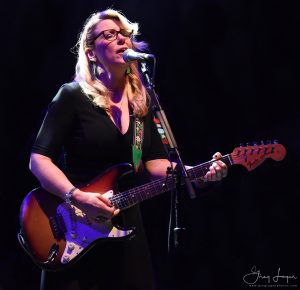 One cannot place the TTB style of music in any one category. The music generated from TTB is said to encompass a broad spectrum of categories such as jam band, southern rock, and jazz while simultaneously being rooted in soul, blues, rock, Latin and other kinds of world music such as qawwali (a genre of music from Pakistan and eastern India). Just look at any set list. In an earlier interview with Steve Newton of Earofnewt.com, Susan told TTB fans that "I don't know exactly what style of music it is, but I mean, there's definitely an influence from jazz and blues and folk and rock and R&B and soul. I think we're just a big melting pot of all those styles." It is for this "melting pot" of styles and unexpected variety that makes an evening with TTB an incredible live music experience and makes TTB one of the greatest touring bands of our generation.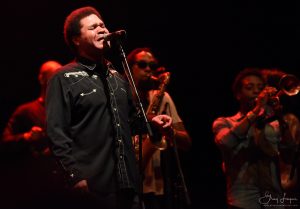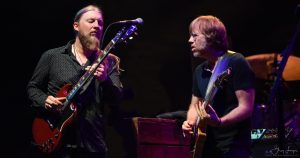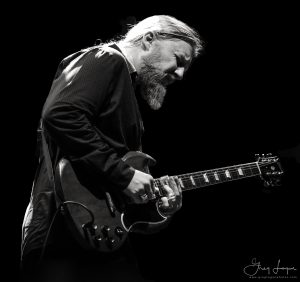 The band is led by Derek Trucks who has appeared twice in Rolling Stone's list of "The 100 Greatest Guitarists of All Time and his wife, blues singer/guitarist, Susan Tedeschi. Together they have assembled a band of A-list artists that include Kofi Burbridge (keyboards & flute); two drummers, Tyler Greenwell and J.J. Johnson; Tim Lefebvre (bass); harmony and vocals by Mike Mattson, Mark Rivers and Alecia Chakour and a horn section consisting of Kebbi Williams (saxophone); Elizabeth Lea (trombone) and Ephraim Owens (trumpet). The band has, either as a whole or by its individual members have won multiple, or have been nominated for, Grammy and Blues Music Awards. For example, Derek has won four Grammy's and nominated seven times, either as an individual artist, with the Derek Trucks Band or with the TTB while Susan has won two, but nominated 6 times. In addition, Kofi Burbridge has won two Grammys.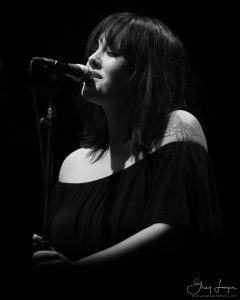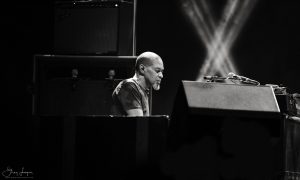 The Tedeschi Trucks Band just completed their seventh annual residency at New York City's famed Upper West Side venue, The Beacon Theatre. This residency has become such a long-standing yearly event and began almost immediately when TTB officially formed in 2011. This yearly residency has now totaled 27 shows over that span. The 2017 Residency also marked the much-anticipated return of multi-instrumentalist, Kofi Burbridge, who had been sidelined since undergoing emergency heart surgery earlier this year. In addition, the band celebrated its 25th show with an anniversary star-studded show that included guest appearances by Allmans' survivor, Jaimoe, Norah Jones, Nels Cline, Doyle Bramhall II and Luther Dickinson. Luther and Cody Dickinson and their band, The North Mississippi Allstars also opened the show for TTB on this special evening.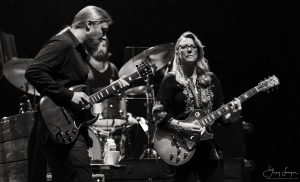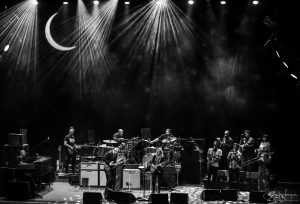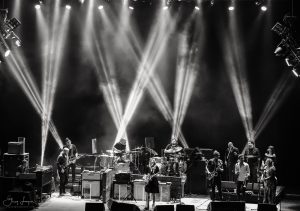 However, this 25th Anniversary show was not the only show in which there were special guests. During this part of the tour run, the TTB fans who were lucky enough to get tickets, were also witness to other featured guest spots by the likes of Trey Anastasio, John Medeski, Marcus King, Jimmy Vivino, Oliver Wood, Chris Wood and Carey Frank, who also covered for Kofi during his absence from the band.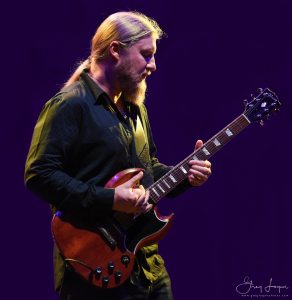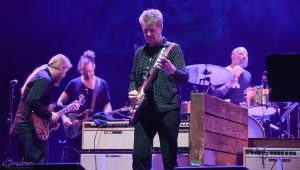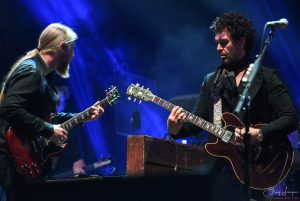 If the special guests don't get you excited then maybe the covers the band performed may. During the six shows, TTB would cover songs ranging from Elmore James and Miles Davis to Bonnie Raitt and The Allman Brothers. Some with the help of their many guests. Some of those covers that stood out were The Sky Is Crying by Elmore James and performed with help from Doyle Bramhall II along with The Allman Brothers classic, Ain't Wastin' Time No More with Nels Cline of Wilco, and Bonnie Raitt's Love Has No Pride with a little help from the one and only, Norah Jones. The band, by one of its own, vocalist, Mike Mattison covered Foghat's, Chevrolet as well as a foot-stomping rendition of Sleepy John Estes' Leavin Trunk. We were also treated to Taj Mahal's, Sweet Mama Janisse and a heartfelt Allman Brothers classic, Please Call Home that was beautifully sung by Susan.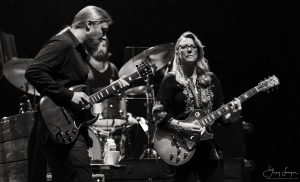 In showing why TTB is the greatest touring band of our generation, they also covered songs ranging from Allen Toussaint's Get Out of My Life Woman and Are You Ready? (Sly & The Family Stone), Let Me Roll It (Wings') followed by a take on Derek & The Dominos' Keep On Growing. Another highlight of these shows included Whipping Post and Luther Dickinson added his guitar for an encore performance of the Allman Brothers' Statesboro Blues.
During two of the shows, the band, or should I say Susan and Kofi, joined together and started the encore with an emotional Leon Russell's A Song For You. During the singing of the song, it appeared that Susan was singing the song to Kofi and ended with tearful hugs between the two.
But for yours truly, the highlight of the six shows was the finale. It was when Susan introduced their friend Trey Anastasio (Phish) and he broke into and sang the lead to Joe Cocker's, Delta Lady. The TTB's singers and horn players then left the stage as Anastasio, Tedeschi, Trucks, Burbridge, bassist, Tim Lefebvre and drummers, J.J. Johnson and Tyler Greenwell lit into an almost 32-minute rendition of the Allman Brothers Band's Mountain Jam that was debuted by the band on this evening. Trey and Derek flawlessly played off each other as they both presented huge smiles when they hit the song's main theme towards the start and at the grand finale. An interesting part of "The Jam" was when Derek threw in a small piece of Will The Circle Be Unbroken that Anastasio quickly picked up on. In addition, Lefevbre's solo was reminiscent of and true to Berry Oakley's approach to the bass solo and bass bridge as the drums sounded as if Butch and Jaimoe were behind the kits.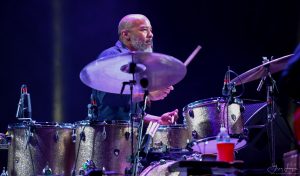 And if this final evening was not enough, the true TTB fan would have recognized that a rare occasion was in play when during the course of the evening's performance every member of the band had a solo. From the drum and bass solos in Mountain Jam to the rare trombone solo by Elizabeth Lea during I Want More to the incredibly beautiful sultry voice of Alecia Chakour and soulful melodic intonations of Mark Rivers, so rich and detailed in their solos and harmonies during I Wish I Knew How It Would Feel To Be Free that also showcased the band's backing vocalists. At songs end, Alecia received some extra love from the adoring crowd.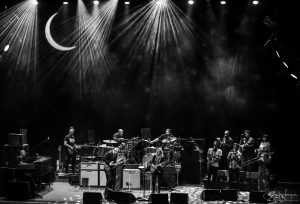 After the ending of the band's Bound For Glory, the sixth and final show was over and the Beacon crowd roared with approval and shook their heads in awe and amazement as they exited the theater. As a longtime fan who has seen all twenty-seven shows told me, the Tedeschi Trucks Band "played all six shows as strong as ever." With Derek Trucks' solos, Susan's vocals and string bending playing, the band's A-List talent, the song selection, and the special guests, the Tedeschi Trucks Beacon Residency will continue to play to capacity crowds in New York City. This tightly connected "musical family" brings to its audiences an incredible live music experience and an exceptional tradition all its own in the first weeks of October on New York City's Upper West Side.
Keep on the lookout for more Appearing Live Tonight and remember, support live music and enjoy your "NIGHTLIFE."
Photographs COURTESY: Greg Logan/Greg Logan Photos. www.gregloganphotos.com