LOADED CONCERTS & JZ MUSIC PRESENTS:
Legendary Rockers ZEBRA
West Coast Mini Tour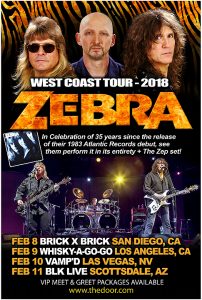 New York, NY (November, 2017) – This February in celebration of the 35th Anniversary of its release, legendary rock band ZEBRA will hit the road on their first West Coast Tour dates in three decades performing their debut self-titled album in its entirety! With all original members: Randy Jackson, Felix Hanneman and Guy Gelso, the band will hit stages from San Diego's Brick By Brick to BLK Live in Scottsdale, AZ.
Founded in 1975 in Louisiana, Zebra eventually relocated to New York. Randy Jackson, Felix Hanneman and Guy Gelso toured relentlessly on the east coast before getting signed by Jason Flom at Atlantic Records. In 1983, Zebra's Atlantic Records Debut Album became the fastest selling debut album in the label's history, making it a cult classic to legions of fans all over the world.
The band started their career by playing covers of Led Zeppelin, The Moody Blues, and Rush songs, and it was their early fans' reaction to their Led Zeppelin renditions that helped convince the band to bring their act to New York. They had introduced their original material into their cover sets years before they were signed to Atlantic Records, including "The La La Song," "Free" and "Bears" (originally entitled "The Bears are Hibernating").
The band continued to tour throughout the 1980s but took a temporary break in the early 1990s, during which Randy Jackson formed his solo band Randy Jackson's China Rain, and released its only album in the year 1993. Finally reuniting in 1997, Zebra released Zebra IV in 2003; their first album of all-new material since 1986. A DVD of live performances, with most of the material from their House of Blues performance in New Orleans, was released in the summer of 2007. On July 10, 2010, during their 35th-anniversary performance at New Orleans' Mahalia Jackson Theater, Zebra was inducted into The Louisiana Music Hall of Fame. On October 8, 2012, the band was inducted into the Long Island Music Hall of Fame.
35th Anniversary Tour Dates:
FOR TICKETS
Thursday, February 8th, 2018
Friday, February 9th, 2018
Buy Ticket Link:
Saturday, February 10th, 2018
Buy Ticket Link:
Sunday, February 11th, 2018
Buy Ticket Link:

Includes Photos with Randy, Felix & Guy, Watch Soundcheck, Autographed Commemorative Tour poster, Special Meet & Greet 2018 Tour Laminate, 3 Brought Items Signed, and Zebra T-shirt! 5pm on day of shows!
For Press Inquiries, Please Contact Rick Eberle at
Rick@RickEberleAgency.com