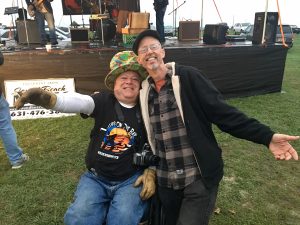 Since 1990 Dr. Mark "Doc Blues" Gresser has been producing the Cedar Beach Blues Festival. Doc Blues told Appearing Live Tonight that "this festival was started to provide a place for Blues Lovers of Long Island to gather and enjoy Blues music." These Blues festivals have been held for over thirty years and is credited for being the birth place of the Long Islands Blues Society and involved with local music and entertainment.
What started on an old wagon in an old man's boatyard in Mt. Sinai known as Harbor Fest that had rowing contests and other activities then growing into a craft fair with live music, moving to other venues at such as Joseph Edgar Elementary School, Davis Peach Farm ("Peach Stock") to Cedar Beach in Mt. Sinai, Long Island Maritime Museum in Sayville and Long Beach in Smithtown. The artists that played ranged from Grateful Dead Tribute Bands, the Good Rats, Guy Davis playing with Toby Walker, artists like The Rocket and Back Door Benny and many others. Other such artists that have been performed include the late great Sam Taylor, Kerry Kearny Band, Lex Grey and the Urban Pioneers, Long Island Music Hall of Famers, the Stanton Anderson Band. Also appearing the festival hosted other recording artists such as Frank Latorre and the King Bees, Memphis Crawl and Jane Lee Hooker, just to name a few. Every year Doc Blues continues to host a slew of great Long Island and local bluesicians. This year is no different.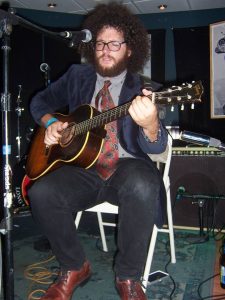 Doc Blues and the Greater Port Jefferson Arts Council in cooperation with The Long Island Blues Society and WUSB 90.1 FM are pleased to announce that the infamous Cedar Beach Blues Festival is back. Fifteen acts, two stages, rain or shine.
Bringing this long time festival to downtown Port Jefferson at Harbor Front Park in Port Jefferson Beach on Saturday October 7, 2023, 12:00 noon to seven. Admission is free.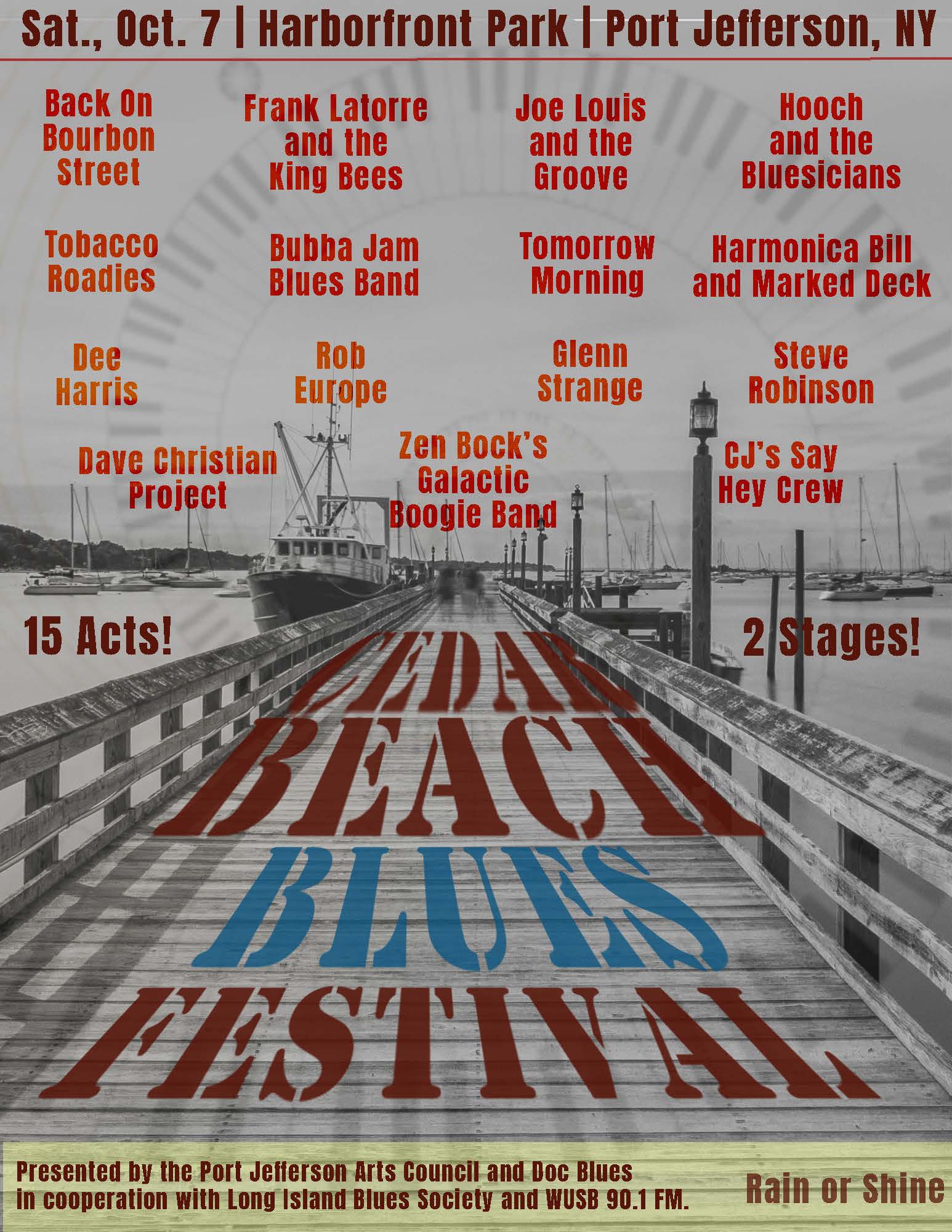 There will be 15 artists on 2 stages. The Main Stage will feature Long Island Blues Artists that, over the years, have represented the Long Island Blues Society in Memphis for the International Blues Challenge. The Main Stage will host eight acts that will include Joe Lewis and the Groove, Harmonica Bill and Marked Deck, Frank Latorre and the King Bees, and Hooch and the Bluesicians and others. On the acoustic stage you will get to experience Rob Europe, Tobacco Roadies, Dave Christian Project, Dee Harris and CJ's Say Hey Crew and many more.
If you love the blues or just a music enthusiast you don't want to miss this epic event. Come visit Doc Blues, experience the Cedar Beach Blues Festival and support your Long Island live music scene…
After 30 years, Doc Blues have solidified the Blues here as a strong part of Long Island's uniqueness and established this event as one of our most resilient music festival. Bringing this festival and his mojo back solidifies Doc's drive that the Blues are String on Long Island and not going anywhere.
Keep on the lookout for more Appearing Live Tonight and remember, support live music and enjoy your "NIGHTLIFE."