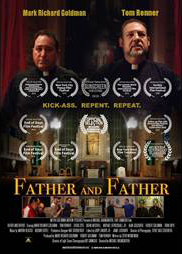 Tom Renner (Father Reginald) and Mark Richard Goldman (Father Goldberg), two Long Island guys are Father and Father. Tom Renner was born in Brooklyn NY, raised in Hauppauge started acting in the theater department of Hauppauge High School under the tutelage of Norm Golden. Tom became a Social Studies teacher at Westbury High School and went on to become owner and chief instructor of the Kazan Dojo in Deer Park. ShihanRenner is an 8th degree black belt in Jiu Jitsu and 4th degree black belt in Japanese sword and 6th degree black belt in small circle Jiu Jitsu. Tom is also an actor, stuntman/stunt fighter, fight choreographer and producer of several productions. Tom (co-producer F&F) has appeared in Batman Dark night Rises, Law and Order, Gangland SALT, I am Legend, Assassin X and Men In Black2.
Father and Father, the movie has won best comedy, best local film, best cast ensemble, best director and best fight choreography. This is his latest collaboration with local Long Islander actor (The Warriors, Honor Amongst Men, Assassin X, Kevin Can Wait , The Blacklist and The Punisher) producer Mark Goldman, Executive Producer Dr.Robert Goldman, Fran Capo (the fastest talking woman in the world, Guinness World Record holder and comedian), Ben Rutella and Stacey Meyer from U'r It TV and Susan Goldman who was also raised on Long Island.
Father and Father is a face paced, character driven comedy (Directed by Michael Baumgarten and Art Camacho) about two Priests forced to go on the run from Sasha Mitchell (Step by Step and the Kickboxer films) after they hear a confession from a wounded mob boss (Chuck Zito- OZ and Sons of Anarchy). The movie is based on the characters created by producer Mark Richard Goldman aka Goldy. Besides saving their own skin, the Fathers task themselves with not only saving the Boss's life, but his soul as well. In return, the Boss pledges to provide the truth, penance and State's evidence. As the Fathers dodge bullets and bad guys, they fall under the wrath of the Church superiors who have always questioned their backgrounds and methods. They fight in pews and on the church steps. They are busting things up. They get heat from the Diocese. They turn in their collars, and then pick them up again because it's the right thing to do. You've heard of the long arm of the law, but how about the long arm of the Lord? Father and Father was filmed on Long Island using the Kazan Dojo for rehearsal and the very cinematic Manhattan St. Raymond's Church. Check us out at fatherandfatherthemovie.com, on Facebook and Twitter.
Photos courtesy Stacey A. Meyer Photography.