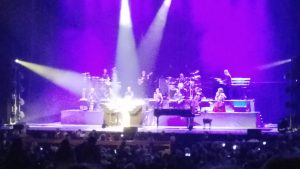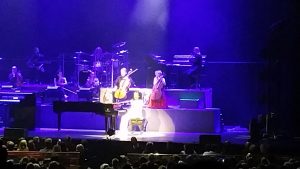 Yanni's music is often referred to as New Age, contemporary, classical, jazz, adult alternative or soft rock. His eclectic fusion of ethnic and exotic instruments from Asia, Africa and the Native American chants, deliver a unique sound and style that reflect his encounters with cultures around the world and support his philosophy of 'one world….one people.'
Yanni – a master musician, composer and record producer for almost 40 years. They say he has had perfect pitch since childhood and developed his own self-taught musical shorthand early on; he was born to compose music and share his gift with the world.
Yanni has performed at 8 UNESCO World Heritage Sites, including The Acropolis, The Taj Mahal, The Forbidden City, El Morro, Carthage, The Kremlin, Byblos and the Pyramids at Giza. He has been a spokesperson for the World Wildlife Fund and has composed music for NASA, The CCTV's Lunar New Year Spring Festival Gala, the U.S. Open, The Masters, the Olympics and Tour de France. FOX News has just announced that it has secured the rights to one of his new songs "Speed Demon" and plans to use this across their entire sports network.
If you have never experienced the musical mastery of YANNI and his outstanding orchestra of some of the best musicians in the world, you have never experienced perfection.
Imagery is courtesy of www.yanni.com; YANNI 25 – Live at the Acropolis Anniversary Concert Tour.
'YANNI 25 – Live at the Acropolis Anniversary Concert Tour'
By Fran Petito
There is no greater experience then to hear the historic artisan Yanni at the iconic Radio City Music Hall in NYC. 'YANNI 25 – Live at the Acropolis Anniversary Concert Tour' celebrated the 25th Anniversary of 'Live at the Acropolis', the 1993 world concert at the 2,000 year old Herodes Atticus Theatre at the Acropolis of Athens. Yanni and his band had filmed this as their first live album with the full sixty piece Royal Philharmonic Orchestra. It is said that this video's broadcast on PBS is among the most popular, viewed by over half a billion people in 65 countries.
Yanni searched all over the world to find someone with the voice of a Nightingale bird and he found her! The vocal performance of Nightingale by Lauren Jelencovich was a gift, truly an inspiration. Her performance was effortless and her voice was magical.