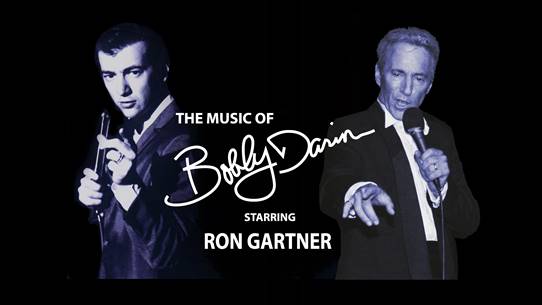 ONE NIGHT ONLY!
THE MUSIC OF BOBBY DARIN
Starring
RON GARTNER
A Celebration of the Life & Times of the Swingin'est Guy who ever put on a Tux!
WEDNESDAY, APRIL 17 2019, 7 PM
FEINSTEIN'S/54 BELOW, BROADWAY'S SUPPER CLUB
254 West 54th Street, NYC
www.54Below.com
FEINSTEIN'S 54 BELOW, Broadway's Supper Club, presents THE MUSIC OF BOBBY DARIN, starring Ron Gartner and a 6-piece band on Wednesday, April 17 at 7pm. Celebrating the music, life and times of the legendary teen idol, singer-songwriter, movie star and nightclub performer, Gartner will perform finger-snappin' Darin hits like "Mack The Knife," "Splish-Splash," "Dream Lover," and "Beyond the Sea" while sharing fascinating stories about the entertainment phenom who learned at an early age that he was doomed to die an early death and was determined to "do it all" before he expired.
A NYC entertainment agent and showman, Gartner honors the Bobby Darin legacy in a show that covers everything from Darin's rock 'n' roll days to his Evening at the Copa. Said the Los Angeles Times:"An over-the-top evening to remember by one truly talented showman whose voice and stage presence really rolls down everyone's socks!"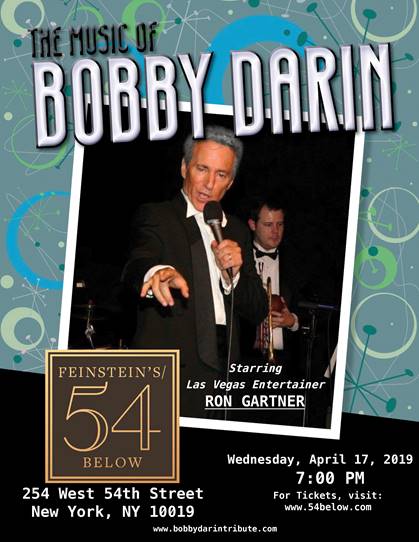 ABOUT RON GARTNER
Ron Gartner is steeped in the music and entertainment business, having founded and serving as the Managing Partner of BiCoastal Productions, a national entertainment booking agency based in New York City. Gartner wasn't always in show business, however, having spent most of his adult life in the textile industry. He used to sell wholesale fabrics to fabric stores for many years, never dreaming that he would be wearing a different suit one day. His Music Director, Ed Conte, a Berklee School of Music Graduate, is the founder and leader of the Ed Conte Orchestra.
More about the THE MUSIC OF BOBBY DARIN Starring Ron Gartner at www.facebook.com/tributetobobbydarin and www.bobbydarintribute.com.
There is a $35-$45 cover charge and $25 food and beverage minimum. Tickets and information are available at www.54Below.com. Tickets on the day of performance after 4 p.m. are only available by calling (646) 476-3551.