DEER PARK, NY Dec. 2017 – Long Island native, Sal "The Voice" Valentinetti, celebrated crooner from season 11 of America's Got Talent, released an original Christmas single entitled "When Christmas Comes to Town." "I'm excited to be sharing this new Christmas song with my fans," Valentinetti stated. "Christmas is such a special time for my family and those we love. This song really captures not only the excitement of Santa's arrival, but the happiness of sharing these festive days with someone special."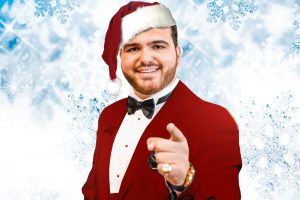 It's obvious Valentinetti is heavily inspired by his artistic influences like Frank Sinatra, Michael Bublé, and Dean Martin with "When Christmas Comes to Town" written in the same classic style but modernized with its lyrics. Singer-songwriter,
Peter Mazzeo
was able to capture the spirit of Christmas and Valentinetti with this track which was recorded in Long Island, NY, close to Valentinetti's hometown of Bethpage, at
EKO Productions
.
Robert Maffia
and
Michael Yannich
acted as production coordinators, while the song was produced by
Billy Jolly
, a three-time Emmy award-winning producer/arranger, who has worked with award-winning artists including Celine Dion and P!nk. "When I heard the demo, I knew it had Sal written all over it," said Jolly. "It's rare to hear such a vintage sound in a modern song, and there aren't many vocalists who could've pulled this off. Sal is an old soul with knowledge of the past hits and knows how to bring that into today's music."
"When Christmas Comes to Town" is available for download today:
Sal released a self-titled EP in July 2017 and is working towards releasing a full album. For upcoming tour dates and more, please visit http://www.salthevoiceny.com/ and follow Sal on Facebook by clicking here.