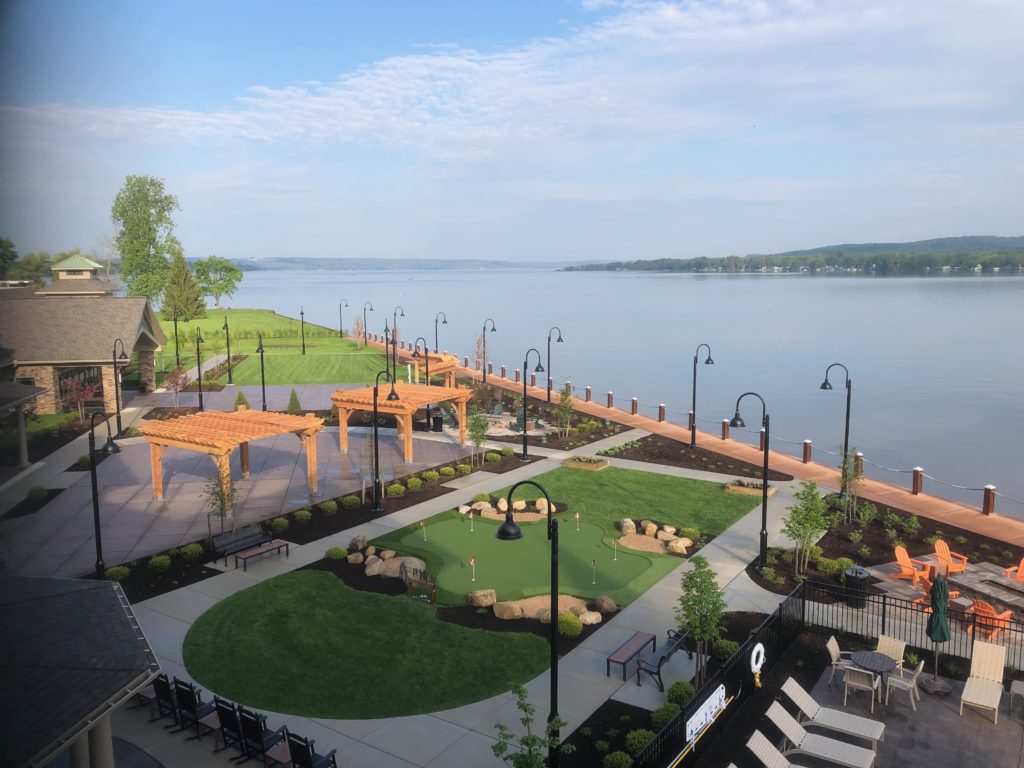 WHERE IS CHAUTAUQUA COUNTY?
When I signed up for the North American Travel Journalist Conference in Syracuse I was offered choices of pre or post tours. I chose the 3-day Chautauqua County tour called, "Learning, Laughter, and Luxury: A Lakeside Retreat." Megan Arnone picked up our 5 person group (I was the only male member) in a van with room for our luggage. The other 4 members of our group had flights home from the Buffalo/Niagara airport. I was staying at an airport hotel overnight so I could experience an afternoon in Buffalo.
It was an almost 3-hour drive northwest to our first stop, Liberty Vineyards, where we had a boxed lunch outside in the gazebo and a wine tasting conducted by Monica L. Mazur, Executive Director of Lake Erie Wine  Country. www.libertyvineyard.com  www.lakeeriewine.org.
'We had a private tour of Dunkirk Lighthouse, conducted by 2 wonderful high school age volunteers who live nearby. I chose not to climb the spiral stairs to the top. The lighthouse was established in 1827 and the present lighthouse was built in 1875 and is still in active use. Next door we toured the Veterans Park Museum filled with Lake Erie nautical and US veterans displays. www.dunkirklighthouse.com.
Our second winery visit was at 21 Brix Winery. It was a Saturday afternoon and the tasting room was filled people attending an annual trail-wide event called Charming Wine Weekend, where ticket holders are encouraged to visit all 23 Lake Erie Wine Country wineries over the course of three days. www.21brix.com.
We finished our afternoon of wine tastings at Johnson Estate Winery. While the rest of the group toured the vineyards, I rested and had the opportunity to taste their fruit, mulled and even their ice wine. They are the oldest estate winery in NY (1961). www.johnsonwinery.com.
Around 6 PM we checked into our home for 2 nights- Chautauqua Harbor Hotel located on Lake Chautauqua. I loved this hotel and want to return. My balcony overlooked the outdoor pool and the lake. After a tour of the hotel, including a history lesson and the fact that an amusement park was on this site many years ago, we had a leisurely dinner in the bar area. Huge portions and great service. www.thechautauquaharborhotel.com.
After breakfast on our own, we left for a short drive to the Chautauqua Institution. I had heard about this organization but after our guided tour (not walking) I want to return during their nine-week summer season. All accommodations are privately owned except for the Athenaeum Hotel & Ballinger Hall dormitories. The Chautauqua Institution is a not-for-profit, 750-acre educational center beside Chautauqua Lake in southwestern New York State, where approximately 7,500 persons are in residence on any day during the summer season, and a total of over 100,000 attend scheduled public events. Over 8,000 students enroll annually in the Chautauqua Summer Schools, which offer courses in art, music, dance, theater, writing skills and a wide variety of special interests. The Institution, originally the Chautauqua Lake Sunday School Assembly, was founded in 1874 as an educational experiment in out-of-school, vacation learning. It was successful and broadened almost immediately beyond courses for Sunday school teachers to include academic subjects, music, art, and physical education. The amphitheater holds about 4,500 people. Diana Ross is performing there on Friday, July 5th (sold out). www.chq.org  https://chq.org/athenaeum-hotel.
Lunch was at Ellicottville Brewing Company on Chautauqua Lake with representatives from the Chautauqua Institution. I had so many questions that I asked if I could return during the season for a separate story about the organization. www.ellicottvillebrewing.com.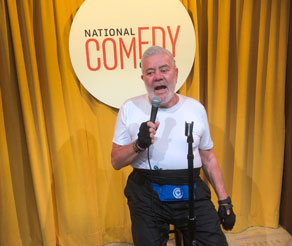 We spent almost 4 hours at the National Comedy Center in Jamestown. Opened in August 2018, there are more than 50 immersive exhibits celebrating the art form of American comedy. George Carlin, Shelley Berman, Rose Marie are among the many comedy legends to donate their memorabilia to the museum. The museums executive director conducted the private tour. www.comedycenter.org.
After a quick change of clothes at the hotel we had dinner inside the DoubleTree by Hilton at the Pearl City Hops Restaurant. This was the newest major hotel chain to open in downtown Jamestown. It may have been Saturday night, but our group was the only people eating at the restaurant. The food was quite good. www.pearlcityhops.com.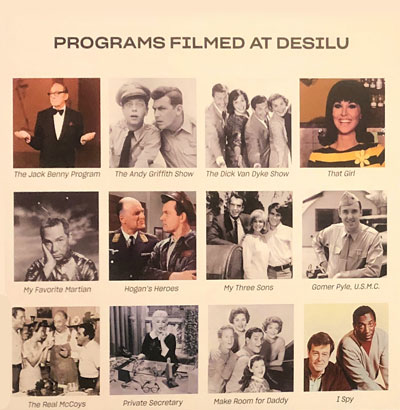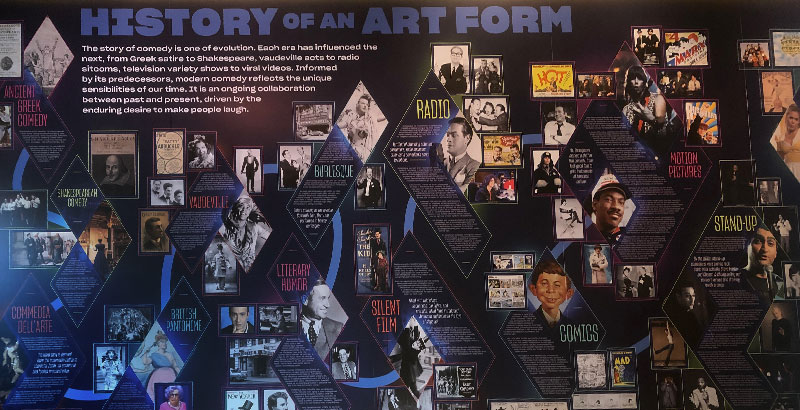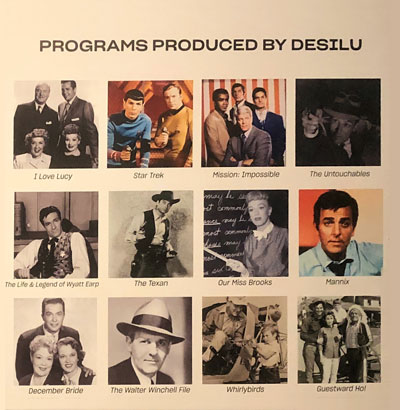 The comedy theme continued on our last morning. We were given a private tour of the Lucille Ball Desi Arnaz Museum, also in downtown Jamestown (Lucille Ball's hometown). Exhibits included Lucy's car; Tropicana Room (Ricky Ricardo's Manhattan nightclub); Recreation of Desilu Studios with costumes, props and recreated sets (The Ricardo's NYC apartment, etc.) www.lucy-desi.com. It was about 1½ hour drive to the Buffalo airport and drop-offs for the other 4 journalists. Megan dropped me at my airport hotel, the TownePlace Suites by Marriott. www.towneplacebuffaloairport.com.
AN AFTERNOON IN BUFFALO
After my 3-day NATJA post trip to Chautauqua County, our group of 5 were dropped off at the Buffalo/Niagara airport. I had not been to Buffalo for more than 10 years and so arranged with a representative from Visit Buffalo-Niagara to show me around the city in the 3/1/2 hours he had free. I booked a room at TownePlace Suites by Marriott located 5 minutes from the airport included and indoor pool, free breakfast and a shuttle to the airport.
www.townplacebuffaloairport.com  and  www.visitbuffaloniagara.com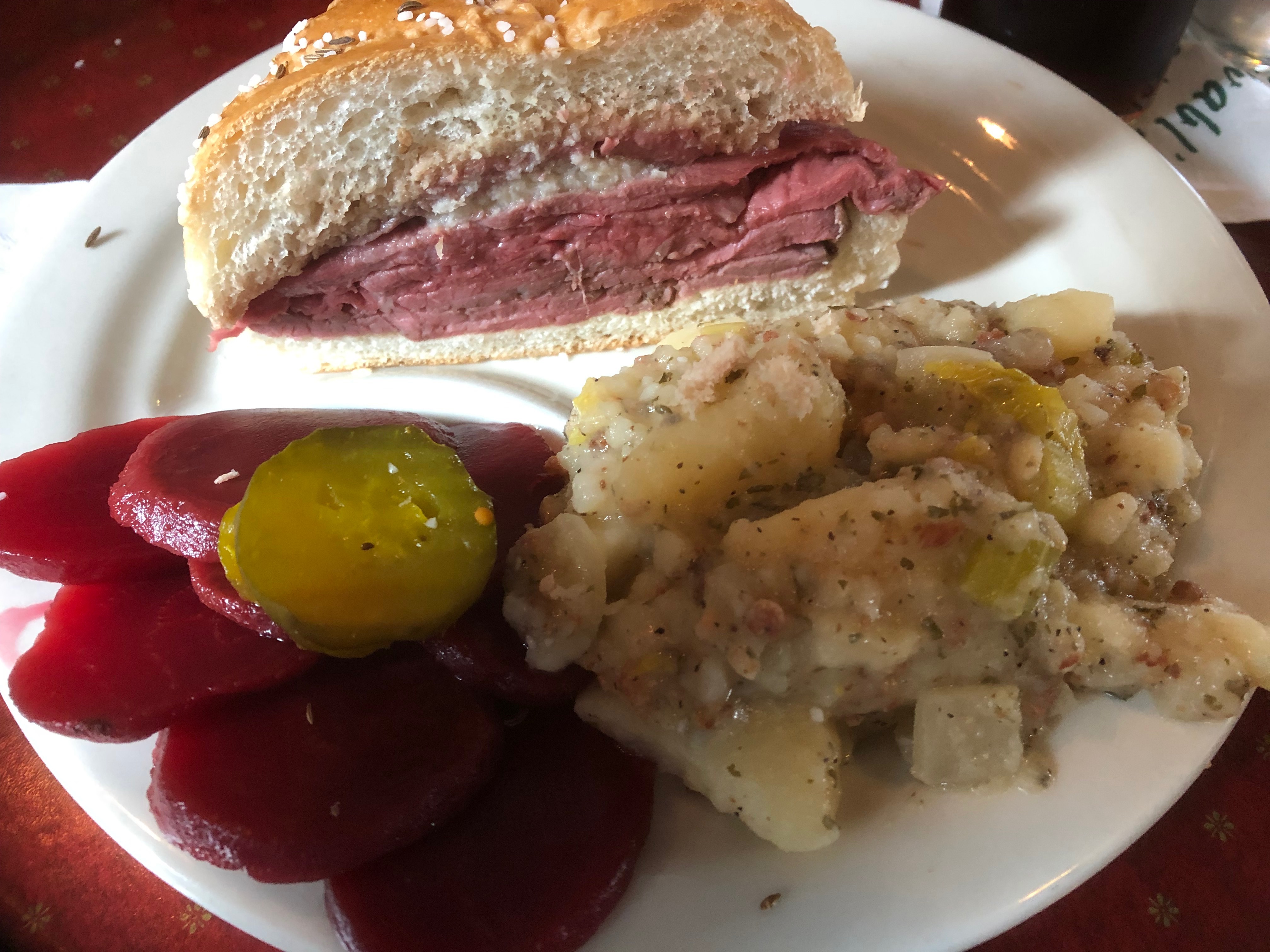 Instead of taking me to Anchor Bar, the home of Buffalo wings, we instead had lunch at Schwabl's, established in 1837 and the home of Buffalo's roast beef on Kummelweck bread.
Editors Note-When I returned to NYC I had lunch at Anchor Bar on West 57thStreet & got my Buffalo wing fix. www.schwabls.com.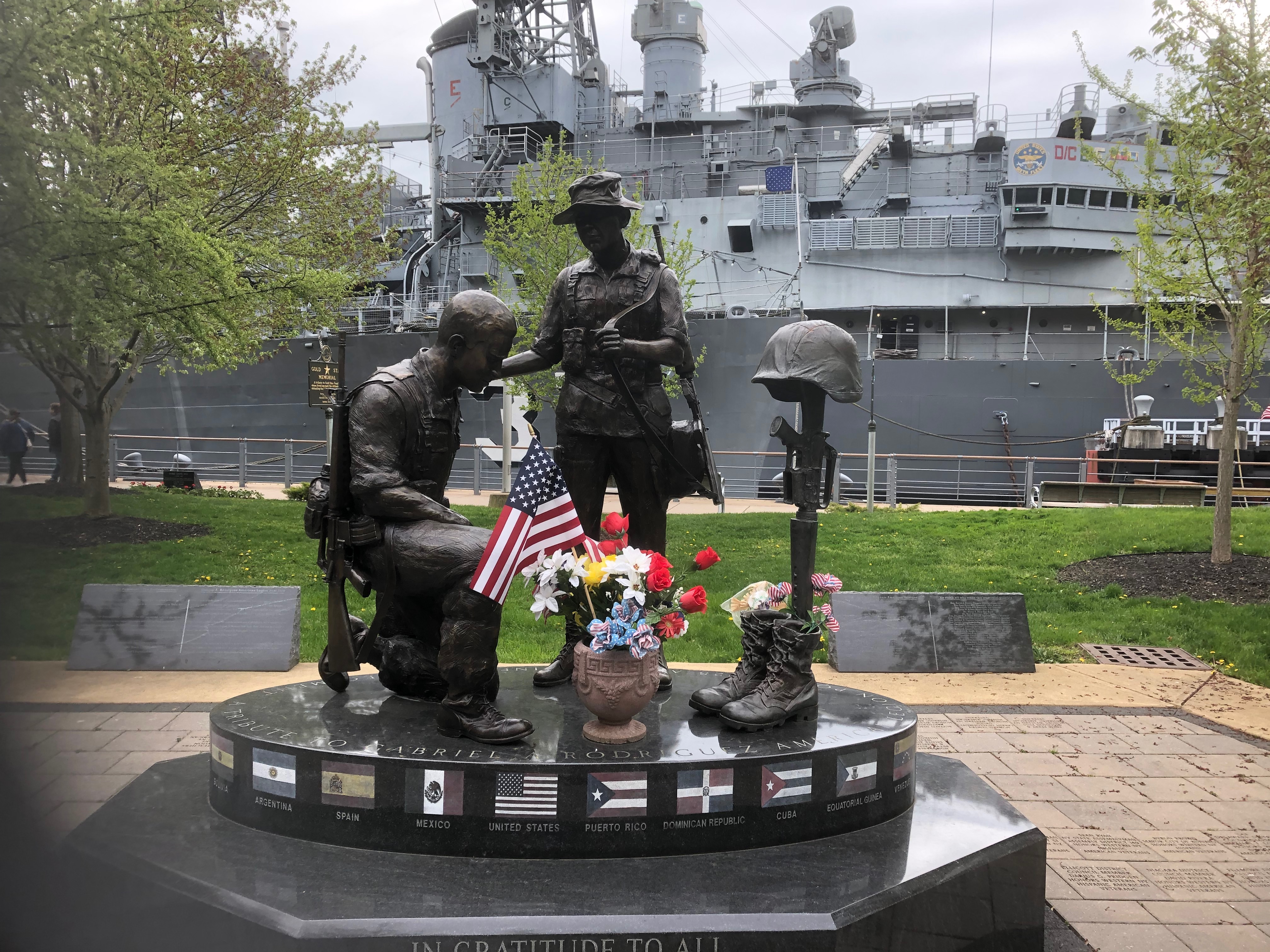 Most visitors rush to Niagara Falls and don't spend much time in Buffalo. It is the 2nd largest city in New York State with a bit under 300,000 people and 1 million in the metro area. One can cross over to Canada from Buffalo and the waterfront is huge with the Erie Canal and Lake Erie merging there. One can visit the WWII-era ships at the Naval and Military Park. www.buffalonavalpark.org.
There is work to be done downtown with factories still in operation and new apartment buildings going up next door. You must check out the Art Deco City Hall.  Fredrick Law Olmsted designed the beautiful park system (Central Park) and Frank Lloyd Wright designed the Darwin Martin vacation home (now a museum and they have almost completed a $50 million restoration). www.martinhouse.com.
Photography courtesy Ron Kapon
My Visit to Greater Wilmington Delaware
I recently spent 2 1/2 days in the Wilmington Delaware area. My Amtrak ride from NYC was less than two hours. My host was Lyn Lewis, the Director of Communications and Public Relations for the Greater Wilmington Convention & Visitors Bureau. I knew little about the area since I always passed thru Delaware on the way south to Baltimore or Washington DC. I will never make that mistake again. It helped that the last two days in September & the first day of October had perfect weather. 75-80 degrees with sun and low humidity. Wilmington is the corporate capital of America with all the major banks and many corporations located there. U.S law allows companies to incorporate in Delaware and to be governed by Delaware's laws and tax code. Since the state does not tax "intangible assets" companies can move part of their business to Delaware and thus avoid taxes in other states. The tax attorneys out there could probably explain it better than I have. Greater Wilmington also encompasses Chester County Pennsylvania with its estates and gardens thanks to the generosity of various members of the du Pont family.
Our first stop was the Delaware Art Museum. The museum is best known for works by Wilmington-native Howard Pyle and fellow American illustrators. There are urban cityscapes by John Sloan as well as a large collection of British Pre-Raphaelite art. I had a delightful lunch in the Thronson's Café.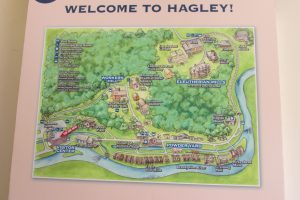 We had a guided tour of the Hagley Museum & Library, which is located on 235 acres along the banks of the Brandywine. Hagley is the site of the gunpowder works founded by E. I. du Pont in 1802. Our visit included restored mills, a workers' community, and the ancestral home and gardens of the du Pont family. The last part of our visit was an explanation of how gunpowder was produced including a gunpowder explosion.
After a long day of touring my host asked me if I wanted an early dinner & did I like seafood? The answer was yes to both so she took me to Harry's Seafood Grill and we ate outdoors overlooking the Christina River. It helped that it was a sunny warm day at the end of September. I had the grand seafood platter that consisted of two each- oysters, clams, mussels, shrimp and crab. Yummy and quite reasonably priced (by New York standards) at $25.50. Of course, I started with clam chowder.
The 1.3-mile Riverwalk pales in length & scope to the one in San Antonio but it worked for me. Bars and restaurants, miniature golf, a beer garden, IMAX theater, children's museum, a working brewery, minor league baseball etc. I watched the boaters from a local rowing club, people walking their dogs, biking, jogging and holding hands.
I know if I come back in five years there will be many more attractions. Don't wait- go now.
Before dropping me at my hotel we toured the Wilmington Riverfront and along Market Street in downtown Wilmington. My host hotel for two nights was the Westin Wilmington. I would have given the hotel 5 Stars if they didn't have the smallest indoor pool, maybe in the world (I have been to 149 countries). Why not add a hot tub next to the pool? The deepest part of this pool is 3 feet & with two swim strokes, I went end to end. I read recent reviews of this hotel that were not very kind to the staff. I found exactly the opposite. I forgot a few bathroom essentials & the front desk staff was kind enough to supply them to me at no cost. I had a problem with the one dinner I ate in the hotel dining room. I had a long exhausting day visiting sites and just wanted a hamburger & an early to bed. I waited & waited. I was told the kitchen was backed up with a private event in the ballroom. After 40 minutes I walked to the front desk & expressed my disappointment with the wait. The gentlemen behind the desk walked me back to the restaurant. Two minutes later the hamburger arrived. It was delicious. I was told there would be no charge for my entree. I thanked the desk person & mentioned that really was not necessary. He insisted that I had been waiting much too long & that was the least he could do. The hotel is perfectly located and surrounded by the Riverfront area, which had many attractions within walking distance. My room was clean, brightly lit and had a great rain shower. Coffee maker, fridge, safe, comfortable chairs & a working desk and large screen TV.
I was being picked up early the next morning for touring so decided to eat breakfast in the restaurant. Great choice. My pancakes were the best I had ever had. The French toast the second morning was almost as good. A bonus was meeting the plant lady Deborah Lemon who doubled as the restaurant hostess. She has a major hand with all the indoor and outdoor plants in and around the hotel. I watched her making small plant centerpieces for an evening function that night.
My second morning in Wilmington began with a tram ride through the naturalistic gardens at Winterthur. There is an extensive collection of American decorative arts both in the house and exhibition galleries. The 60-acre garden and surrounding1,000-acre woodlands and meadows are available to the public. One can play in Enchanted Woods, the fairy-tale children's garden. Collector and horticulturist Henry Francis DuPont opened his 175-room home, Winterthur to the public. There are almost 90,000 objects made or used in America between 1640 and 1860. We toured the house and then had lunch in their cafeteria.
My nex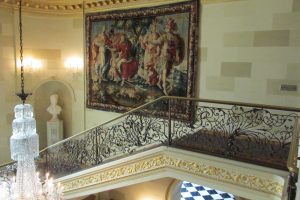 t du Pont estate visit was to Nemours for a tour of the mansion and gardens. Owned and developed by Alfred I. du Pont, Nemours Estate includes a 77-room mansion, the largest formal French gardens in North America, a garage housing a collection of vintage automobiles, and nearly 200 acres of scenic woodlands, meadows and lawns. It was built in the late 18th-century French style. On the property is the Nemours pediatric health system that is committed to children's health care in Delaware, New Jersey, Pennsylvania and Florida.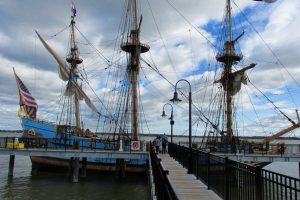 A six-mile drive brought us to colonial New Castle with its cobblestone streets on this riverfront overlooking the Delaware River. This Colonial/Federal village is second only to Williamsburg, Virginia in the number and authenticity of its historic structures. Peter Stuyvesant, who was sent to provide the Dutch with command of all river traffic, founded New Castle, originally named Fort Casimir, in 1651. We talked to the crew of the Kalmar Nyckel, a sailing ship that gives tours of the river as well as joining many tall ship festivals.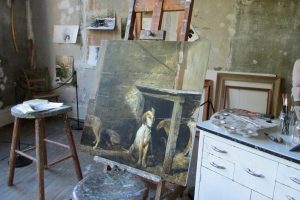 On my last morning, I was taken on a tour of the original Andrew Wyeth Studio. He was one of America's best-known twentieth-century artists and painted many of his most important works of art in his Chadds Ford Pennsylvania studio. Given to the Brandywine River Museum of Art by the artist's wife, Betsy Wyeth. It served as the artist's principal Pennsylvania workplace from 1940 to 2008. The studio still houses the furnishings, library and collections acquired by the artist, as well as examples of the art materials he used throughout his career. We then spent an hour touring the Brandywine River Museum of Art. It is home to a permanent collection of artwork by three generations of the Wyeth family and contemporaries. Part of the Brandywine Conservancy, the museum resides in a restored mill along the bucolic Brandywine Creek.
My last stop before catching my Amtrak train back to NYC was Longwood Gardens which is located in Kenneth Square Pennsylvania, in the Brandywine Creek Valley about 1/2 hour outside Wilmington. There are over 1,000 acres of indoor (20) and outdoor gardens and over 4,600 plants and trees. The area was going to be used for logging when Pierre S. du Pont purchased the property. It is another example of the various members of the du Pont family and their generosity. I was there for the 1 PM Longwood Fountain show along the 600-foot Flower Garden Walk.
One needs to spend almost a whole day here. There are food and drink carts along the way and a very large restaurant on the property. There are lots of things for the kids with shows and educational events. Bring comfortable shoes.
-Ronald Kapon
---
The Algarve welcomes you with open arms:

Southern Portugal for a Destination Wedding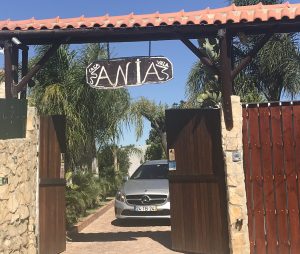 When someone mentions a destination wedding, immediately one thinks of Mexico, Jamaica, Costa Rica, beautiful sandy beaches with palm trees, amazing sunsets and the moon's reflection off the water. The Algarve is a lesser known alternative located in the southernmost region of Portugal. Boasting the most popular tourist beaches, as well as its beautiful 124 miles of coastline, The Algarve has established itself as a busy tourist hotspot, especially around the resort town of Albufeira. Nearby, you can find the former Moorish town of Lagos, with the best cove beach in a region filled with grottos, caves and long, sandy beaches backed by ochre-coloured sandstone cliffs.
With its cliffs which extend along the shoreline for miles, the palm trees, the caves and the landscape, the beaches of The Algarve make this area one of the most picturesque areas in the world. The breathtaking cliffs drop down to magnificent, sandy beaches which extend out into crystal clear waters filled with rock formations and small sea life. Inland, you will find old fishing towns, with little shops, outdoor cafes, and restaurants along narrow cobble-stoned streets; all set to a wonderfully warm and a superb summer climate.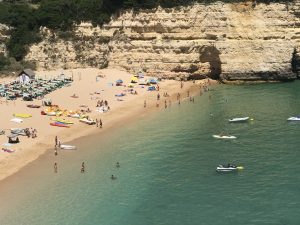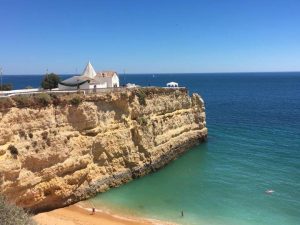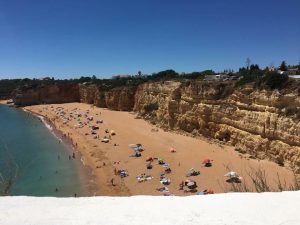 During my recent visit it occurred to me, The Algarve has a wide-ranged appeal to many different types of tourists. The pristine beaches will appeal to singles and couples, as well as families. The waterparks are perfect for teenagers, while young couples can enjoy the buzzing nightlife in its historic towns where they offer cultural tours. You may also visit a local vineyard for tasting tours. These niceties, not only create the perfect holiday destination but can serve as a magnificent wedding destination.
When I was invited to attend my niece's destination wedding in southern Portugal, I accepted without hesitation and immediately began my research. To my surprise, I learned that The Algarve provides excellent value for the money and the Portuguese people are welcoming, hospitable and progressive. Southern Portugal provides a hassle-free destination; the hotels are of high standard, comparatively short flights, English is universally spoken and the extensive selection of restaurants has every cuisine or dietary requirement suitable for everyone.
Getting 50 people to our destination was not easy due to all the choices. Some wanted to leave a few days early to stop in Madrid, Barcelona, Milan or Paris for a few days, while others, like myself, wanted to get to our destination as soon as possible to enjoy the area. Although there are many airlines which travel to Lisbon, we flew TAP Portugal to Lisbon. From there you can rent a car and drive the picturesque coastline for a few hours or have a short layover and fly into Faro, a half hour car ride to the most popular resort town in The Algarve, Albufeira.
We were greeted by the smiles by of our flight staff as they said, "De bracos abertos" (with open arms) as we boarded the plane.  It didn't take me long to figure this out.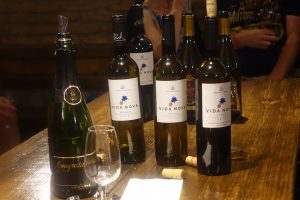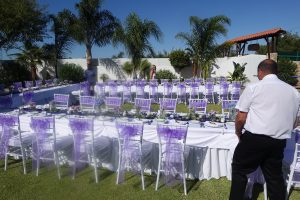 Our bride and groom booked a beautifully decorated and convenient villa which can sleep 24-41 people. Villa Ania, is owned and operated by Paulo Santos and his beautiful family who catered to everyone's needs. This peaceful villa overlooks a mountain range and, in the distance, the ocean. It has air-condition throughout the main house, as well as in each bedroom, a private heated pool with whirlpool, a small polo sport area for tennis, futbal, basketball or skating, large garden areas, kitchen, living room and an outdoor entertainment area with a pool table, ping pong and hammocks for those quiet relaxation moments. Villa Ania is just a 5-minute drive to beaches, shops, markets and the busy nightlife of Albufeira which includes both Old Town and New Town.
Our first night there, shortly after our arrival, a few of us drove to a nearby strip mall and purchased groceries for the week.  That evening we prepared a quick and easy barbecue, a few cocktails by the pool while enjoying the 9:00 PM sunset and, finally, after a long day of travel we were set to sleep. The following morning, we began our day with a breakfast made essentially by group effort; cooking bacon, chouriço sausage, and eggs with Portuguese breads and cheeses.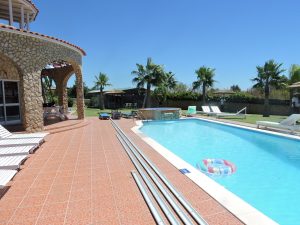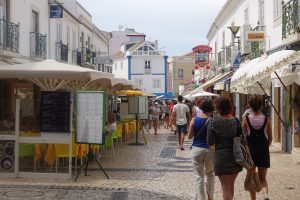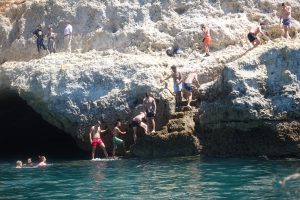 After breakfast we hired a passenger van complete with a driver from the Villa and, along with three of our rental cars, we traveled 30 minutes to Lagos, the very western edge of the Algarve and one of the region's most fascinating and historically interesting towns. Lagos is set on a stunning coastline of massive sandstone cliffs with wide beaches along the shore of stunning cliff formations and crystal clear waters. It is set within 14th-century walls, from its fortress to picturesque churches like Medieval São João Hermitage and the 17th-century São Sebastião. But it's the half-dozen beautiful beaches of quiet, sandy coves or lagoons sandwiched between the dramatic cliffs, containing passages in its rocks affording entry to the next cove, that make this a must for any beach enthusiast. Lagos has always had a seafaring connection, originally visited by Phoenicians and Carthaginians and then, during the 15th century, was the base for the 'voyages of the Discoveries' instigated by Henry the Navigator when trade between Africa and Portugal brought a great deal of wealth into the town. We treated ourselves to some homemade gelato while sitting in the public square next to the Governors' castle and the Praça Infante Dom Henrique with a statue of Prince Henry looking out to sea. To the left of the square is Igreja da Santa Maria. The facade of this church is 15/16th century but was rebuilt in the 18/19th centuries. After relaxing at the beach and having lunch, we ambled along the cobble-stoned street at the back of the square where we came across, not only small merchant shops but the famous Lagos 'golden church' of St. Anthony. The infamous 'golden church' was rebuilt in 1769. On the opposite side of the church is the 'Slave Market' from the 15th century, where slaves brought back from the discovery voyages were sold. Just being the fish market, on a hill, there is another church, St. Sebastian, dating from 14th to 16th century, with fantastic views over Lagos Bay.
We had to cut our Lagos visit short because the bride and groom were hosting a welcoming barbecue for all 50 guests back at Villa Ania. The Santos family presented an amazing array of local foods from the fruits, to the chicken, beef and pork dishes all served with various Portuguese red and white wines as well as local beer from our very own tapped barrels. This was a truly perfect ending to our first full day in "The Algarve."
On our second day, Paulo and his family provided a real Portuguese "English breakfast" and afterwards, we visited other family members staying at the nearby beach resort of the Luna Oceana Club. We met them on the beach at the Água Beach Club, a very chic beach with bar and restaurant providing wait service on the beach. Their motto "Where sea, sand and good-times come together," was proven to be true. The rattan chairs, beach loungers and super-sized daybeds were perfect for relaxing when we weren't swimming in the sea. Sadly, our stay there was short-lived due to the scheduling of the bachelor and bachelorette dinners and parties we had to attend later that evening.
The men decided to head into Old Town for an Italian dinner at La Brava, where the drinks were plentiful and the food perfecto.  Choices of beef, pork, pasta and pizza suited this group of hungry and thirsty men just fine. The women went to Bank Restaurant, a steakhouse in the middle of Old Town Square.  Albufeira's Old Town has narrow cobble-stoned streets lined with restaurants, bars, cafes and shops while "New Town" has mostly, if not exclusively, bars and nightclubs where both the men and women of our party found themselves dancing and celebrating the bride and groom's last days as singles.  Interestingly, although "New Town" is small and only a few blocks long, the bachelorette and bachelor parties did not cross paths until all were safely back at Villa Ania in the wee hours of the morning.
On day three, some of our group did a bus trip and tour to Lisbon to see famous churches and castles. Upon their return, they only boasted about their stop at a street café for coffee and a Pastel de nata. The Pastel is an incredibly delicious egg tart pastry recipe dating back to the 18th century where they were made by Catholic monks at the Jerónimos Monastery. For those of us that stayed behind, we visited Adega Do Cantor or "Winery of the Singer" named because one of its owners, Sir Cliff Richard, a well renowned British pop singer, musician, performer, actor and philanthropist has been residing in The Algarve for about 40 years. We were educated on the history of the vineyard, an avocado farm on one side while a fig farm on the other, and the methods of growing and pressing grapes before we entered into an incredible barrel storage/tasting room.  We were invited to sample the Vida Nova Branco and Tinto blends as well as the sparkling wine, Vida Nova Parabéns and the Cantor 75, a commemorative red blend celebrating the 75th birthday of Sir Cliff. After the winery tour, it was back to Old Town for an early dinner at one of the hundreds of restaurants to choose from. For a quick snack, we decided on Cervejaria Restaurante Dois Irmaos that abuts the sea. A glass of white wine, a cold mug of the local brew, a piece of swordfish and a salad was just what we needed before the souvenir hunt back in the market area.
On our fourth day, all were getting ready for the wedding we came to share. The wedding couple utilized the services of wedding planner, Carla Valentim of Sonho a Dois. Carla was simply amazing and took care of everything from the women's makeup and hair, to the groom's boutonniere; to the travel arrangements, photographs, videographer, the wines, the chef and caterer, the music for dancing to the cutting of the wedding cake. Carla is by far one of the most hands-on wedding planners one can meet and had her craft down to precision. She is highly recommended.
The ceremony would be held at the Fort of Nossa Senhora da Rocha (also known as the Fort of Our Lady of the Rock or Castle of Porches, a medieval castle). The ceremony would take place atop of a cliff that flows out to the sea with beaches on both sides below. This was a spectacular view for such a spectacular event for two amazing people. The ceremony was short but oh so memorable for all attendees. Afterwards, all were taken back via buses to Villa Ania where we were greeted with sparkling wine, cocktails and hors-d'oeuvres before dinner.  The catering was magnificently accomplished by Chef Jose Pereira of Food & Passion. We were treated to dishes of fine Portuguese cheeses and dried meats, fish soup and pork tenderloin before partaking of homemade deserts of chocolate figs, crème brulee, locally made flan and wedding cake which was decorated with replica Portuguese Azulejo tiles. Lastly, to work off all this incredible food we all participated in some dancing into the early morning hours.
Our last full day in The Algarve was another simply amazing day.  Breakfast was again served by the Santos Family before we all loaded into cars and vans and made our way to the Carvoeiro Caves for a boat trip through the many caves along The Agarve coastline. Eleven people to a modern fiberglass boat for which we had four of them. Our "sailor" operated the boat with such an incredible display of boatmanship, never once touching a side wall of rock. This tour was truly a unique and special experience to see caves formed and washed by strong tides from the Atlantic Ocean. The large cracks in the walls of the cliffs combined with the loudness of the sea transformed the interior of the caves into a mysterious atmosphere. After the tour, we stayed on the beach for a few hours, swam in the lagoon and ate lunch at a street side café, O'Barco where I experienced a well-prepared piece of grilled Salmon and the yellow potato French fries that seem to accompany every dish served in The Algarve.
Upon our return to Villa Ania, it was decided we all go on our own to Old Town for dinner and more shopping. Pizza, Steak, Pasta or the evening's choice for something a little different, tacos, cervezas, margaritas, sangria and tequila at the Tex Mex restaurant, La Cantina, right there in the middle of the Old Town Main Square. After dinner, more shopping for last minute gifts for friends and family back home and then back to Villa Ania for the last night cocktail by the pool with all of the bride and groom's family and friends before our final goodbyes in the morning.
Albufeira, the gateway to The Algarve, Portugal, is an amazingly idyllic coastal city with rich history, unique architecture and a quaint character all with some of the most beautiful beaches in the world. All of this welcomes you "with open arms." While standing on a cliff overlooking the sea, you will wonder why the early Portuguese people even wanted to explore the world. The Algarve is one of the most romantic places for a destination wedding. – FRANK LOMBARDO
---
Journey with Nightlife aboard the Norwegian Gem

Nightlife Magazine takes an amazing international trip, available to New Yorkers and shares the seven-day experience on Norwegian Cruise Lines.  For this trip, you don't need to step foot in an airport. Instead head up the west side highway to the ship terminal next to the Intrepid Museum.
Booking the trip was easy online of course and the pricing was less than a typical metropolitan hotel. There are many specials including last-minute promotions, so you should visit www.ncl.com for booking and more details.
I selected the Norwegian Gem – sails from NYC of course, then to Florida, Nassau Bahamas and an island owned by Norwegian…more details on these destinations to follow.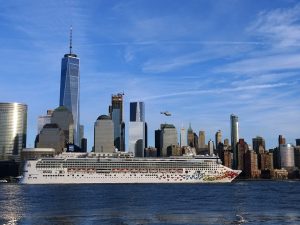 Day one of the trip starts in New York City traffic. Traffic made the drive in a little stressful but check in was a breeze.  NCL allows for set check-in times throughout departure day which makes things smooth. In advance, check-in is all set up online so basically the actual check-in
took only a couple minutes. In total amazingly it took us a half hour to go from curbside bag drop, through check-in, to lunch at Cagney. This is a truly gourmet experience with a wonderful view of the Intrepid and the NY City skyline.  NYC looks and feels different from here now that I
know vacation has officially begun.  This blog will continue daily…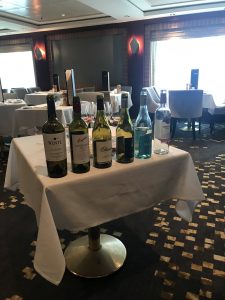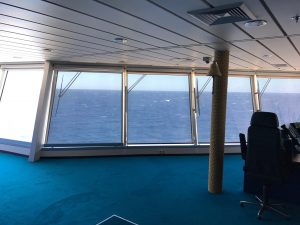 My favorite of favorites is steak so dinner day one was at Cagney's. After the feast, I caught the show Starlight. It's a classic with music from the 40s and it's always wonderful listening to music from that era. Coincidentally the show exit lands everyone back at the casino, but I don't mind.  Four hours later it's bedtime because tomorrow we get to Florida!
Day two was a sea day. I had to transition from the colder NYC as I headed south. Everyone quickly found their way around and gets acclimated to the enormous ship.  There was so much to do…with multiple options all day and night. NA/AA meetings were regularly available and discreetly labeled Friends of Bill W.  As the day started the place to be was obviously the pool, as we were all summoned by soothing reggae.
I couldn't remember if it was the slot machines at the end of the rows or in the middle but one is more likely to pay out than the other. I put a twenty into an end of row machine and in two pulls picked up $60 which I cashed out and moved on.

I stopped at the excursion desk, where my questions were answered and plans were made.  Food options arnever-endingng and I ate and ate and ate.
If instant dinner with 1000 choices is your thing, the buffet is available.  I prefer a quiet more typical restaurant setting and there are all the classic restaurant choices:   Steakhouse, Italian, bistro French, hibachi, sushi, even a churrascaria with never ending meat!  For a real intimate option, room service is available 24 hours. Onboard to help manage all the options, Norwegian offers an easy to use App. The home screen starts here then select dining then for example Asian and it tells you where to go or you can even call the restaurant right from the App.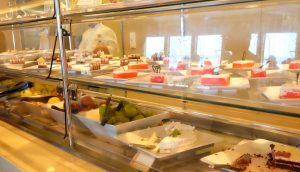 Day Three starts in Florida – before getting into port, the day really began at the buffet.  I went with French toast, eggs, muesli and of course a cappuccino as we headed into port we had some company. Today before disembarking I got to visit THE HAVEN.  This is a concierge level sun deck and pool for the guests in the suites.  It's extremely tranquil, with refreshments enjoyed throughout the day and fitful rest with true peace and quiet. Departure in port was very organized. There were multiple exits funneling everyone to a central gathering of well-marked excursion buses and taxis. For my day we visited kayaks for a nature excursion. We didn't see many manatee or dolphin but it was hot and beautiful with loads of small wildlife.
It was beautiful and there were no bugs! Before heading back from Coco Beach many guests hit the local spots like The Sandbar. My last meal in Florida was gator tacos and fish.  After this day we raced back to the ship and my pillow!
Day Four – getting up before sunrise was the plan being I passed out yesterday as soon as we sailed.  Amazingly at 6 am the deck had a handful of motivated people. Some athletic types running laps and others like me looking for the best view of the glorious sunrise at sea.  It was a bit cloudy but still impressive.
The planned trip was to Norwegian's private island paradise.  We were transported by tender boats in small groups and the transfer was smooth and efficient.  The island feels like a dream. It's all about fun. No cars. No stress. Beach bars, water sports and restaurants are everywhere. The design was well thought out because each nook had a feeling of being small and quiet, while accommodating thousands at once.
We tried stand up paddle board which was harder than it looks, but beginners can paddle from a seated position if standing did not work out. On the way back we noticed an enormous, but beautiful and friendly Manatee was following us.  It was surreal. We ended our day with jet skiing.  This was an hour long guided ride and tour. The water was calm and a perfect blue.
After getting back in the last tender, a glorious ice cold shower was needed. We decided to try the Asian hibachi restaurant which was fabulous and authentic. The show tonight was a country western themed musical.  After another great da, bed was calling.
Day Five – Nassau Bahamas – As we pulled in, I noticed that somehow the water was more perfect.  It was somehow extra exciting pulling in next to two other cruise ships. We had an early excursion planned so we were amongst the first off, or so we thought. Somehow as we exited the area between the cruise ships was full and we had no line to get off at all. It turned out that the Captain had saved us a couple hours docking at 630 am. It was funny because it turned out we were getting off very last.  The port is extremely well organized. There is a nice straw market in a secured area for travelers who don't want to venture too far. There were dozens of options available in Nassau. Most are either at Balmer Island or Atlantis. We decided on a split day of dolphin swim and beach excursion on Balmer.  Included in our price was a ferry ride over to the island. We were escorted in a well-organized group to a beautiful ferry for the half hour trip. The island is just perfect. There are beach bars, shops, perfect sand and even a Starbucks.  Many went just for the beach or for the optional add one of swimming with dolphins or sting rays.
Our dolphin swim took about an hour. It was awesome. Swim shoes are a must because it's rocky but our Dolphin Dennis was the best. We were in a small group and it was unforgettable. They take photos available for an extra purchase fee.  Obviously, everyone had to take home a picture of themselves getting a dolphin kiss.
The island is shared with Sandals, all-inclusive resort and there is a clear dividing line. This place was incredible and highly recommended.  After a half day we took a ride back to Nassau and shopping for the rest of the afternoon.   The day was ended on the ship with a surprise. I booked the romance package which included flowers, chocolate strawberries and an amazing dinner at the ship's French restaurant Le Bistro.
Days Six and Seven – The last two days of this adventure were at sea. It was very nice to be able to have a large block of time to enjoy the vast array of ship activities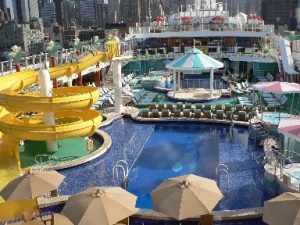 The ship has a world class Sommelier who hosted daily wine tastings.  Food options are available 24 hours a day of all varieties.  The breakfast buffet had every possible choice in the world. Besides mountains of prepared food, we enjoyed the omelet, waffle and carving stations.  For lunch the ship had poolside barbecues for the sun worshippers and many restaurant options. Both days we lunched in Cagney's because the food was so amazing. The Niçoise salad with tuna was the best I ever had and the scallops in a cream sauce were equally incredible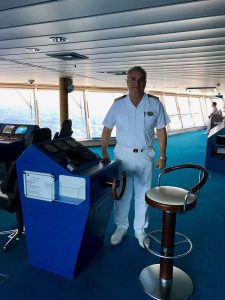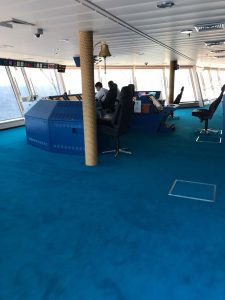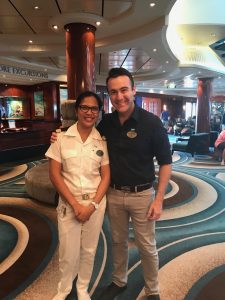 Special thanks to Captain Konstantinos Fafalios for taking time to welcome me on the bridge.  In our visit, the Captain stressed the company strategy of freestyle cruising in every way. From meals to activities there is something for everyone. At all times guest comfort and safety are paramount. So much goes on behind the scenes, unbeknownst to the guests to ensure a safe and wonderful experience. Before any excursion for example the crew checks everything out to make sure all necessary safety equipment and personnel are in place.  NCL has mastered freestyle cruising and nothing could be better. It's your vacation and enjoying it how you like is the whole point. – David Grossman
Photo credits:
Mary Ann Fernandez, Group Service Coordinator and Cruise Director Mark Bachiochi , www.ncl.com
---
Sandals Emerald Bay
by Shawn Cooper
https://www.youtube.com/watch?v=dqSJfCFkXXA
A mere 40 minutes by plane from South Florida, the 365 tiny islets and cays that comprise The Exumas are the Jewels of the Bahamian archipelago. Sandals is a short drive from Great Exuma International Airport. I visited this resort in February, 2017 and was greeted with a warm "welcome home" which set the tone for my week-long stay. I was taken to a luxurious room and was provided cold towels to sooth the skin after a long journey; recycled airline air sucks moisture like a "Sham Wow on spilt milk". Champagne and specialty cocktails called "3 Decades of Love" (commemorating the 3 decades of service) were also served as I waited for my butler to show me to my room.
I decided to experience butler service where the staff wait on you hand and foot. Our team of butlers, Scott, Garth and Henry, were all trained by the "Guild of Professional English Butlers," owned and run by Robert Watson, who continually trains all of the butlers from all of the 14 Sandals' locations. Your butlers will wait on you hand and foot, unpacking your baggage, serving you food throughout the day or night, and insure everything is precisely as you want it. (I didn't ask, but they would have cut my steak for me at dinner without question.) I was given a personal cell phone to use throughout my trip enabling me to contact my butlers with any request from any location. A Sandals Suite, complete with the luxury of a butler, is the ultimate indulgence that I highly recommend..
After settling into my room and meeting my butler, I went for a tour of the property. My first stop was one of the three impressive pools spanning over a half-acre. The zero-entry pool had dramatic fire pits in and around it and a swim-up bar with tables and seating surrounded by fountains and hot tubs the size swimming pools. I spent most of my days under a cabana lounging by the pool taking in the sights and soothing sounds of the ocean just feet away. The soft white sand beach gave me an escape from the pool and offered countless water sports, including sailing, kayaking, scuba diving and snorkeling, to mention a few.
The next stop on the tour was the championship Greg Norman-designed golf course, voted one of the Caribbean's Best by Travel & Leisure®. I had the honor of meeting Kevin Mumford, an inspiring golf pro who manages the course. We sat in the "Shark Shack", the golfers lounge named after Gregg Norman who has the nick name, "The Great White Shark.".
The room is a golfer's paradise with cold drinks, golf memorabilia and new Taylor Made golf clubs for rent. Kevin proved to be one of the most influential golf instructors I have ever met.
Kevin talked to me about his background and training with his golf legend mentors; Ben Kern, Murray "Moe" Norman and Harvey Kenick. He gave me the best and most effective golf instruction while sharing some of the key lessons he had learned during his own training.
My experience thus far was dwarfed when I got to the 18 hole, 7100 yard, par 72 championship golf course with 6 signature oceanside holes. This course is unlike anything I have ever seen and among the most challenging.
After a long day of golf, I was able to relax in the magnificent Red Lane® Dermalogica concept spa encompassing 16,000 square feet, with 16 treatment rooms, a state-of-the-art fitness center, and a tranquility garden with five pools. Karen, the General Manager of the Spa, gave me a tour describing the amenities found exclusively at Sandals. Caribbean elements are used as a theme throughout the spa and are reflected in each treatment. I spent time in the steam room as I loosened my muscles and hydrated on fruit-infused water.
After a shower, I was taken to my picture-perfect treatment room which defined simplistic elegance. My masseuse eased all the tension in my muscles with her delicate, yet deep touch, use of aroma therapy, hot stones and sand exfoliation. This legendary European Spa and distinctive Caribbean treatments made my experience one I will not soon forget.
With seven restaurants and 24 hour room service, it was an honor and a pleasure to award Sandals Emerald Bay the Nightlife Magazine® Fine Dining Award for Culinary Excellence. Food Connoisseurs come hungry. At any given time you can find food to fulfill any craving.
My experience at the Barefoot by the Sea restaurant was among the most fun, thanks to the amazing staff. The best food was the French cuisine found at La Parisienne. The Bahama Bay Restaurant has an extensive breakfast and lunch buffet, as well as a dinner buffet that changes daily based on the daily theme.
This restaurant gives you a huge variety of food for breakfast, lunch and dinner. While you're there, stop by the bar and say "hi" to Sonia, an inspiring woman who says, "I will stay at Sandals as long as Sandals keeps bringing me great guests. She loves the clients, the sociability, and the smiles she gets when she serves her famous breakfast smoothies.
Returning guests are recognized on every visit to Sandals and get special services. When you book your stay at any of the 14 Sandals Resorts, a profile is made. This profile contains all of your special requests, dietary needs and preferential butlers, to name a few. When you come back, the resort is prepared for your arrival with all of your favorites and preferences waiting for you. In addition, there are activities throughout the stay designed specifically for returning guests including the Gala Dinner where guests are recognized as part of "The Family." The Dinner includes cocktails on the ocean-view golf course, a parade to the Ball Room with a marching band, followed by a white glove dinner fit for a King.
My experience at Sandals Emerald Bay was memorable and full of excitement. I am looking forward to traveling to other Sandals resorts, experiencing the world-class service and famous "Luxury Inclusive" standards that I have come to love.