By: Frank J. Lombardo
Follow Us On Facebook!: https://www.facebook.com/appearinglivetonight/
Even in a four day heat wave when the OZY Fest, a New York City Triathlon and events at nearby Jones Beach were cancelled, the 13thannual Great South Bay Music Festival went on without a hitch.  The cooling breezes coming off the Great South Bay made this festival enjoyable for the thousands that came out not only for the wide spectrum the musical genres but the food, the arts and crafts and the all-important family festival atmosphere.
This year marked the thirteenth year that Jim Faith and his family have produced one of the largest family oriented music festivals on the east coast. In addition to being a founding member of the Long Island Music Hall of Fame and member of its Board of Directors, Jim has been booking entertainment and producing live music for almost 30 years. In the close knit music industry, it's been mentioned that he is one of the top, if not "the top", concert promotor on Long Island and the New York City Metropolitan area. This year Jim Faith advised Appearing Live Tonight that the festival was becoming more ecologically friendly with a new recycling program. In its infancy this festival was held at The Brookhaven Amphitheater in Farmingville. As it matured and grew to its renowned popularity, The Great South Bay Music Festival has become Long Island's largest and longest-running music festival and has found a home at the picturesque shores of the Great South Bay, or more specifically, Patchogue Bay, a cove/lagoon on the south-central shores of Long Island.
In keeping with the commitment to preserving the tradition of the "great lawn" concerts filled with families and young concert goers, this year the festival included four days of musical celebration featuring over 75 performers on four stages.  Each day on any stage one may experience the live performance of a new and upcoming local or national artist or an international recording/touring band. In addition to the many levels of the talent there is also an array of musical genres including classic and contemporary rock, folk, punk, blues, Indy, jam-band, reggae and funk, just to name a few.
This year's featured A-list artists and music legends included Long Island's own, Taking Back Sunday who was inducted this year to the Long Island Music Hall of Fame, Sublime with Rome, Pink Talking Fish, an extraordinary band that combines music from Pink Floyd, Talking Heads and Phish, Slightly Stoopid, Dweezil Zappa, who performed Frank Zappa's 200 Motels and Lotus with an incredible lightshow. If that didn't do it for you there was also Blue Coupe with three iconic rock stars and founding members of Blue Oyster Cult and the Alice Cooper Band, Dennis Dunaway, Joe Bouchard and Albert Bouchard that mixed the greatest hits from their respective bands. The festival goers also experienced 15 year old recording artist and Broadway performer, rocker, Brandon "Taz" Niederauer perform on the same stage with long established music pioneer, Edgar Winter Band, American funkiest band, War and to close out Sunday's events the perennial classic-rock favorite, America whereby Gerry Beckley and Dewey Bunnell performed all of the bands favorite chart topping hits from the seventies and eighties.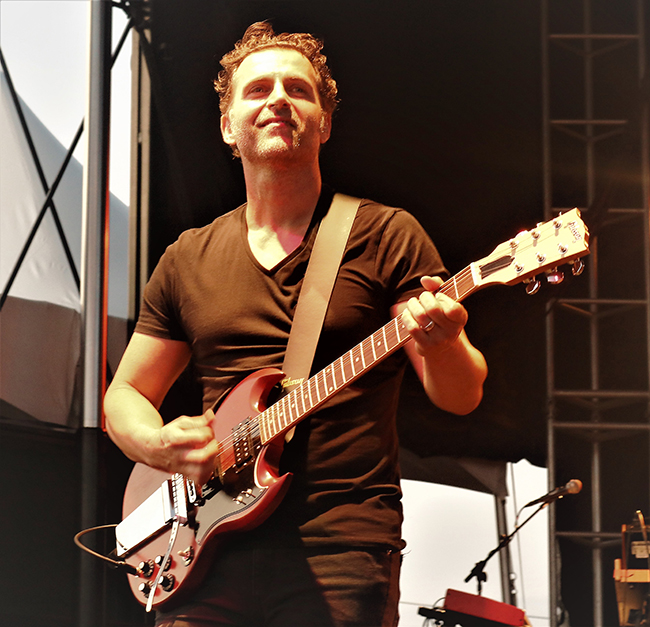 During Saturday events, we happen to cross paths again with Jim Faith who had just seen Sweetwater of Woodstock fame perform on the Jambalya Stage and on his way to see Dweezil Zappa on the Coors Light Main Stage.We also had time to sit with one of our favorites, Michael Falzarano of Hot Tuna and New Riders of the Purple Sage was found performing on both Saturday and Sunday with different bands. Local artists, such as main stay, Kerry Kearney, who has performed at 11 of the first thirteen festivals, new comer Walkabout, Joplin's Pearl, Rorie Kelly, Oogee Wawa and Funkin'A not only add to the diverse musical lineup but are the major components that make up the "family festival" vibe.
It is not only the live music atmosphere that brings tens of thousands to this event every year it is also the arts and crafts and food vendors that add to the festival's spellbinding experience. The festival hosts The Artisan Village where one can shop for rare collections of interesting handmade and freshly blown glass items, jewelry, oils and incense or the ever must have, festival commemorative t-shirt.
In addition to the music and festival souvenirs the food court offered delectable eats for everyone, from the health conscience to the junk food junkie. From the simple hot dog to your very own barbequed turkey leg one can find something from the eclectic mouthwatering menus. From sweet to savory no taste gets forgotten at this festival. In fact, Popei's Clam Bar was serving some pretty awesome Lobster Rolls right next door to The Taco Stand where you can get three tacos and large lemonade for only $15.00. Of course you will need to wash down the delectable food with a craft beer or wine or the newly presented "spiked seltzer."
The Great South Bay Music Festival is the longest running, and largest four day, "American Themed" music, art & cultural family event, on Long Island. This year, even with "above average temperatures" Cynthia and Tom from Delaware, Elizabeth and Debbie from Connecticut and Mark and Harry from South Jersey could not be kept away from seeing their favorite artists perform while over-looking the bay and feeling the ocean breezes. Local residents, Jaclyn and Steve from Patchogue brought their 10 month old daughter, Angelina to her first music festival and the toddler was seen dancing and singing to the music while being fascinated by the festival's many sights.
Great music, lip-smacking food, shopping and family fun, all with breath taking views of one of Long Island's most famous bays, what more can one ask for in the longest running music festival right here in our own back yard? Bring your friends, bring your family and experience this "Family Friendly Music Fest." We can't wait until next year where Appearing Live Tonight has learned there will be some very special and surprise performers that will make this festival one of the best of 2020.
For more information: http://www.greatsouthbaymusicfestival.com
Keep on the lookout for more Appearing Live Tonight and remember, support live music and enjoy your "NIGHTLIFE."
THE GREAT SOUTH BAY MUSIC FESTIVAL
By: Frank Lombardo
Celebrating its 12th Anniversary
The Great South Bay Music Festival is the longest running four day music, art and cultural family event on Long Island. With this four day musical celebration being held on the picturesque shores of the Great South Bay or more specifically, Patchogue Bay this "Family Friendly Music Fest" is now attended by tens of thousands and truly a unique music festival that stands out from all the others.
Year after year the festival features approximately 60 music artists on four stages over four days, and hosts iconic musical legends as well as local emerging artists in all genres of music, not to mention many vendors selling a diverse collection of handmade items and services. The food vendor's court is as diverse as one will find at any outdoor music festival.  You can feast on anything from Jamaican jerk chicken, a grilled chicken Caesar wrap, BBQ turkey legs, gourmet grilled cheese, wood stove pizza, Italian zeppoles with lots of powdered sugar as well as a deep fried Oreo or Twinkie.  To wash it down you have just as many choices- old fashion soda, fresh squeezed lemonade and for the adults, many craft beers and wines to choose from.






It seems that every year, Jim Faith and his daughter Jamie produce one of the most diverse music festivals in this part of the world.  This year drawing near capacity crowds every day.  "This festival is the true definition of an independent, family run music festival. We are not a festival coming to a community- we are part of the community!"  Jim told Nightlife Magazine. 
This year the festival hosted such international recording and touring acts such as Thrice and The Front Bottoms on opening night to Sublime with Rome, as well as local acts, Oogee Wawa, Us & Floyd and Gnarly Karma on Friday.  Saturday featured the unique infinite style of Umphrey's McGee, an American rock band from South Bend, Indiana, with local musicians, Andy Falco & Friends, The Almost Brothers and young up and coming artist, Lexy Cassell. 
But for some of the classic rock music fans such as Diane from Smiths Point and Ira from Queens,  it was the final day that brought out near record crowds to see locals such as Miles to Dayton, Kerry Kearney and his "psychedelta" orchestra, and a local Long Island band about to leave for Europe, Memphis Crawl.  Matty "SoulMan" O'Brien as usual had his large audience not only dancing to Memphis Crawl originals in front of the stage but on it as well. International recording and touring artist, the swiftly rising Devon Allman Project would have blown the roof off the venue if it had one.  The ladies in the audiences swayed along with him during his rendition of The Spinners' classic, I'll Be Around.  
Devon Allman ignited the crowd with long time classic rock greats such as Little Feat and Hot Tuna and for the finale, one of the greatest guitarist of our time, and one of the remaining founding members of the Allman Brothers, Dickey Betts and his band.  Nicole from Smithtown was smiling ear to ear during the Devon set as well as Hot Tuna while Tommy from Miller Place was hanging on every note heard from Little Feat.   But it was most of the entire audience standing in front of the main stage, shoulder to shoulder, that was waiting for iconic superstar, Dickey Betts to perform legendary Allman Brothers classics.   
Nightlife Magazine caught up with Jorma Kaukonen and Jack Casady from Hot Tuna during the Kerry Kearney set and it was interesting observing Jorma and Jack watch Kerry and nod with approval following one of Kerry's famous guitar slide solos. Jorma was proud that this was Hot Tuna's third appearance at this festival and is looking forward to coming back again in the future.
As awesome as the music is, Cindy and Loraine from Stony Brook were there more for the arts and crafts located at the Artisan Village where they were shopping for that unique  piece of jewelry as well as the ever must have, festival commemorative t-shirt.  
Keeping with the "family theme," The Great South Bay Music Festival offers free admission to children under 10 years old and has just as many educational activities for the children as they have music for the parents.  For the kids, not only were they entertained by the Pirate Encampment and Parade but The MickMags the original children's comedy rock group that not only entertained the children but reached the child in all of us!
Although this is a music festival, Jim Faith and the Great South Bay Music Festival have an impassioned commitment to community support & philanthropy.  Money generated from ticket sales, private and sponsored donations as well as the infamous, 'Sticky Finger Motorcycle Run: To Fight Breast Cancer' have raised not only awareness of these programs but also raises funds to support breast cancer programs and services at the Stony Brook Cancer Center.   Over the past years, hundreds of thousands of dollars from this festival have been raised to support breast cancer programs and services at the Stony Brook Cancer Center.
Next year plan on blocking off July 18th to the 21st for 13th Annual Great South Bay Music Festival to once again enjoy great music, food, shopping and family fun, all with breath taking views of one of Long Island's most picturesque bays.  Jim and Jamie will surely place the artist lineups on their website as soon as all the bands are booked. 
For more information: http://www.greatsouthbaymusicfestival.com
Keep on the lookout for more Appearing Live Tonight and remember, support live music and enjoy your "NIGHTLIFE."